Oregon Highway Shootout (VIDEO): Father of 3 Shot Dead by Police After Shootout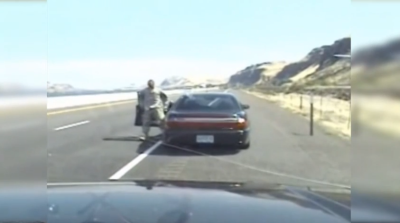 An Oregon highway shootout has resulted in the death of the gunman today in Oregon, with a policeman also shot in the incident, which is said to have been sparked by a routine traffic stop.
A police camera video of the incident was posted on the internet today by the Oregon State police, and it appears to show what happened in the terrifying incident.
The police video, from the cop car, shows John Van Allen II, a military veteran, getting out of his car after he is pulled over by police.
Oregon State Trooper Matthew Zistel can be seen ordering Allen to get back into his vehicle numerous times, but Allen refuses, and instead pulled out his weapon and started firing at the officer.
The shocking shootout on the Oregon highway left the officer with a gunshot wound.
The officer was able to escape, and the attacker got back in his vehicle and sped off trying to make his getaway. However, officers found his car a few miles down the road, where he was found dead from a single gunshot wound to the chest.
It is not yet known why Allen decided to suddenly shoot at the officer during the traffic stop.
Kobi 5 reports that the veteran had three children in his car at the time of the shootout. A friend of the gunman said that Allen was on his way back home to South Carolina.
The friend said: "It's just completely out of character. It doesn't add up."
Here's the video of the Oregon Highway shootout.