Pakistani Christian Beaten By Muslims in UK After Displaying Cross, Poppies on Car
Pakistani Christian Beaten By Muslims in UK After Displaying Cross, Poppies on Car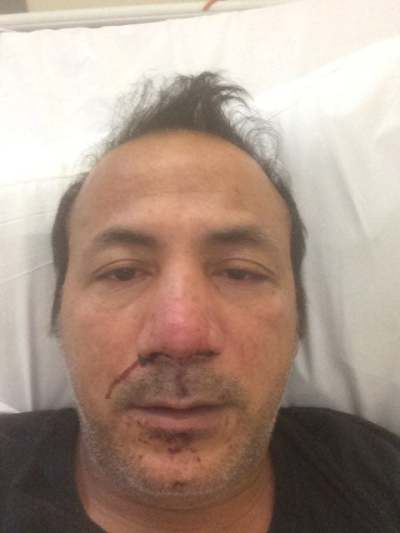 A Pakistani Christian man who fled his homeland after being shot by a Muslim over a decade ago was hospitalized in the United Kingdom earlier this month after being beaten by a group of Muslim men because he was Christian.
The London-based charity British Pakistani Christian Association is coming to the aid of Tajamal Amar, a food delivery driver who suffered a broken nose and several lacerations to his head and body on Oct. 20 after he was the victim of an unprovoked pack attack outside of a popular restaurant in the English city of Derby.
As originally reported by the The Derby Telegraph, Amar, who is in his mid-40s, was attacked outside the Red Chilli restaurant at around 8:45 p.m. and was later hospitalized at the Royal Derby Hospital.
According to BPCA, Amar recalls being stared at by a group of Muslims who were offended by the cross hanging from his rearview mirror and the two poppies (artificial flowers used to commemorate military personnel who have died in war) displayed on the front of his car.
Amar can only recall a little bit of what happened next. He remembers being hit on the head and knocked unconscious and then was beaten by the group.
Amar, who fled Pakistan in 2007 after being shot over his refusal to convert to Islam, told BPCA that many Pakistani Muslims in his community in Derby have "taken offence from the fact that I am Christian."
"[W]hen they first find out many stop talking to me. My wife and I have often been shunned," the father of one told BPCA. "On the day of my attack, the visible display of a cross in my car and two poppies just below the front bonnet, triggered the violence against me. I know this, because for a few days before the attack the same men, glared at me after they notice my Christian paraphernalia."
"I fled from Pakistan to escape violence such as this, but more and more the same violence is coming into Britain," he added. "Freedom of religion should be the right of any British citizen but today I feel unsafe, even then nothing will stop me going to church."
Amar assured that he will pray for his attackers and "hope they will change their hardline approach to faith which is very dangerous for our society."
Exclusive Op-eds from the Presidential Campaigns
The police in Derby have not yet made any arrests but are asking for clues that might help lead to the arrests of Amar's attackers.
"At the end of the day, he is a Pakistani that was seen with poppies and a cross in his car," BPCA Chairman Wilson Chowdhry told The Christian Post. "To them, he will seem like an apostate and these Pakistani Muslims decided to attack him."
In a statement Chowdhry stated that Amar's attack is "an example of the religious intolerance that some strands of radical Islam promote in Britain."
"An innocent man has been hospitalized, he has had to take several days off work, and now he is living in fear of further reprisals, simply for adhering to the Christian faith," Chowdhry said.
BPCA notes that Amar's persecution is similar to the persecution faced by Nissar Hussain, his wife and six kids, who all converted from Islam to Christianity in 1996. The family faced over eight years of persecution before they moved out of their home in Bradford, England and needed a police escort to protect them while doing so in 2016.
"How many people will have to flee areas where they no longer are safe just because of an adherence to a faith outside the norm for the location? In a democratic country, this simply should not be happening," Chowdhry stressed. "If this social malaise continues one day there will be nowhere else to run. Put simply, Britain has to find a solution that allows all people to live in harmony without any fear or trepidation."
BPCA, which regularly provides aid to persecuted Christians in Pakistan and India, is now accepting online donations that will help Amar and his family move to a safe location away from Derby.
BPCA has also launched a petition calling for the British government to investigate the growing number of hate crimes against non-Muslims in the U.K. The petition also calls on the U.K. government to add a new classification of crime to the Race and Religious Hatred Act 2006 that would label 'Kaffirophobia" as a hate crime. "Kafir" is a derogatory Arabic word used to describe infidels.