Passion City Pastor Louie Giglio 'Honored' to Deliver Benediction at Obama Inauguration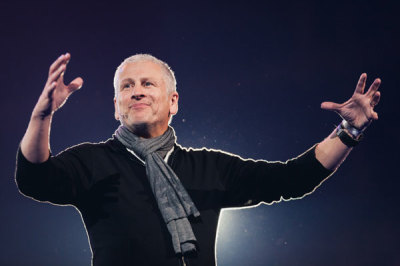 President Barack Obama has asked evangelical Christian Pastor Louie Giglio of Passion City Church in Roswell, Ga., to deliver the official benediction during the public inauguration ceremony on Jan. 21.
"It is my privilege to have the opportunity to lead our nation in prayer at the upcoming inauguration in Washington, D.C.," Giglio, 54, responded in a statement shared with The Christian Post.
Obama previously asked Giglio to pray during the Easter Prayer Breakfast at the White House last April, and has mentioned the evangelical Christian minister's Passion movement at the 2012 National Prayer Breakfast for its campaign against modern-day slavery.
"During these days it is essential for our nation to stand together as one, and it is the right time to humble ourselves before our Maker," said Giglio in his statement.
"As recent events in Newtown so painfully remind us, life is fragile and our world is broken," the pastor added. "May we all look up to our God, from whom we can receive mercy, grace and truth to strengthen our lives, our families and our nation. I am honored to be invited by the President to lead our nation as we look up to God, and as we look ahead to a future that honors and reflects the One who has given us every good and perfect gift."
Giglio's Passion ministry has inspired students to raise $3.5 million to support more than 20 global projects that focus on prevention, rescue, and restoration for the 27 million men, women, and children who are victims of modern-day slavery. Giglio also delivered 72,000 signatures to the White House this past summer from students across the nation asking that more be done to tackle modern slavery.
The Georgia minister also founded Passion Conferences, a movement that has drawn tens of thousands of people to his "Passion" sermons. Between Jan. 1 and 4 he hosted a four-day conference that drew over 60,000 college students in Atlanta, where he talked about the power of God's goodness, grace and love, and how it can move and inspire the world.
The Rev. Joseph Lowery delivered the benediction at the 2009 inaugural ceremony marking Obama's first term in office.
This year's inauguration ceremony will also feature Myrlie Evers-Williams, widow of civil rights activist Medgar Evers, to deliver the opening invocation. Evers-Williams, 79, is set to become the first woman and non-clergy member to deliver the public prayer that is considered central to the ceremony.
 Although Obama will be sworn in officially in a private ceremony on Sunday, Jan. 20, the public celebration including the invocation and benediction will take place on the following day, which coincides with the Martin Luther King Jr. federal holiday.
Louie Giglio: Me and Chris Tomlin (LIFE Today / James Robison)