Paula White Addresses Father's Suicide, Criticisms in Sermon
Pastor Paula White provided her own short testimony as she preached on Sunday at New Destiny Christian Center on "overcoming."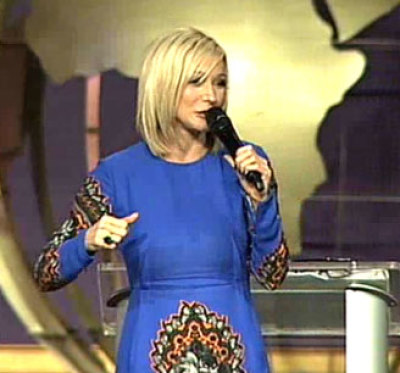 Addressing her father's suicide, White told the Florida megachurch how her life was affected when her father took his own life.
"I thought fundamentally something must be wrong with me because if you love me you wouldn't leave me," she said in her sermon recalling the time she was 5 years old. "I felt responsibility as a 5-year-old."
In the following years she suffered physical and sexual abuse and got pregnant out of wedlock as a teen.
"You all know my story," said White, who has been open about her past and how God has transformed her after being saved at age 18.
"What's the one area that the enemy always uses as a trigger in my life? What the event that I was won with? My father's death," she added. "I could be strong in any area ... but there was this Achilles' heel in my life that would keep influencing me for years and years."
She continued, "The enemy sends an event that doesn't just mess you up at that moment. It wasn't that it would just mess me up when I was 5, it was that I would always be tied to that and ... I couldn't lift myself up out of it.
"So if I couldn't' lift myself up out of it, what am I going to do? Always find and fix my father. So what am I going to be vulnerable to? Crazy men."
The Pentecostal preacher, who was wearing a Stella McCartney dress, the same one worn by actress Kerry Washington and artist Britney Spears earlier this year, called on the congregation to break the spirit of infirmity.
"You can't lift yourself out of it because it's a spirit. The only thing that can break that is the blood of Jesus," said White, who has divorced twice and is currently not married.
White also acknowledged all the criticisms she has received but said they do not affect her.
She recalled a time when someone thanked her and told her she probably hears all the time how amazing she is.
White responded, "I hear 'amazing,' I hear that I'm a devil, I hear I'm a hoe, I hear I'm a Jezebel, I hear I'm an angel, I hear I'm apostle. I said but I don't really hear any of it because you're never as good as they say and you're never as bad as they say as long as I hear His voice, as long as I know what He (God)'s saying about me."
"Don't ever let anything clutter you where you can't hear His voice," she told the congregation. "As long as you can hear His voice, everything's going to be OK.
"I'm not looking for man's approval I don't care if you give me your stamp of approval ... if you say this or say that because I know what He says about me.
"What God has appointed for you is appointed and arranged by the Spirit of God and He watches over to make sure it comes to pass."
White, whom some pastors are wary of because of her prosperity gospel teachings, began leading NDCC in January. She was named senior pastor of the megachurch to replace founding pastor Zachery Tims, who was found dead in a New York City hotel last year.
During Sunday's sermon, the popular speaker and author told NDCC that religion "always wants to control you."
"They want to keep you hooked on a person like a (sic) addict needing a needle ... because as long as you are broke you will need them. My job as a true, true anointed apostolic sent person is to empower you where you have no need of me except to lead you into the places where God wants to feed you. You should have enough power on the inside of you that you lay your hands not only on yourself but anything around you."
"There are a lot of people going to church but their life's not functioning," she added. "I want your life to function. I want the price that Jesus paid to be real for you. You should not be stressed out. You should not be having to pop a pill to go to bed. You should not be worrying. You should not be full of anxiety. You should not be lonely. You should not be broke all the time.
"There should be joy, peace ... prosperity in your life."
"Your life does not give God glory when you are broke, busted ... depressed," White said. "This is the last day there's going to be strife in my home, ... poverty in my pocketbook, depression in my soul, confusion in my mind, addiction in my body."
White's ex-husband, Randy White, currently leads Without Walls International Church in Tampa, Fla. After stepping down three years ago, Randy White returned in June to the Without Walls pulpit which had previously been occupied by Paula White.
Exclusive Interview With Paula White