People seeking exorcisms rising dramatically: report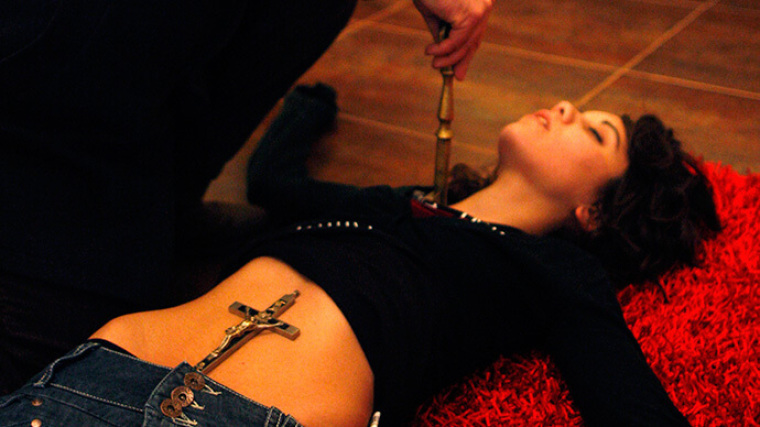 Demands for exorcisms in the Catholic Church are on the rise amid a resurgence of interest in occult practice in the United States.
According to the December edition of the The Atlantic, priests are fielding more requests for exorcisms.
Among the general public, a growing number of Americans believe that demonic possession is real, according to recent data from YouGov and Gallup polling on the subject. Gallup surveys indicate that from 1990 to 2007, the portion of Americans who believed as such grew from 55 to 70 percent.
Father Vincent Lampert, an exorcist for the Archdiocese of Indianapolis, told the Atlantic that he has received 1,700 phone or email requests for exorcisms this year, by far the most he's ever received in a single year.
Likewise, Father Gary Thomas, who is a Rome-trained exorcist, received "at least a dozen requests a week."
"Several other priests reported that without support from church staff and volunteers, their exorcism ministries would quickly swallow up their entire weekly schedules," the Atlantic reported.
The Roman Catholic Church has been training new exorcists in a few cities in the U.S. and other countries. While no official statistics exist, there were only 15 officially trained exorcists in 2011, according to Thomas, who now says there are over 100 today.
Involvement in occultic activity is a doorway to demonization, some priests say, and the rise in demonic possession is the result of a resurgence in practices of magic, divination, witchcraft, and attempts to communicate with the dead, also known as necromancy.
Other Christian thought leaders believe that not near enough attention is given to distinctly spiritual things, even though they say they believe in it. In April, Q founder Gave Lyons found out that 80 percent of attendees at one of his events where the subject was discussed had never or rarely heard a talk on the demonic realm.
"There's an inherent interest in these matters," Adam Blai, a Catholic expert in demonology who trains priests to become exorcists, told Lyons earlier this summer in a Q&A follow up session.
"I'm not sure why that is except that perhaps it's one of the places where the spiritual world really becomes physical. I think on a basic human level, that is inherently interesting to us. It's the reason they make movies about it."
He added that approximately a third of the miracle ministry of Jesus in the Gospels are related to casting out evil spirits.
"You're not only talking about something very real and physical, but you're also talking about something really central to the Gospel," Blai said.
Yet Christians need not be afraid, because "Jesus is in charge," he said.
"We need to focus on Christ ... He's the one who has the leash on all of these creatures."
Timothy George, dean of Beeson Divinity School in Birmingham, Alabama, told The Christian Post in September 2017 that it's to our detriment when we make light of the reality of Satan and the demonic realm. An "anti-supernatural bent" pervades our modern culture, he said in an interview at the time.
"I think we have to be aware that this is deeply embedded in the Scripture and we need to be wise. There is a kind of cult of the demonic that I want to resist and not trivialize. But sometimes the demonic is too trivialized in our culture. I want to treat it with all of the biblical seriousness that the Word of God does."