Peter Lanza, Father of Sandy Hook Shooter, in 'Disbelief' Over Rampage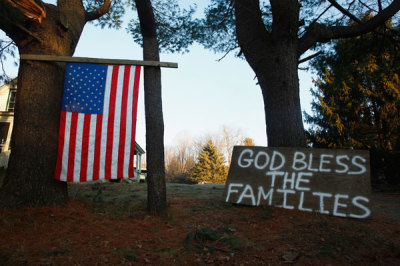 Peter Lanza, father of alleged elementary school shooter Adam Lanza, issued a statement Saturday to the public apologizing for his son's rampage in Newtown, Connecticut. The 20-year-old shot and killed 20 children between the ages of five and nine and six staff members at Sandy Hook Elementary School Friday.
READ: CRITICAL FACTS ON SHOOTER ADAM LANZA
Peter Lanza's statement addressed the various families affected by the tragedy, assuring them that he was just as shocked at his son's violence as they were.
"Our hearts go out to the families and friends who lost loved ones and to all those who were injured. Our family is grieving along with all those who have been affected by this enormous tragedy. Now words can truly express how heartbroken we are," Lanza stated.
"We are in a state of disbelief and trying to find whatever answers we can. We too are asking why," he continued. "We have cooperated fully with law enforcement and will continue to do so. Like so many of you, we are saddened, but struggling to make sense of what has transpired."
A look at Adam Lanza's home life similarly reveals few answers as to the reason behind the shooter's actions. Adam lived with his mother, Nancy, after she divorced Peter in 2009 citing "irreconcilable differences." The couple agreed that there had been financial difficulties, but not parenting ones, according to The Stamford Advocate. Peter had also been allowed "liberal" visitation rights, court documents showed.
Peter Lanza, the vice president of taxes for GE Energy Financial Services, has since remarried a woman named Shelley Cudiner. Cudiner was described by her Stamford neighbors as a "very quiet lady" who had Lanza move in since they married recently.
READ: SHOOTING SCENE DETAILS / CRITICAL FACTS ON ADAM LANZA
However, since the Sandy Hook school shooting, no one has seen either of them.
Maggie Gordon, a Stamford Advocate reporter, broke the tragic news to Lanza Friday afternoon at his home- he had not known his own son was allegedly involved in the incident.
"His expression twisted from patient, to surprise to horror; it was obvious that this moment, shortly after 1:30 p.m. Friday, was the first time he had considered his family could have been involved," Gordon wrote. Lanza refused to comment at the time.
27 Killed Sandy Hook Elementary School Shooting Newtown Connecticut