Phil Robertson and Bill Maher Should Be Imprisoned for Hate Speech?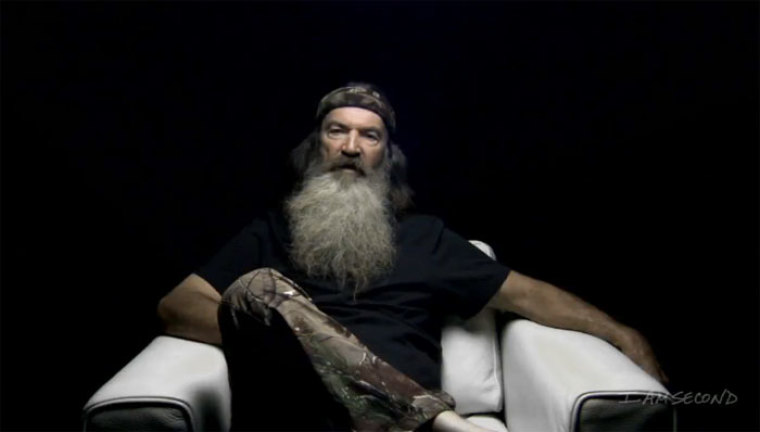 Did a self-described human rights activist call for "Duck Dynasty's" Phil Robertson and comedian Bill Maher to be imprisoned for hate speech?
In a March 18 article for Thought Catalog, Tanya Cohen (possibly a pseudonym) argued that the freedom of speech should not give people the right to say hateful and other objectionable things.
On Thursday morning, The Christian Post contacted Thought Catalog publisher Chris Lavergne to ask if the article was a satire. By Thursday afternoon we had not heard back and published an article about Cohen's argument. On Thursday evening, we received a reply that the article was indeed satirical and we unpublished our article.
We are re-posting the original article below for three reasons.
1. Conservative websites PJ Media and Downtrend believe the article is not satirical. It is easy to understand why. Thought Catalog is not a satirical website and the article itself does not indicate that it is a satire.
2. The article was believable because liberals have frequently made satirical-sounding illiberal arguments in recent years. In "CP's Top 10 News Stories of 2014," liberal intolerance was number one. In another year in review article, CP found "33 Examples of Intolerant Liberalism in 2014."
There actually was, for instance, a philosophy professor who called for the imprisonment of "global warming skeptics." When Mozilla forced CEO Brendan Eich out of his job and when Ayaan Hirsi Ali were disinvited from speaking at Brandeis University, the liberals responsible claimed they were doing so because they respected diversity. And, liberals who used to claim they supported same-sex marriage based upon a principle of "live and let live" are now defending government coercion of same-sex marriage opponents.
3. At least two liberal websites seem to take Tanya Cohen's thoughts seriously because they are publishing her (or his?) articles. Daily Kos published a Jan. 1 blog post and The Aim Network published a March 23 article by Cohen making a similar argument, that freedom of speech does not protect hate speech.
So, what is really going on? Did a conservative or dissident liberal fool Daily Kos into publishing his/her satirical work? Or, did an illiberal liberal fool Thought Catalog into publishing his/her real thoughts under the presumption he/she was writing a satire? If you know the answer please inform in the comment section below.
Here is CP's original article:
A human rights activist and writer is dismayed that there are no laws that allow the imprisonment of those who state certain offensive positions, such as Bill Maher and Phil Robertson.
If the United States were a "civilized country" like those in Europe, Tanya Cohen wrote for Thought Catalog, then Robertson, a reality show star on A&E's "Duck Dynasty," "would have been taken before a government Human Rights Tribunal or Human Rights Commission and given a fine or prison sentence for the hateful and bigoted comments that he made about LGBT people."
Among the types of speech that should be punished, Cohen mentioned saying that Islamic terrorists are linked to Islam, saying gay marriage is not really marriage, and saying that men who want to be called women are really men.
Besides Robertson, Cohen named Sean Hannity, Bill O'Reilly, Glenn Beck and Sarah Palin.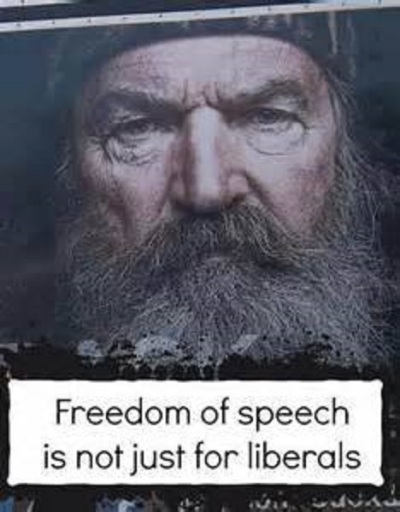 Comedian Bill Maher, a liberal atheist who has said that Muslims are more violent than Christians, was also listed. Maher incited the recent shooting of three Muslims, she charged. If there were laws against hate speech, Maher "would be held legally accountable for the shooting."
"When people like this are allowed to sway public opinion against the common good, it can have disastrous consequences," she wrote.
Comparing the United States again to other, mostly European nations that have more restrictions on speech, she wrote that "only in the U.S. is 'freedom of speech' so restrictive and repressive."
She then complained that there is no law in the United States that allows the banning of movies, book, video games, groups or political parties.
Nations that have a "more sensible approach to freedom of expression," Cohen argued, would allow "legitimate freedom of expression," but would ban a host of other voices, including "anti-vaxxers," "climate change deniers," "pick-up artists," and "harmful media." The song "Blurred Lines" by Robin Thicke and Pharrell Williams should also be banned for encouraging rape.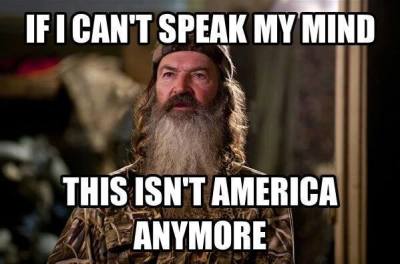 The U.S. is "completely backwards" and "positively uncivilized" in its free speech protections, Cohen believes. Even "third world" countries like Russia, Kazakhstan and Kyrgyzstan are better at freedom of speech by banning certain types of speech, she added.
Americans are the only people on the planet who believe that freedom of speech protects offensive speech, Cohen insisted.
"There is absolutely nobody outside of the U.S. who thinks that there shouldn't be ANY laws against hate speech, racial vilification, or incitement to hatred. That idea is just unthinkable in a society where basic human rights exist. The U.S. has a dismal record on human rights, as indicated by the fact that it still doesn't have universal healthcare, still carries out executions, still hasn't banned firearms, and still tortures people, to name just a few things. But having NO laws against incitement to hatred? It's just impossible for people in civilized countries in the year 2015 to even conceive of such a thing," she wrote. (Emphasis in original.)
People outside the U.S. are "left in stunned disbelief and disgust," she continued, when they find out that it is considered "the land of the free" and a democracy, yet does not have a law banning hate speech. This claim, she added, is "not even an exaggeration," because, "hate speech laws have absolutely universal support from every single facet of society," outside of the U.S.
Freedom of speech, Cohen explained, should give people the right to criticize the government "in a civil, polite, and respectful manner," but should not give the "right to offend, to insult, to disrespect, to oppose human rights, to argue against the common good, to voice approval of totalitarian ideologies, to perpetuate toxic systems of privilege and oppression, to promote ideas which have no place in a modern democratic society, to be provocative or incendiary, or to express opinions which are unacceptable to the majority of people."
As a remedy, Cohen suggested passing laws banning hate speech and letting the United Nations prosecute American citizens who violate international hate speech laws.
On her Twitter account, Cohen describes herself as a "human rights activist and writer."
Thought Catalog describes its mission this way: "We want to support freedom of speech, empower writers and readers on their own terms, and make Thought Catalog an online magazine that represents the worldviews and rhetorical styles of as many people as possible."
The Christian Post contacted Thought Catalog and asked if Cohen's article was intended to be satirical but received no response by press time.