'Philly Jesus' Found Guilty of Trespassing at Pennsylvania Apple Store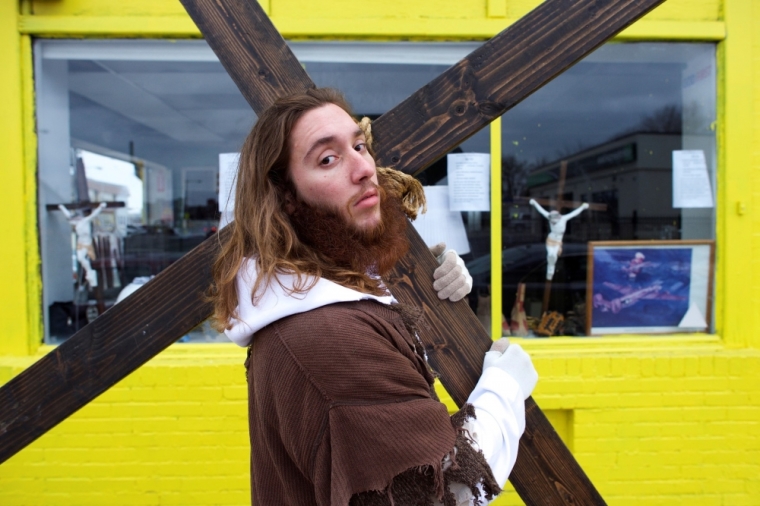 A former heroin addict who has taken to dressing like Jesus Christ and preaching in the city of Philadelphia was found guilty of trespassing at an Apple Store.
Michael Grant, commonly known as "Philly Jesus," was found guilty on Wednesday of trespassing in an incident back in May at an Apple Store.
"Grant owns an iPhone and has a large social media presence. He frequents Apple stores to charge his phone and post updates," noted Fortune magazine.
"A store manager said Grant's 7-ft. cross was blocking an aisle in the store. … Grant's attorney argued that his client believed he was asked to leave because of his religious beliefs."
A former drug addict, according to his website, Philly Jesus had a stint as a satanic rocker under the name Opal Weaver. While undergoing rehab, he became a Christian.
"JESUS came into my Life and brought me to my knees in tears of JOY ... and broke every chain of addiction in my life. ... He broke the chain of sin in my life ... ripping its veil completely," says Philly Jesus on his website.
"The people of Philadelphia have coined me with the name Philly Jesus ... so I decided to run with it ... I have decided that I will be doing this Philly Jesus street ministry for the rest of my days on Earth to HONOR and GLORiFY ONE MAN."
Since becoming Philly Jesus, Grant goes about Philadelphia evangelizing with those he meets and even performing the occasional baptism at the LOVE Park fountain.
Back in May, Philly Jesus was arrested at an Apple Store while charging his phone. According to the store, it was because of a large cross he brought with him that was blocking an aisle.
"Investigators allege that Grant refused to leave despite being asked three times because a cross he had with him was blocking an aisle. Grant claims the employee who asked him to leave was offended by his appearance and garb," reported NBC Philadelphia.
"Grant in full Jesus garb appeared in court with Philadelphia-based criminal defense attorney Brian Zeiger to fight defiant trespassing and disorderly conduct charges. He was found not guilty of disorderly conduct after the trial that lasted a couple hours."
In a Facebook message posted on Thursday, Philly Jesus forgave the prosecution, maintained his innocence, and said that he will appeal the guilty verdict.
"Mixed verdict for me — Not guilty of disorderly conduct but was found guilty of defiant trespass..but I forgive them for trespassing against me ... for they know not what they do ... I will appeal ... ALL iS WELL ... GOD iS GOOD NO MATTER WHAT..I'AM iNNOCENT IN JESUS CHRiST MiGHTY NAME," wrote Philly Jesus.