Police arrest Virginia man who took gun, 2 knives to church on Sunday after online threats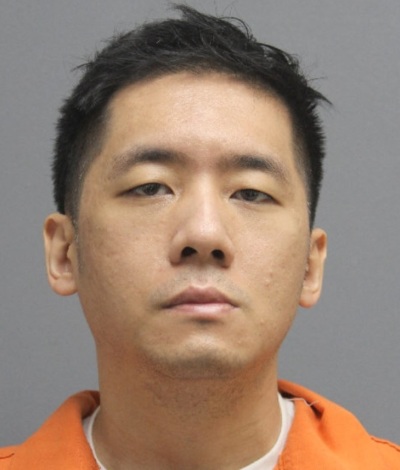 A man who made online threats against a Virginia congregation has been arrested after he was discovered allegedly trying to enter the church with weapons during a worship service.
Rui Jiang, a 35-year-old resident of Falls Church, was arrested Sunday outside Park Valley Church in Haymarket, according to a Prince William County Police Department press release.
Prince William authorities worked with the Fairfax County Police Department and the Anne Arundel County Police Department in Maryland to coordinate their efforts.
According to authorities, Jiang had made "vague threats of violence" on Instagram that included images of Park Valley Church, which a person residing in Maryland had made them aware of early Sunday morning.
An off-duty police officer who was working an assignment at the church discovered Jiang's vehicle at the church, while others in the congregation noticed him on the property.
"The off-duty officer and church staff coordinated and detained the accused near the entrance without incident," stated Prince William police. "The accused apparently entered the building through a separate door and had been inside the location prior to being stopped."
When detained, Jiang had a loaded handgun, an extra ammunition magazine, and two knives. The firearm was reported as legally purchased and owned by the accused.
Jiang has been charged with carrying a dangerous weapon to a place of worship and for making threats of bodily harm. He is being held without bond and a court date is pending.
"Law enforcement credits the concerned citizen who contacted police regarding these suspicious online postings, joint law enforcement efforts from multiple police agencies, and the staff of Park Valley Church for their vigilance," stated the police.
In a statement, Fairfax County authorities explained that they and the other police departments "acted swiftly" and thus "were able to stop a potential active shooter."
"Since the arrest, detectives from our Threat Assessment Management Unit have been assigned to assist with the investigation," said FCPD. "TAM detectives assisted with the execution of a search warrant at Jiang's home."
"Evidence supporting Jiang's intent to cause harm was recovered from the scene. Detectives will work with our multidisciplinary team to determine the appropriate resources for threat mitigation and management of the case."
In a statement posted on Facebook Tuesday, the church thanked authorities for "their swift and courageous actions of working across state and county lines to locate the threat that took place on our campus this past Sunday."
"We are a church that deeply cares about the welfare of those attending our Sunday services and church events, and we thank God for His hand of protection along with our safety ministry and everyone else involved that saw something that looked concerning and quickly addressed the situation," stated Park Valley Church.
"We love our church family and surrounding communities and will continue to remain vigilant to ensure the safety of our congregation, their families, and all seeking to know Christ."