Pope Francis: Mass Terror Attacks Reveal War for 'Global Domination' Is Being Waged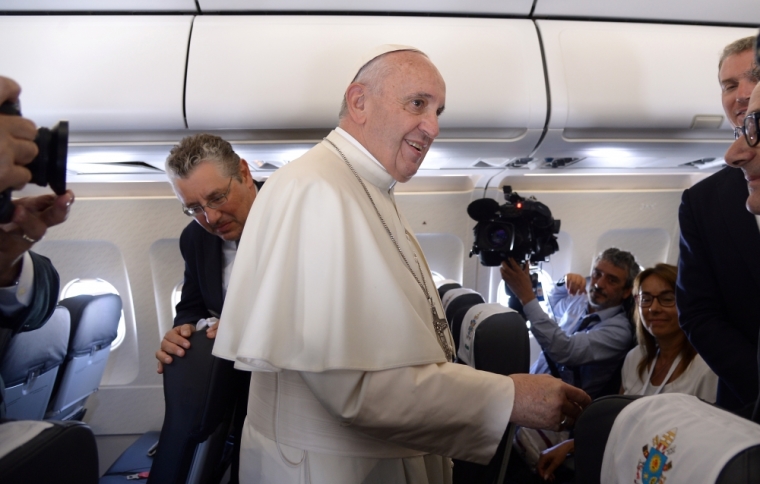 Pope Francis said on Wednesday that the whole "world is at war," echoing statements made by Canon Andrew White, the Anglican Vicar of Baghdad, who has been issuing the same warning since the rise of the Islamic State terror group in Iraq.
"The world has been at war for a while now. ... We had the war of 1914, then the war in 1939-45, and now this one," Francis said to reporters, according to NBC News, during a flight to Krakow, Poland, where 20,000 Roman Catholic youth from all over the world are making a pilgrimage for World Youth Day.
The pontiff's comments came on the heels of the brutal murder of Catholic Priest Jacques Hamel by two IS-linked teenagers during a morning mass at a church in Saint Etienne-du-Rouvray, France.
Noting that he and the pope are in agreement, White said in a Wednesday post on his Facebook page, "I have been saying for a long time that World War III is here."
"The terrorist attacks continue on almost a daily basis. We here [sic] about those in the Western world but here in the Middle East it is not news. Over 50 people were killed in one bombing today in Syria. We must act as the Lord standing amongst the broken," he said.
White, who was forced to leave Iraq last year amid death threats, is now living in Jerusalem and has frequently described the mass genocide of Christians in Iraq and Syria and the global struggle against terrorism as living in the midst of World War III.
In the aftermath of the San Bernardino terror attack last December, White said at an event in Washington, D.C. attended by The Christian Post that "what we saw in California, is, as far as I am concerned, the beginning of the third world war. It's unlike any concept of war we may have had before. Society is falling apart. It's not just Iraq that is broken — it is society."
"We talk about ISIS, and it is easy to blame ISIS, ISIL, Daesh, or however you want to call them, for everything," he continued. "But, they are just part of the problem. The problem is far bigger than one extremist organization. That one extremist organization will have influence throughout the world and so many people are now looking to that group as a means of salvation and a means of identity. Why? Because they, as Muslim, have lost influence and lost power."
But neither the pope nor White intend to inaccurately label the conflict or disparage Muslims.
In his remarks on the flight to southern Poland, Francis emphasized that he was not referring to a religious war, but rather, "a war of interests."
"There is a war for money. There is a war for natural resources. There is a war for domination of peoples," he said, according to Reuters.
"All religions want peace. Others want war. Do you understand?" the pontiff asked.
During his speech in Washington last December hosted by the Institute on Religion and Democracy, White said, "as the world goes on about how evil Islam is, whether you like it or not, my biggest partner is Muslim and we have to work together, not against each other."
"You never hear anything about it in the news but you hear about the work I am doing. The work that I am doing is being done by a Muslim caring for the Christians," White added, referring to Muslim dentist Sarah Ahmed, who serves as the executive director of his Foundation for Relief and Reconciliation in the Middle East.
"We think and hear about Islamic terrorism all the time. What about Islamic people working for the protection of Christians?" White asked.
CP reported in November 2015 that White said he had dined in the past "with some of the worst people ever," and decided to invite IS militants to dinner in an attempt to end the violence in Iraq. But instead of accepting his invitation, IS jihadists threatened to behead him. Though it pained him terribly to say it as a priest, the only solution to defeating IS, he said, is war.