Miracle? American Couple Say Pope Francis Healed Baby Daughter's Heart After Holding Her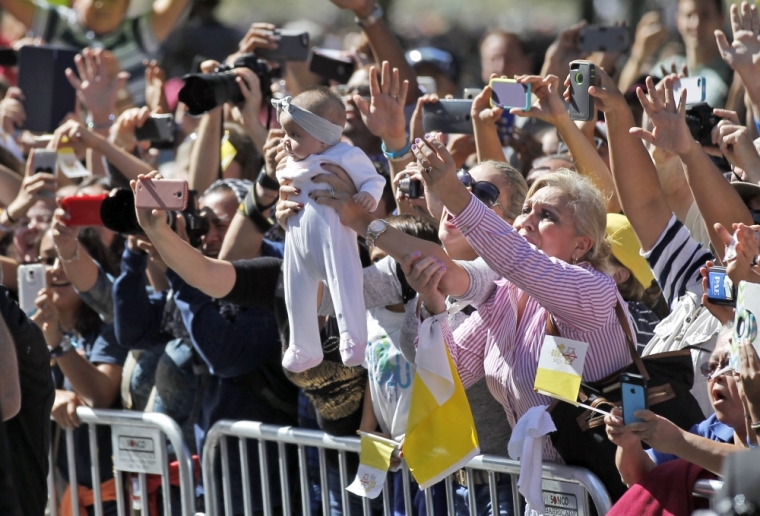 An American couple from Arizona has claimed that Pope Francis healed their 3-month-old daughter's heart condition after the pontiff held and blessed her during Easter 2014 proceedings at the Vatican.
"It seems like it was really meant to happen," said Lynn Cassidy, according to news station KPNX. "And it's as close to a miracle as we'll ever see, I'm sure."
In 2014, the Cassidy family had traveled to Rome in hopes of seeing Francis in person during the canonization of John Paul II and John XXIII. They said they had waited for hours in the rain at the barricade at St. Peter's square, when Scott Cassidy held their daughter, Ave, up in the air when Francis passed by in his Popemobile.
"It was like the Lion King," Lynn Cassidy said.
"The secret service person, Johnny, stopped and took her from Scott and held her up to the pope. The pope asked my husband, 'How old is she? What's her name?' He told [the pope] 'she has two holes in her heart.' When we got home in May, we went back to the cardiologist for a check-up. One of the holes was completely closed and one was half the size."
The mother added that while some may feel Ave's healing and the pope's blessing are just incredible timing, she believes it was divine intervention.
"I mean it's possible that it closes just over time," she said. "But when you see the picture that the professional photographer took, his hand is here and he's a servant of God."
Ave is now "happy and healthy" at 20-months-old, the report added, and has successfully undergone eye surgeries, and received hearing aids.
This is not the first time the Vatican leader has been credited with performing a miracle. Back in March, during a trip to Naples, Francis venerated a vial of blood belonging to the martyred Neapolitan patron St. Gennaro. The dry blood reportedly turned to liquid after the pontiff prayed over it and kissed it.
"The blood has half liquified, which shows that Saint Januarius loves our pope and Naples," declared the Archbishop of Naples, Crescenzio Sepe.
The Roman Catholic Church leader is currently visiting Washington, where he spoke Wednesday before 11,000 people gathered on the South Lawn at the White House regarding the importance of defending religious freedom and taking care of the environment.
"Mr. President, together with their fellow citizens, American Catholics are committed to building a society which is truly tolerant and inclusive, to safeguarding the rights of individuals and communities, and to reject every form of unjust discrimination," Francis said in his speech, addressing President Barack Obama.
"With countless other people of goodwill, they are likewise concerned that efforts to build a just and wisely-ordered society respect their deepest concerns and the right to religious liberty."
The pontiff is currently addressing a joint session of Congress Thursday morning before he travels to New York City. After arriving in New York, the pope will hold a Mass at St. Patrick's Cathedral. On Friday, he will meet with the United Nations General Assembly and will also hold a mass at Madison Square Garden.
The pope will then travel to Philadelphia on Saturday, where he will hold a prayer vigil for the World Meeting of Families, which is the largest meeting of Catholic families held every three years. Later in the day, he will visit the Liberty Bell and Independence Hall, the location where the U.S. Constitution and Declaration of Independence were signed.
On Sunday, the pope will hold a papal meeting in the morning with bishops at St. Martin's Chapel of St. Charles Borromeo Seminary in the suburbs of Philadelphia. At 4 p.m., the pope will hold a mass for the World Meeting of Families.
The pope will depart for Rome on Sunday night.