Pope's Commitment to the Poor a Model for Evangelicals?
Observers Also Speculate Charismatic Francis From Argentina Might Attract Latino Youth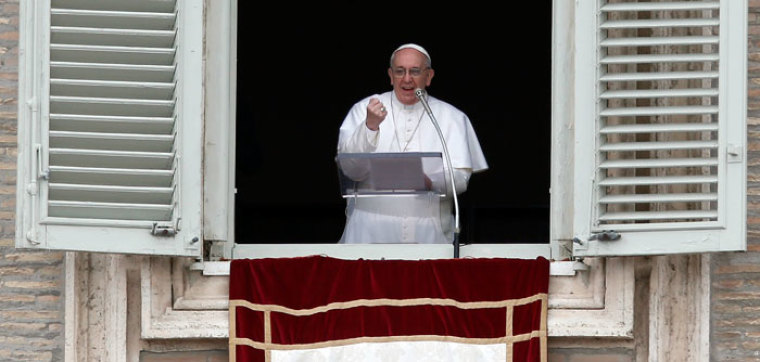 Pope Francis I has presented himself since his first appearance at the balcony overlooking St. Peter's Square as a simple and humble man committed to the poor, leading observers to speculate that the Latin American leader from Argentina could invigorate faith communities beyond the 1.2 billion Catholics who look to him as pope.
The Rev. Samuel Rodriguez of the National Hispanic Christian Leadership Conference, which has more than 40,000 member churches, is among those who believe Pope Francis, formerly Cardinal Jorge Mario Bergoglio, archbishop of Buenos Aires, has the capacity to not only "attract young Latinos who want to do good in the name of Jesus" but also stir up U.S. evangelicals to pursue a deeper commitment to the poor.
"There is something that evangelicals can learn from our Catholic brothers and sisters. We get the vertical right … I think we lack at the horizontal, where the Catholic Church gets it right and we lack," Rodriguez told CP, noting differing Catholic and Protestant views on the doctrines of salvation and justification in his explanation of the "vertical."
"The Catholic not only raises their hand during worship, but they extend hands out in compassion. That includes issues of poverty, the suffering, the marginalized and the oppressed," he added.
Pope Francis reiterated in his homily for his inaugural mass on Tuesday that "authentic power is service" and that his duty as pontiff is to "open his arms to protect all of God's people and embrace with tender affection the whole of humanity, especially the poorest, the weakest, the least important." The 76-year-old pope referenced Matthew 25:31-46's call for the care of the hungry, thirsty, stranger and those who are in prison before saying, "Only those who serve with love are able to protect!"
In addition to being the church's first non-European pope in 1,200 years and its first Latin American pontiff, Francis is also the first priest of the Society of Jesus to ascend to the office, a contradiction to the vow Jesuits make to avoid such levels of hierarchy. They also make a vow of poverty, chastity, obedience and "special care for the instruction of children."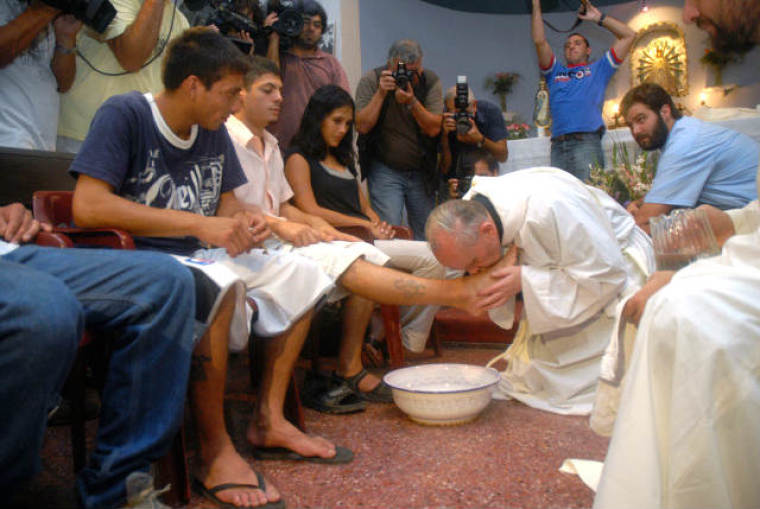 Since his March 13 election to the papacy, photos and accounts have emerged of Francis washing and kissing the feet of AIDS patients, using public transportation daily during his tenure in Argentina and descending from his popemobile during a ride through St. Peter's Square to his inaugural mass to kiss and bless a disable man among the throng of supporters.
Francis' simplistic lifestyle and commitment to the needy as well as his desire to motivate the youth can be attested to not only by his choice of papal name, but by the evangelical Christians who have worked with him and count him as their friend. Among that group is missionary Luis Palau, an Argentinian native who has prayed with the pope and consulted with him during evangelistic campaigns in the Latin American country.
In a recent interview, the global evangelist was asked about Francis' commitment to the poor and its affect on Christians worldwide.
"I think his example will have an impact in the world because it will emphasize the vast majority of people who are needy and hungry. But he will do it [in the Vatican], if I am right on this, because that's what he did [in Argentina]. He will encourage helping the poor, but not by berating or offending those who have succeeded," said Palau.
As for the uniqueness he believes his friend will bring to the papacy, Palau said, "I think he will bring not only an inclination toward the poor, but an inclination toward young people. While we were at a youth convention on the beach in Argentina we stopped and prayed and talked, and I asked him before the convention, 'Any word of counsel?' And he said, 'Listen, 80 percent of those young people don't know Jesus personally. So give them the Gospel.'
"I think that's the emphasis he is going to bring to the papacy: That the Gospel is primary, that we must emphasize it and especially with youth. And that's what I'm praying and that's what I think every believer who loves Jesus Christ ought to pray also."
Among the estimated 74 million Roman Catholics living in the U.S., a third count themselves as Hispanic or Latino. However, recent polls have revealed a shift among Latinos 30 and younger who are converting to Protestantism, a trend also reflected across Latin America.
Some Catholic observers dismayed by the trend have expressed optimism that an outgoing, down-to-earth, social justice-oriented pope could attract young Latinos to the Roman Catholic Church and "unify Latino Catholics living in the United States," according to the Catholic Association of Latino Leaders.
"I think Hispanic young adults will feel stronger connections to the church because [Pope Francis I] is Latino," Lily Morales, coordinator of events for young adult Hispanics in the Diocese of Austin, told the C.S. monitor.
However, Rodriguez, whose National Hispanic Christian Leadership Conference suggests that many of the 10-16 million Hispanic born-again or evangelical Christians in the U.S. are Catholic converts, finds it unlikely that Pope Francis will draw Latinos back to Rome.
"I have great hopes for this pope, I really do, and I wish him well and my prayers are with him," Rodriguez said. "I do not suspect that we will see any kind of measurable shift going the other way."
"It would be a bit presumptuous in thinking that because we have a charismatic Latino pope that we're going to have Latino evangelicals going back to Catholicism," the NHCLC president added. "Let's not forget, the number one reason why they leave the Catholic Church is because they want to have a personal relationship with God without the bureaucracy and that bureaucracy still exists."
In addition to leading the Roman Catholic Church in issues of austerity, some observers are hoping Francis addresses clergy sex abuse scandals, the roles of women in leadership and the vow of celibacy for priests – issues Rodriguez believes has also contributed to the growing number of evangelical converts.
Instead of focusing on the growth or decrease among Latino Catholics, however, Rodriguez told CP evangelicals would do well to take a point or two from this Jesuit priest and his church's 1.2 billion faithful when it comes to incarnating the Gospel.
"Now, do I believe this pope will attract young Latinos who want to do good in the name of Jesus? Possibly," said the NHCLC president. "That's why I believe evangelicals have to wake up and instead of just having services on Sunday and having great services and revivals – which is good – [but] in addition to that, Monday through Saturday, they have to live out the Gospel with taking care of those in need around their communities."
He added, "I hope and pray evangelicals can coalesce and feel invigorated by a pope that is committed to addressing the issue of poverty, to helping the poor and the marginalized, basically living out Matthew 25. I pray evangelicals will emulate that, without sacrificing John 3:16."