Pro-life lawmakers, activists seek changes to FACE Act amid inaction on pro-abortion violence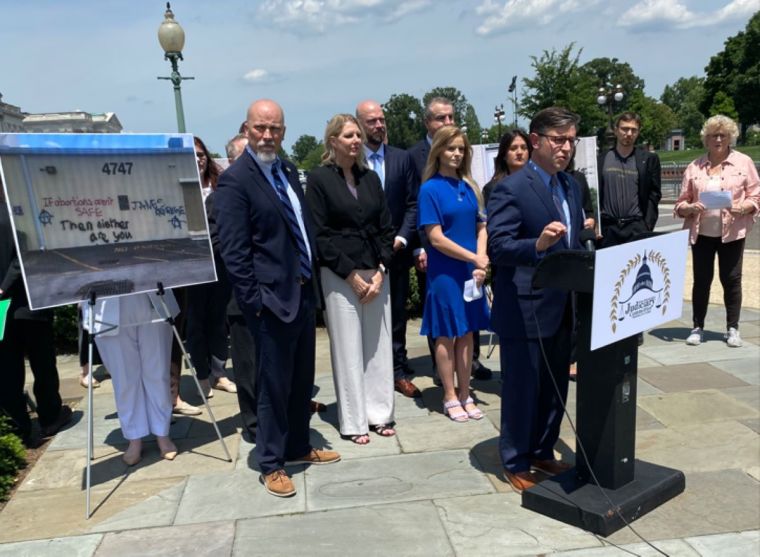 WASHINGTON — Lawmakers and pro-life activists are calling for a longstanding United States law to be repealed or reformed, alleging a double standard in its enforcement based on one's views on abortion. 
Rep. Mike Johnson, R-La., the chairman of the U.S. House Judiciary Committee's Subcommittee on the Constitution and Limited Government, held a press conference on the House Triangle of the U.S. Capitol Tuesday following the conclusion of a hearing, "Revisiting the Implications of the FACE Act." The law's title is an acronym for Freedom of Access to Clinic Entrances.
As Johnson explained, "The FACE Act is a 1994 law that was passed here that prohibits threats of force, obstruction and property damage intended to interfere with reproductive healthcare services and the statute protects pro-life pregnancy counseling services and other pregnancy support facilities providing reproductive healthcare." The law subjects violators to federal charges.
"The FACE Act has been stripped of its intent and used as a tool to both simultaneously prosecute pro-life individuals and insulate those who carry out attacks on pro-life advocates and facilities," he insisted. Johnson cited the prosecution of pro-abortion activists in Florida for vandalizing pro-life pregnancy centers as the sole example of pro-abortion activists facing charges under the FACE Act.  
Johnson pointed to Mark Houck as an example of a pro-life activist unduly prosecuted under the FACE Act. "In October 2021, while standing and praying on a street corner, away from the entrance of a Planned Parenthood clinic, he and his 12-year-old son were there. Mr. Houck was approached by a Planned Parenthood escort who repeatedly antagonized him verbally and attempted to intimidate him and his young son."
"He asked him politely to stop that behavior and the man did not. And so, Mr. Houck eventually pushed the escort away from his young son and the guy fell to the ground."
Eleven months later, Houck's story gained national attention after the FBI descended on his home in an early morning raid to arrest him for a purported violation of the FACE Act stemming from his encounter with the Planned Parenthood escort. While he was ultimately acquitted on the federal charges, Houck has repeatedly detailed the trauma the early-morning raid caused on his family and vowed to take legal action against federal law enforcement.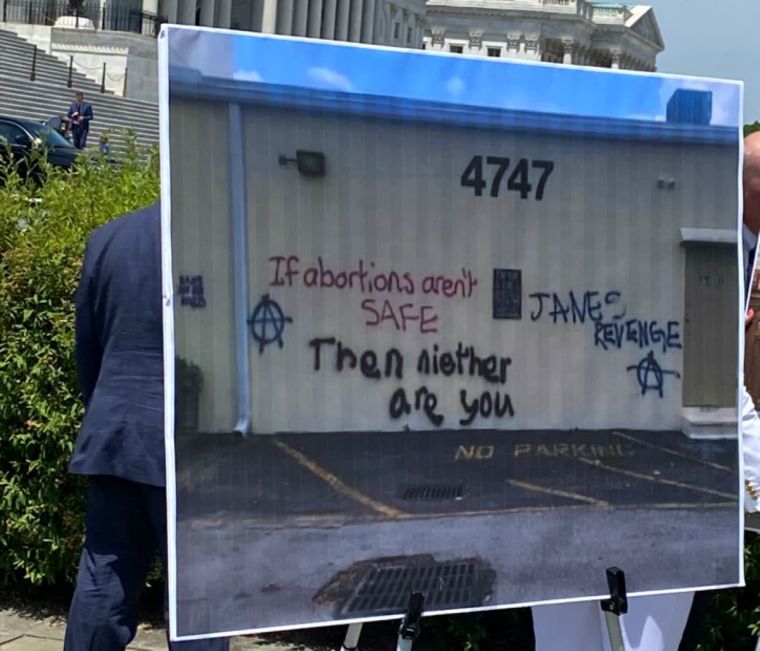 As Johnson and witnesses who testified at the hearing spoke, pictures of pro-life pregnancy centers and churches vandalized by pro-abortion activists following the publication of a leaked draft decision in the U.S. Supreme Court case Dobbs v. Jackson Women's Health Organization. "Virtually all of it has gone unpunished and unprosecuted," Johnson lamented.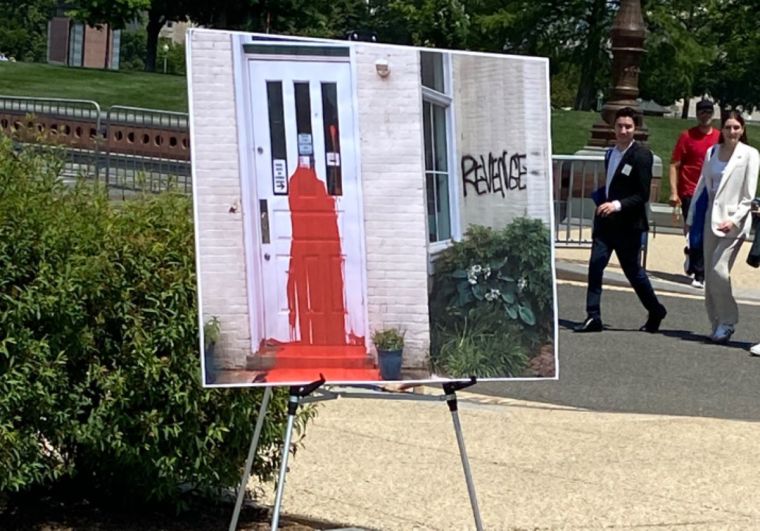 One of the pictures on display documented vandalism at Capitol Hill Pregnancy Center in Washington, D.C. The pro-life pregnancy center, defaced with graffiti on June 1 of last year, was one of several facilities targeted by pro-abortion activists following the May 2 publication of the Dobbs draft decision.
Janet Durig, director of the Capitol Hill Pregnancy Center, recalled the disparate responses to the vandalism from local and federal law enforcement as she spoke at the press conference: "I called the police and they came and they took it very seriously. I have yet to hear from the FBI and it's been almost a year."
The vandalism directed at pro-life pregnancy centers and churches has continued since the Dobbs ruling on June 24, 2022, which determined that the U.S. Constitution does not contain a right to abortion. Pro-life activists gathered at the press conference suggested that the Dobbs ruling made the FACE Act moot.
Jonathan Darnel, one of several pro-life activists charged with violating the FACE Act by attempting to block people from entering a Washington, D.C., abortion clinic, addressed the speakers at the press conference by declaring "the whole justification for the FACE Act in the first place was the 14th Amendment that supposedly abortion was a constitutional right."
"The Dobbs case has thrown that completely away," he added. "We know that it's not a constitutional right. Shouldn't we be calling … not for an equal application of the FACE Act but … for the FACE Act to be disposed of?" Darnel asked.
Terrisa Bukovinac, president and founder of the Progressive Anti-Abortion Uprising, echoed Darnel's comments by asking if there was "any plan to repeal FACE." Johnson responded to her question by highlighting the purpose of Tuesday's hearing as to determine "whether we need some reforms to the Act and whether we should amend it in some way to make sure that this is appropriately exercised by the [Department of Justice]."
Lauren Handy, a pro-life activist affiliated with PAAU, faces 11 years in prison on FACE Act charges connected to the same Washington, D.C., abortion clinic blockade that Darnel participated in.
Handy, who attended the hearing and the press conference, elaborated on the present status of her legal situation in an interview with The Christian Post.
"I go to court May 25," she said. "The judge will possibly be determining our motion to dismiss the case. Our lawyers submitted a motion to dismiss based on the fact that … we're in a post-Dobbs world. Abortion is no longer a federal right and we do not believe the government has the ability to regulate it under the Commerce Clause anymore. And because it's no longer a federal right, my case should be dismissed."
Handy has spent time behind bars before as a result of her pro-life activism, with her longest incarceration thus far lasting for 34 days. She anticipates spending a longer amount of time incarcerated if she's found guilty.
Savanna Deretich, the government affairs coordinator at the pro-life advocacy group Students for Life Action, also delivered remarks at the press conference. Deretich noted that Kristan Hawkins, president of Students for Life of Action, applauded the House Judiciary Committee for "addressing the abuse of the FACE Act as it is applied to peaceful pro-life Americans."
"It has become progressively obvious that federal agencies are wielding this law in a discriminatory manner toward the pro-life movement," Deretich proclaimed. "This includes using the FACE Act as a cover to disproportionately discriminate against pro-life activists who have violated the law as well as agencies turning a blind eye when pro-life pregnancy centers are damaged or destroyed by the abortion lobby."
In an interview with CP, Deretich discussed the hostility directed at Students for Life of America following the Dobbs decision: "We've had arson, we've had bomb threats, we've even had physical attacks where they have physically taken away our things and touching us, punching us. We've had students that have been punched door-knocking as well as tabling, and we've even had pee thrown at some of our students."
Deretich acknowledged that student activists affiliated with Students for Life Action experienced hostility from pro-abortion activists prior to the Dobbs decision, although it was on a much smaller scale. "The FACE Act is not being properly enforced," she said, stressing that "we would love for it to be properly enforced."
According to Deretich, "The [Biden] administration needs to properly enforce the FACE Act and not be discriminatory and use it as a weapon against pro-lifers."