Rapper Common Includes Christian Themes, Slams Trump, in NBA All-Star Performance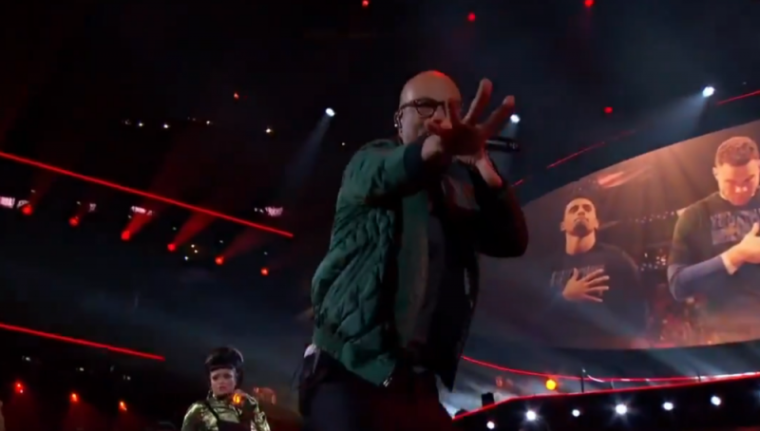 During his performance at the NBA All-Star Saturday Night contests, rapper Common included an anti-Trump line, "president trolls with hate." The Dallas Mavericks owner Mark Cuban and Cleveland Cavaliers superstar LeBron James also appeared to be criticizing President Donald Trump.
Common and Andra Day sang a special rendition of "Stand Up for Something," during which Common included the lines "… a knee we take for our soul's sake … our president trolls with hate …" in the middle of his rap.
The song also included mentions of God and Jesus: "... ain't here to judge, just to take a stand, for greater plans, the creator's plan, let's all rise like the day began, reach out and touch with the savior's hand ..."
The performance was aimed at addressing social injustice to observe Black History Month.
Common has previously included religious and political themes in his music.
For instance, the lyrics to "Glory," the song he co-wrote with John Legend for the film "Selma," which won an Oscar and Golden Globe, include:
Hands to the Heavens, no man, no weapon
Formed against, yes glory is destined
Every day women and men become legends
Sins that go against our skin become blessings
The movement is a rhythm to us
Freedom is like religion to us
Justice is juxtapositionin' us
Justice for all just ain't specific enough
One son died, his spirit is revisitin' us
True and livin' livin' in us, resistance is us
That's why Rosa sat on the bus
That's why we walk through Ferguson with our hands up…
Possible anti-Trump messages were found at least two other occasions during the NBA All-Star Weekend. Businessman and investor Cuban was seen wearing No. 46 during Friday's All-Star Celebrity Game, possibly alluding to Donald Trump being the 45th president, according to Business Insider. Cuban is seen as a potential candidate in the 2020 presidential election.
LeBron James said he "will definitely not shut up and dribble," according to The Associated Press. Fox News host Laura Ingraham had said athletes should "shut up and dribble" instead of criticizing President Trump.
"I will definitely not do that," James continued. "I mean too much to society. I mean too much to the youth. I mean too much to so many kids that feel like they don't have a way out and they need someone to help lead them out of the situation they're in."
Referring to Muhammad Ali, Jim Brown, Bill Russell and Jackie Robinson, James added, "We know it's bigger than us. It's not about us. I'm going to continue to do what I have to do to play this game that I love to play, but this is bigger than me playing the game of basketball."
According to USA Today, Miami Heat's Dwyane Wade stated before the Common and Day performance, "Every year at this time, we come together, all friends, we make noise and celebrate the game we all love, but this game is about more than just basketball. In the NBA, we come from all over the world, we have many differences, but this game teaches us one important lesson: We're stronger when we're united and we win when we're together."
He added, "All of us in the NBA family are committed to the values of equality, inclusion and diversity, and we're committed to using our voices to bring people together, to be there with each other and for each other."