5 Reactions to The New Yorker's Anti-Chick-fil-A Screed
Kat Timpf: I'm Not Christian And I Support Gay Marriage; I Will Still Eat At Chick-fil-A.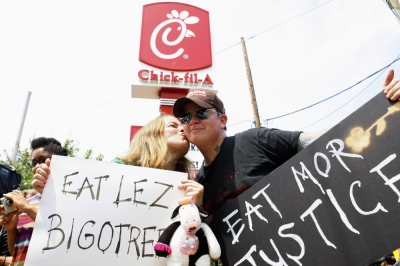 Writing at National Review Monday, Kat Timpf made clear that she is not religious at all and is completely supportive of gay rights but will continue eating at Chick-fil-A because she likes the food.
"Yes, Chick-Fil-A's CEO is a Christian. So what?" she wrote. "So are millions and millions of other Americans. I may not be one of them; however, just as I expect other people to respect my beliefs and not discount my humanity because of those beliefs, I also feel that other people deserve that same respect."
"So ... do I feel like this Christian-owned chicken chain is infiltrating my city? Do I associate the smell of its fried food with bigotry and hate?"
She went on to say that she would not visit the fast food chain if she thought her dollars would in any way contribute to gay marriage becoming illegal, but that is not going to happen since the matter has been settled in the courts.
"The truth is, the fact that there's a restaurant chain in my city that's owned by someone who feels differently than I do is just not that big of a deal ... if I allowed myself to eat food only from establishments where the owners agreed with all of my beliefs, then I'd probably starve."