Republican Lawmaker Apologizes for 'Insensitive' Comments About Colorado Mother Whose Baby Was Cut From Womb (VIDEO)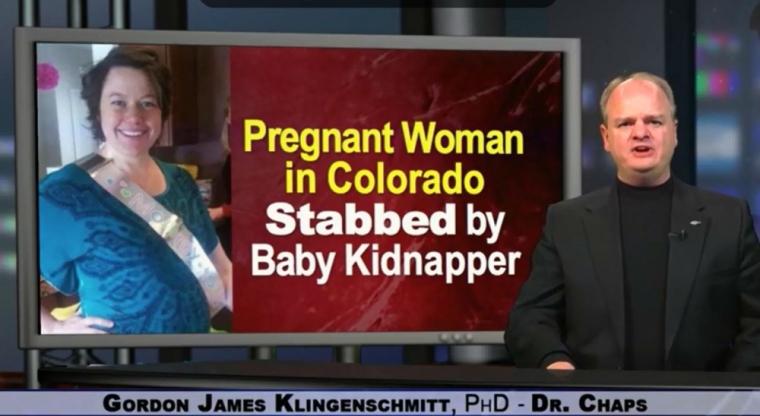 A Republican lawmaker accused of saying that a recent attack on a pregnant woman whose baby was cut from her womb was a "curse from God," has apologized and says that he was misquoted by the media.
Last week, Gordon Klingenschmitt, a Republican member of the state House of Representatives from Colorado Springs, was widely rebuked by both democrats and republicans over comments he made on his "Pray in Jesus Name" satellite television show. His comments were about a tragic case involving Colorado resident, Michelle Wilkins, 26, who was 7 months pregnant when she was brutally attacked on March 18.
During a phone call with The Christian Post on Monday, Klingenschmitt apologized for his "insensitive" comments. He said that he spoke privately with the family of Wilkins, who survived the gruesome attack although her baby did not.
"I apologize for what I say and not what was reported that I said," Klingenschmitt told The Christian Post. "There's a lot of false reporting out there ... my words were insensitive."
The alleged assailant, 34-year-old Dynel Lane, is currently being held in Boulder County jail on a $2 million bond.
"I never said that the pregnant woman was the result of a curse of God, that's the opposite of what I think!" Klingenschmitt, who goes by Dr. Chaps, said in a YouTube video apology posted yesterday. "This pregnant woman was innocent, this woman was blessed of God. It was her murderer that was a result of the curse of God."
Despite Klingenschmitt's apology, GOP leadership removed him from one of his committee assignments on Monday.
"I was very disturbed by Rep. Klingenschmitt's comments last week, and want to reiterate that his comments do not represent our caucus and he does not speak for our caucus," House GOP Leader Brian DelGrosso. R-Loveland, said. "Rep. Klingenschmitt's conduct warranted his removal from the committee."
On March 24 the first term Republican and former Navy Chaplain quoted scripture (Hosea 13), which talks about God's anger against Israel, while discussing the horrific attack on Wilkins in an online video.
"This is the curse of God upon America for our sin of not protecting innocent children in the womb," Klingenschmitt said in his original YouTube video. "Part of that curse for our rebellion against God as a nation is that our pregnant women are ripped open."
The video went viral and immediately drew criticism from liberals and conservatives.
"I do want to apologize for my words last week because I was so angry that I forgot to be compassionate," he said. "My words were not compassionate and therefore I apologize. My tone was wrong, my choice of words was wrong, my choice of scripture was wrong, everything I did about that report was wrong. Honestly, I apologize to you Michelle Wilkins, I apologize to you the viewers, I apologize to the voters and constituents of Colorado Springs and anybody out there who … was offended I apologize to you."
Klingenschmitt then directed viewers to Wilkins' GoFundMe Page and encouraged them to donate to her cause, which was created to help with medical expenses. Last week, he personally donated $1000 to the cause but Wilkins rejected the money and issued him a refund.
State Republican Party Chairman Steve House was among a number of GOP leaders who wasted no time distancing themselves from Klingenschmitt's comments.
"Gordon has the right to exercise his First Amendment protection of free speech," state Republican Party Chairman Steve House said in a statement. "Gordon does not speak on behalf of the ... party and to suggest otherwise would be inaccurate and dishonest."