Rescue Member Shouts 'God Bless You' to Children's Soccer Team Found Alive After 10 Days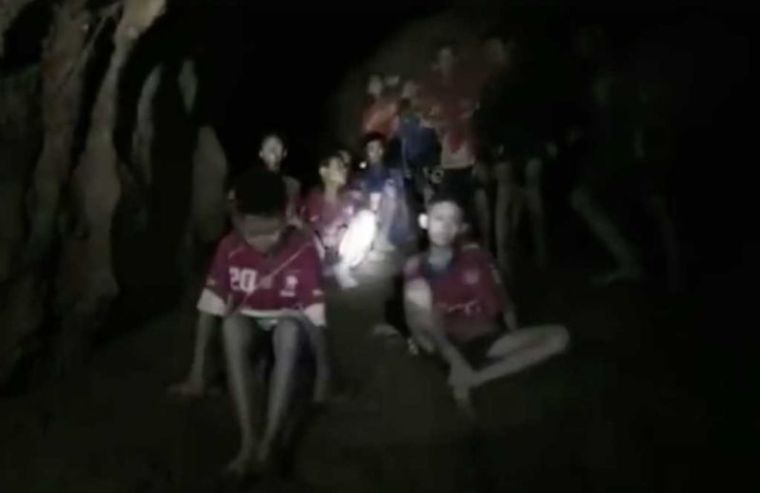 Officials announced on Monday that an entire soccer team and their coach was found in a cave in Thailand after they all went missing for 10 days.
The young men, ranging from the ages of 11-16, were discovered by a combined rescue party of Thai Navy SEALS and local volunteer divers. They were reportedly trapped for a week and a half in the flooding cave.
"Thai Navy SEALs have found all 13 with signs of life," Governor of the Chiang Rai province Narongsak Osottanakorn told reporters on Monday.
The Thai Navy SEALs posted a video on Facebook showing the moment they found the group of boys and their coach. As seen in the footage, the young men all appeared to be in good health and were heard talking to the rescuers.
"I am very happy," one of the boys is heard saying in English. "Thank you so much."
They began to inquire about how long they were trapped and a diver on the SEAL team replied, "You have been here 10 days. You are very strong."
Another boy asked, "What time do we go outside?"
To which the diver responded, "No, not today, not today. There's two of us. You have to dive. We're coming. It's OK. Many people are coming. Many, many people. We're the first. Many people come."
"God bless you," another member of the rescue party says to the survivors.
The divers equipped the group with lights as they waited for food and medical help to reach them.
SEAL commander Rear Adm Arpakorn Yookongkaew reported that a team of seven SEAL divers are currently with the soccer team offering medical care. The young men will also reportedly eat their first meal in days as sealed pouches make their way down the cave, packed with energy gel sachets and paracetamol.
According to reports, rescuers have also set up an underground headquarters to help facilitate the rescue operation.
"We will prepare to send additional food to be sustained for at least four months and train all 13 to dive while continuing to drain the water," Thai Navy Captain Anand Surawan stated on Tuesday.
The Daily Mail reports that rescue teams have been pumping almost 10,000 liters of water out of the caves every hour. However, their efforts only yielded a one-centimeter reduction in water level.
"As rain is forecast in the next few days, the evacuation must speed up. Diving gear will be used. If the water rises, the task will be difficult. We must bring the kids out before then," said Thai Interior Minister Anupong Paojinda to the Bangkok Post.
"Diving is not easy. Those who have never done it will find it difficult, because there are narrow passages in the cave. They must be able to use diving gear. If the gear is lost at any moment, it can be dangerous to life," he added.
The rescuers and soccer team are faced with the immense physical challenge of swimming to safety especially because all of the team may be too tired and weak. The two skilled Navy SEAL divers claim they took about six hours to navigate through the cave, fighting mud-clogs and swimming through underwater passages that led to the team's location.
"Cave diving is a very technical skill and it's extremely dangerous, especially for an untrained diver," Anmar Mirza, coordinator of the US National Cave Rescue Commission, explained to AFP.
"So they may end up being better off trying to supply them in cave until they can be gotten out by other means."
There is no word on when the team and their coach will make it out of the cave and many are praying that it happens sooner than later.