Rick Warren Shares Wisdom With Pastors in Year-End Webcast
Rick Warren, pastor of Saddleback Church and author of The Purpose Driven Life, spent an hour on Wednesday addressing pastors in his year-end webcast, in which he shared both what he learned in 2011 and the vision he has for his ministry in 2012.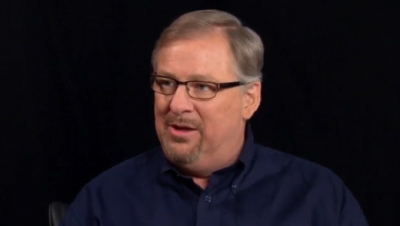 Warren opened the webcast by sharing leadership lessons he learned in 2011. The lesson he elaborated on the most was, "New growth happens on the newest branches ... not on the trunk."
He explained that one of the reasons Saddleback went through 25 years of uninterrupted growth was because he waited 15 years after the church was founded before building the church's permanent location. By waiting to settle down he was able to keep a "pioneer spirit" within his own people which helped them in their growth.
As time wore on, however, he said that many of the people who have been faithful in attending his church throughout the years eventually "reached all their friends," resulting in a "natural settling down" when it came to growth.
His solution has been to reach a new generation of people by starting new "branches," or sister churches and small groups in a variety of sizes. In the last year, he said, Saddleback has planted one megachurch, five average-sized churches and over 800 smaller groups, which he says are most effective when it comes to generating rapid growth.
One of the evangelism techniques Warren says he learned in 2011 was how to effectively minister to those who are financially hurting as a result of the poor economy. Churches should remember that the American economy is still struggling, he said, and that as a result food pantries and other assistance programs are powerful forms of ministry.
Saddleback's food bank, he said, has fed 72,000 people since the recession began in the United States. In 2011, he says, more people were brought to Christ through the food bank than through Saddleback's Easter services for the first time in the church's history.
Churches, Warren suggested, should consider doing a sermon series on jobs and careers, a relevant topic in a time where people are struggling and unemployment rates are high.
"Thank you" evangelism also proved to be effective for Saddleback in 2011. Warren read in the local paper that the Santa Margarita Catholic High School football team had won the California Division I state championship, so he invited the team and their families to a church service in order to honor them. About 250 people came as a result of the invitation, and 59 of them gave their lives to Christ that day.
Looking forward to the year 2012, Warren said his church is planning two major spiritual growth campaigns for his congregation. The first campaign, which will begin in January, is 40 Days in the Word, which will focus on Bible literacy. Approximately 3,000 different churches will also participate in the campaign.
"One of the convictions that I got as a result of 2011 is that Americans are biblically illiterate," said Warren. "They just don't know the Word of God ... Our parents' generation knew the Word of God pretty well. My generation knew a little bit. The next generation knows none of it."
In the Fall of 2012 the church is doing 40 Days of Transformation, which will take the five purposes of God outlined in The Purpose Driven Life – worship, fellowship, discipleship, ministry and evangelism – to see how those purposes transform the lives of Christians.
Rick Warren Combating Biblical Literacy
Another major plan for 2012 is Peace 3.0, a mission to reach the 3,800 tribes around the world that still don't have churches by the end of the decade. He calls these tribes the "final frontier" in fulfilling the Great Commission.
Warren, who has nearly 500,000 Twitter followers, also said that pastors need to take advantage of social media sites like Facebook, LinkedIn and Twitter as a part of their ministries.
"I want pastors to dominate Twitter," he said. "We don't want celebrities dominating these things, we want pastors using this for the Good News."
In his conclusion, Warren gave some suggestions for personal growth, saying that pastors should seek to become more gracious.
"The mark of godliness is graciousness. The more carnal I am, the more critical I am," he said. "Be slow to judge what people do until you know what they've been through."
Warren founded Saddleback Church in Lake Forest, Calif., in 1980 with just one other family. About 20,000 people now attend weekend services at Saddleback, according to the church's website, and Warren's influence has expanded through his other ventures including The Purpose Driven Network, The Peace Plan and Pastors.com.