Rick Warren: Want Serenity? Let God Take Full Control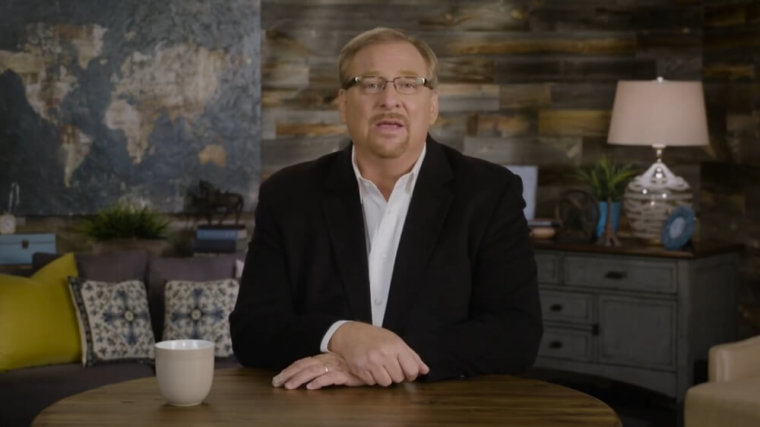 To achieve serenity in life, God wants you to let go and know He is in control, Pastor Rick Warren says.
Warren, senior pastor of Saddleback Church in Orange County, California, wrote in a recent devotional that although we as Christians may fight to take control of our lives on a daily basis, we must also remember that ultimately, everything is up to God.
"[…] stress relief always starts with letting God be God," the evangelical leader writes. "It always starts with saying, 'God, I'm giving up control, because you can control the things that are out of control in my life.'"
Because no one knows what will happen in the future, we need to let go and let God do the rest.
"I don't know what you're going to face this week. You don't, either. But I can already tell you what God wants you to do: Let go, and know. Let go of control, and know that God is in control. Let go, and know! This is the first step to serenity in your life," Warren explains.
Christians tend to react to stress in one of two ways, Warren explains. While some attempt to over-control a situation, others give up and pity themselves.
Both of these approaches are destructive and don't ultimately alleviate stress, the megachurch pastor says. Instead, Christians need to surrender themselves to God and His plan.
"The number one reason you're under stress is because you're in conflict with God. You're trying to control things that only God can control," Warren explains.
A good way to maintain a high level of tranquility in the face of stress is to pray the Serenity Prayer, Warren says.
The evangelical leader points specifically to the last eight lines of the prayer, which read: "Living one day at a time, enjoying one moment at a time, accepting hardship as a pathway to peace, taking as Jesus did this sinful world as it is, not as I would have it; trusting that you will make all things right if I surrender to your will so that I may be reasonably happy in this life and supremely happy with you forever in the next. Amen."
It can be difficult for Christians to keep faith in God's plan when the future seems so uncertain, and that is why evangelical leaders like Jon Bloom, co-founder of DesiringGod.org, looks to God's Word when he has trouble trusting God's plan.
"Living in the will of God is more about knowing and trusting His specific promises than receiving specific direction," Bloom recently wrote for DesiringGod.org. "It's more about resting in his sovereignty than wrestling with my ambiguity."
"I've learned and continue to learn that embracing God's will for me largely consists in transferring my confidence from my own miniscule capacity to understand what's going on and why to God's omniscient and completely wise understanding," Bloom says.
"When God's direction and purposes for us are unclear, His promises are always crystal clear. God frequently calls us to stand on the rock of his promises and faithfulness in the murky, swirling fog of perplexing circumstances," Bloom adds.