Rihanna's Chest Tattoo, Egyptian Goddess in Honor of Late Grandmother (PHOTO)
Rihanna recently showed off a large chest tattoo of the Egyptian goddess Isis which is reportedly in honor of her late grandmother Clara "Dolly" Brathwaite, who passed away in July.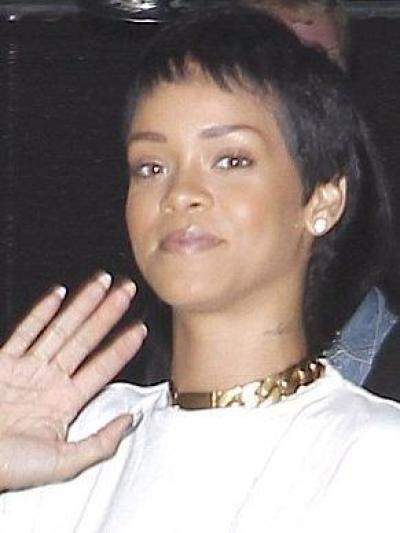 The singer uploaded a revealing snapshot on Instagram of the new ink which was tattooed on her chest between her breasts. The photo shows Isis kneeling with spread out wings, and the entire tattoo spans across Rihanna's ribcage.
"Goddess Isis - Complete Woman - Model for future generations - #GRANGRANDOLLY - always in and on my heart," Rihanna tweeted alongside the photo.
The tattoo marks the singer's 16th. Others include "shhhh" on her index finger, a slanted cross tattoo beneath her neck, and a large falcon foot tattoo.
Rihanna, 24, was understandably left devastated after the passing of Dolly, who lost her battle with cancer. After struggling with her performance at the Wireless Festival in London's Hyde Park, Rihanna immediately flew back to her native Barbados, where she attended Dolly's funeral.
"Goodbye #grangranDOLLY get your beauty rest until I see you," Rihanna tweeted at the time alongside photos of her late Grandmother.
Chris Brown, who many critics suspect is dating Rihanna again, also took to Twitter where he remembered Dolly.
"Praying for family and the lost loved one. She was like my grandmother. Love you GRAN GRAN! RIP," Brown tweeted.
The Grammy award-winning artists have reportedly been "seeing a lot of each other in private" recently, despite Brown's current involvement with model Karrueche Tran, according to The New York Post.
They also stunned fans on Thursday when they shared a public kiss at the MTV Video Music Awards show as Brown, 23, congratulated Rihanna for winning the award for for Best Video Of The Year.
They are said to be apprehensive about publicizing their rekindled romance due to the fear of possible backlash.
"Everyone in the business assumes [Rihanna] and Chris are getting back together, and it is only a matter of time before they'll be more public about it," a source previously told The Post.
"It's like she is testing the water – first they work on music together, then they hang out in a friendly way, so the public won't be completely shocked when they step out together publicly," the insider added.
To see photos of Rihanna's new tattoo click here: https://twitter.com/#!/rihanna/media/slideshow?url=http%3A%2F%2Finstagr.am%2Fp%2FPXz4f2hM3N%2F
Chris Brown and Rihanna Kiss On the Lips at VMA's 2012