Robert George Home From Hospital, Thankful for 'Fervent Prayers'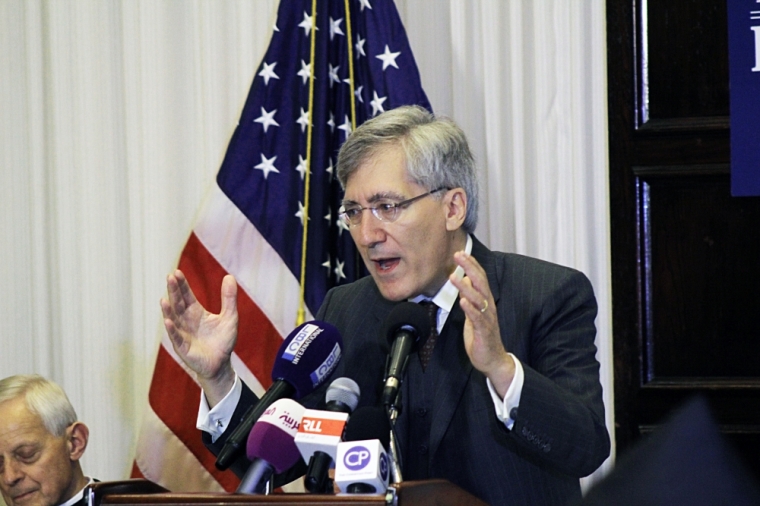 After being released from the hospital following a life-threatening heart complication, Princeton professor and religious freedom advocate Robert P. George took to Facebook Sunday night thank all those who prayed for him throughout his ordeal, as he now expects to have a swift recovery.
George, who is the chair of the U.S. Commission on International Religious Freedom and also a conservative author, was hospitalized in New Jersey last Sunday after feeling pain in his abdomen. He was later diagnosed with a rare life-threatening tear on the inner layer of his aorta and was transferred to Weill Cornell Medical Center in Manhattan.
Although it was originally believed that surgery was needed, it was later determined that surgery was no longer necessary. Many of George's friends and colleagues and even Republican presidential candidate Jeb Bush took to social media to ask others to pray for George.
"Throughout the ordeal that began last Sunday evening, my family and I have been buoyed by your kind and generous words, your steadfast moral support, and above all your fervent prayers," George wrote on his Facebook page. "Even at the darkest moment, I took enormous comfort in knowing that heaven was being stormed on my behalf not only by those closest to me personally, but by countless men and women of almost every tradition of faith, including many I have not personally even met."
"My closest friends, the people with whom I've labored in the great causes I have endeavored to serve, the students and former students I have been blessed to teach, were joined by countless people I don't even know in offering prayers in churches and synagogues, in mosques and temples, around dinner tables and on their knees at bedtime," George added. "Men and women from all walks of life sent email messages or posted comments saying the kindest, most generous things."
George explained that doctors have assured him that he can expect a "complete and reasonably swift recovery and return to work." He stated that he was so honored to have so much prayer support that he wishes he could personally thank every one.
"There is no way I can claim to be worthy of such an extraordinary outpouring of love; but with all my heart I thank you for it, and I thank God for you — each and every one of you," George continued. "I wish I could reach out and give you a hug."
"I will appreciate your continuing prayers, but please make them prayers of thanksgiving to God for his goodness to me, despite my unworthiness, and for the dedication and superlative skill of those physicians and surgeons and the nurses who assisted them," he added.
In concluding his post, George took a line from baseball legend Lou Gehrig's retirement speech from July 1939 after he was diagnosed with ALS.
"I would never compare myself with the great Lou Gehrig except to say that I feel today as he felt on July 4, 1939 when he explained to the fans gathered in the old Yankee Stadium that he was 'the luckiest man on the face of this earth,'" George stated. "And for that, dear friends, you have my deep, my undying gratitude. God bless you."
Contact: <ahref="mailto:samuel.smith@christianpost.com">samuel.smith@christianpost.com,
@IamSamSmith
(Twitter)