Roy Moore Claims 'Gays, Lesbians, Transgenders' Behind 'Malicious Attacks' Against Him
Roy Moore Claims 'Gays, Lesbians, Transgenders' Behind 'Malicious Attacks' Against Him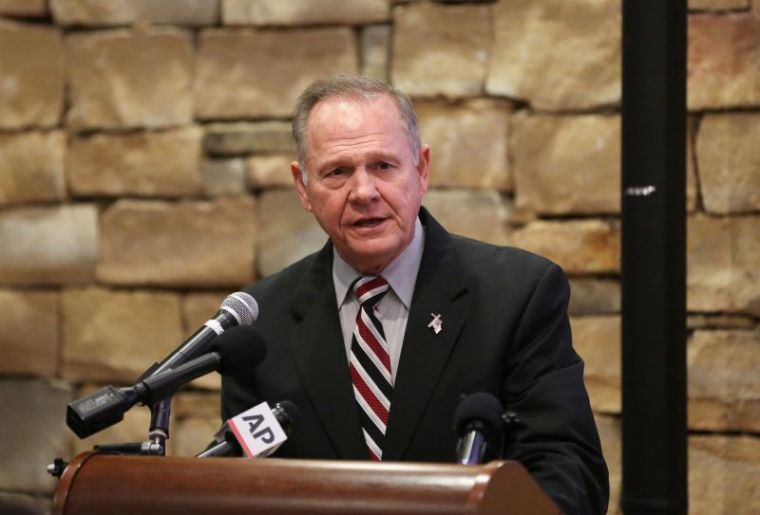 Embattled U.S. Senate candidate Judge Roy Moore of Alabama claimed at a Wednesday church service that gays, lesbians, transgenders, and a variety of other people are behind the "malicious attacks" against his campaign.
"When I say 'they,' who are they? They're liberals. They don't hold conservative values. They're the lesbian, gay, bisexual, transgenders who want to change our culture," Moore stated during a church service in Theodore, Alabama.
"They're socialists who want to change our way of life, putting man above God and then government is our God. They're the Washington establishment that simply wants to keep their jobs, do the same thing, keep everything the same, so they don't lose their position, their power, their prestige," he added.
"Attacks have been not only false and numerous, but malicious."
As he has on numerous occasions, Moore again denied claims by multiple women that he sexually pursued them while he was in his 30s and they were teenagers, some of them under age.
Al.com reported that Moore's speech inside Magnolia Springs Baptist Church was interrupted on a couple of occasions, the first time by a man who asked whether all the women coming forward are making up stories.
"The entire time, all the girls are lying?" the man reportedly shouted at Moore, before he was escorted outside by police.
On another occasion comedian Tony Barbieri, who has appeared on "Jimmy Kimmel Live!," got up before the congregation wearing a seemingly pro-Moore T-shirt, and declared that Moore is a "man's man. Does that look like the face of a molester?"
Some parishioners, such as Theodore resident David Connolly, were unhappy that Moore was given the chance to speak at the church, while Pastor David Gonnella called it a "worship service" after the interruptions.
"I believe in giving everyone a chance to speak," Connolly said. "I heard what the man had to say and he uses Bible verses to twist in any way he can. This is embarrassing to Alabama and embarrassing to me."
Southern Baptist theologian Denny Burk also criticized the pastor for claiming Moore's political speech was a worship service. 
"He claims, 'This is a worship service.' Scripture says this is a worship service: 'They were continually devoting themselves to the apostles' teaching and to fellowship, to the breaking of bread and to prayer.' -Acts 2:42," Burk wrote on Twitter with a link to the video. 
Earlier this month, Pastor Gonnella argued that the accusations against Moore were "satanically motivated" and said Republicans not supporting Moore were "sissies." 
Moore supporters backed the invitation, however, and claimed that the former judge is a victim of politics, as the allegations surrounding him came to light only weeks before the general election.
"Politics has just gotten ugly," said Michael Griffon. "It's always been ugly, but when it hits you this hard in the face, it just really seems very ugly to me."
The controversy surrounding Moore's campaign has caused deep division among evangelicals in Alabama and across the United States.
Some notable conservative voices, such as twin brothers and pro-life activists the Benham Brothers, have said that too many leading Republican politicians have denounced Moore "without fully knowing all the facts."
David and Jason Benham claimed that "over the last few weeks, the narrative has started to crumble," and accused the women speaking out against Moore of lacking credibility.
Others, such as Dr. Richard Land, president of Southern Evangelical Seminary and executive editor of The Christian Post, have questioned whether Moore is being honest.
"Judge Moore, as a brother in Christ, I implore you, for the sake of your family and your supporters, but even more importantly, for the sake of our Savior and His reputation, to arrange as quickly as possible to take a polygraph test concerning these accusations," Land urged.
"I know the results of such a test are not admissible in court, but this is the court of public judgment. I can only tell you if I were in your position and I were innocent of these allegations, I would insist on having a polygraph test administered as soon as possible."