Roy Moore: We Need to Make America 'Good' Again, We Have Forgotten God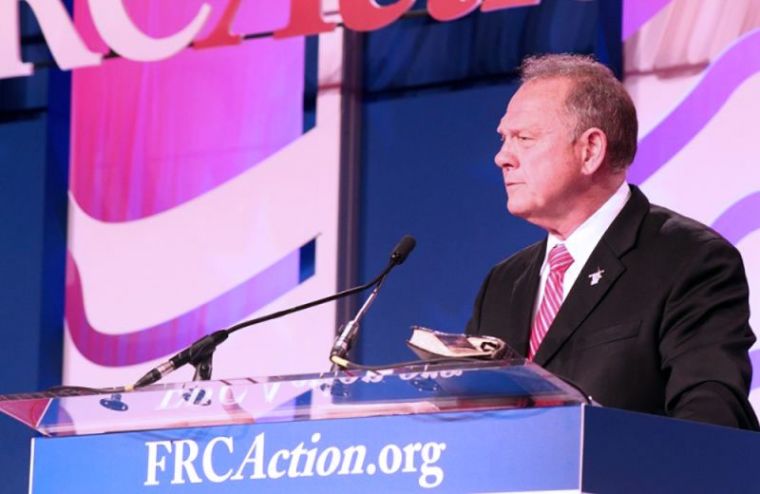 WASHINGTON — The judge who famously fought to keep the Ten Commandments monuments on state grounds in Alabama says America needs to be made "good" again and that God is the source of our morality, but Americans have forgotten Him.
In a Friday afternoon speech where he made occasional rhymes and references to America's founding fathers before hundreds assembled for the Family Research Council's annual Values Voter Summit at the Omni Shoreham Hotel, Roy Moore, twice elected Supreme Court Justice in Alabama, decried the state of affairs in the nation.
"[God] has given us a window of opportunity," Moore said of Trump's election last year, "a time when we can bring our nation back or see it suffer the consequences"
He expressed enthusiasm for President Trump and his agenda, but said that some things have not moved quickly enough.
"We're seeing a stagnancy in Washington D.C.," he lamented, later calling the Federal city not just a swamp but "quicksand" and bemoaned that "we don't have leadership" there but a "followership."
Moore, who defeated Trump-backed Luther Strange in the state primary election in late September, believes that the slow pace of the Republican-led Senate is going to affect the 2018 mid-term elections, fueling an even more conservative class of new people elected to Congress.
But aside from policy matters he supports, he said, "we need to make America good again," playing off Trump's campaign slogan, "make America great again." 
Making America good "is easier done than said," he said to laughter, "and that wasn't a mistake. It's easier done than said."
"We return the knowledge of God to our land and God will heal our land," he said to cheers and applause.
He recounted that someone asked him "How can we do this?" to which he replied: "It's simple. Recognize God again. It's not complicated." Americans have forgotten that the inalienable rights outlined in the Constitution come from God, he asserted, and "we've got to go back to the basis of our morality which is in God not man."
Politicians do not talk about this today because they have lost that connection, he went on to say, and then read from a King James Version of the Bible from Hosea 4:6-7:
"My people are destroyed for lack of knowledge: because thou hast rejected knowledge, I will also reject thee, that thou shalt be no priest to me: seeing thou hast forgotten the law of thy God, I will also forget thy children. As they were increased, so they sinned against me: therefore will I change their glory into shame."
"We need to go back to recognizing that God still has the same message to America today," Moore said, reiterating, "our foundation has been shaken. It has been shaken to the core because we have forgotten the source of our morality."
Moore is expected to win the seat vacated by Jeff Sessions, who is now the Attorney General, on December 12 where he will face Democrat Doug Jones.