Saudi Crown Prince Told Evangelical Leaders Khashoggi Murder Was 'Terrible Mistake'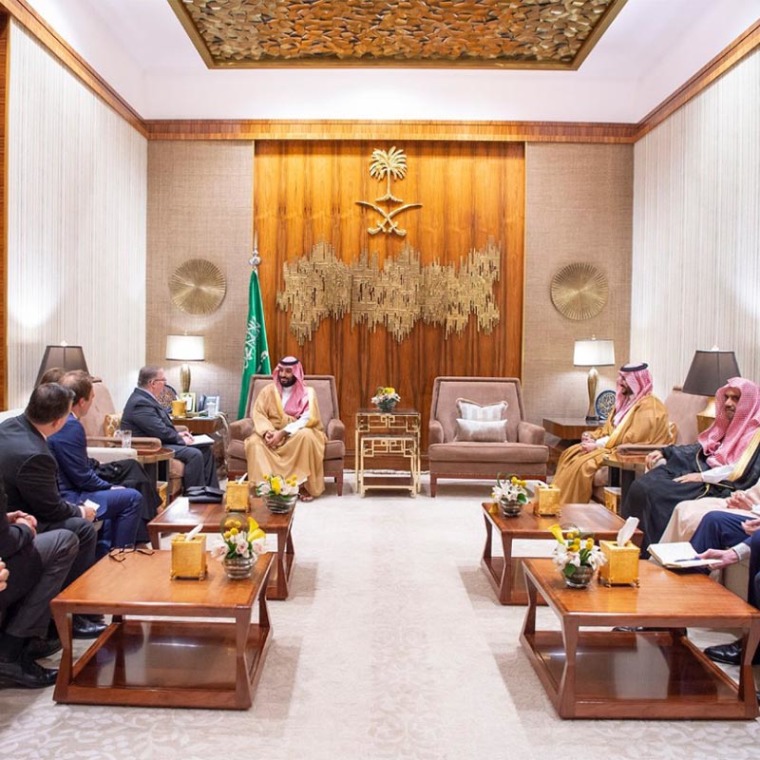 Saudi Crown Prince Mohammed Bin Salman (MBS) told American evangelical leaders in their meeting last week that the killing of journalist Jamal Khashoggi was a "terrible mistake" and vowed to punish those responsible.
As was previously reported, the crown prince met with several evangelical leaders from the United States in Riyadh last week for a two-hour conversation on the crown prince's vision for peace and harmony in the Middle East and Saudi Arabia, which consistently faces international scrutiny for human rights and religious freedom violations.
The evangelical leaders — who are mostly conservative supporters of President Donald Trump — took heat online from critics who condemned the group for meeting with MBS in light of the international outrage surrounding the death of Khashoggi, a Washington Post journalist who was said to have been killed in the Saudi consulate in Istanbul in early October.
The Turkish government has requested to know the whereabouts of Khashoggi's body. A Turkish official surmised last week that Khashoggi was strangled upon entering the consulate and that his body was mutilated and dissolved in acid. The Saudis have offered little explanation as to what happened to Khashoggi and those responsible for his killing.
Evangelical leaders involved in the meeting with MBS last Thursday say that Khashoggi's death was one of the first topics mentioned.
"The death of Saudi journalist Jamal Khashoggi was the first of many sensitive issues we discussed in our two-hour meeting with MBS," evangelical communications executive Larry Ross, president of A. Larry Ross Communications, told The Christian Post in an email.
"In response, the crown prince replied that he did not authorize that heinous act, but may have caused some of his people to love their Kingdom too much, and delegated authority in a way that made it possible for them to think they would be pleasing leadership by taking matters into their own hands."
Ross explained that MBS did not indicate who the perpetrators were but explained that "a terrible mistake happened."
"He stressed that after completing their investigation, they will prosecute whoever did this crime, promised the people responsible will be held accountable and taken to court, and that any problem they have in the system will be addressed," Ross concluded.
The meeting of the evangelical leaders was organized by author Joel Rosenberg, a joint U.S.-Israeli citizen.
Rosenberg told Axios that the 33-year-old crown prince was willing to talk about Khashoggi and was "not defensive about it."
Rosenberg explained that MBS told the group that 18 people have already been arrested and five have been fired in the quest to get to the bottom of the Khashoggi murder. Rosenberg added that MBS criticized his "enemies" in Turkey, Russia and Iran who are "using everything they can to exploit this situation and make it worse."
"He said, 'Listen, I am arresting people, firing people. Iran? When they kill people are they arresting people? No. You get promoted. What about the Russians? What about the Turks?'" Rosenberg recalled MBS rhetorically asking.
Johnnie Moore, an evangelical communications executive who was also involved in the meeting, told CP that MBS' comments during the meeting were not an admission of guilt.
"In fact, on the contrary, he made it clear to us that he did not authorize it and would not rest until they had found and punished those responsible to the fullest extent of the law," Moore, who also serves on the United States Commission on International Religious Freedom, stressed in an email.
The meeting with MBS came as the crown prince has made vows to promote religious tolerance and has called for the Saudi culture to return to a more moderate Islam "that is open to all religions and to the world." The Sunni-majority nation ranks as the 12th worst nation in the world when it comes to Christian persecution, according to Open Doors USA's 2018 World Watch List.
Rosenberg added that MBS stated that the Khashoggi death is a "disaster."
"It's a completely unacceptable mistake and it comes at a time that threatens all the reforms we are trying to get done," Rosenberg quoted MBS as saying during the meeting.
The group of evangelicals who met with the crown prince also included former Republican congresswoman and presidential candidate Michele Bachmann, National Religious Broadcasters President Jerry Johnson, former Christian Broadcasting Network President Michael Little, New Mexico pastor Skip Heitzig, Jerusalem Prayer Team founder Mike Evans and former NRB CEO Wayne Pederson.
The group's meeting with MBS came after the group met earlier in the week with the Abu Dhabi Crown Prince and Deputy Supreme Commander of the U.A.E. Armed Forces Sheikh Mohamed bin Zayed Al Nahyan to discuss how the Arab country is emphasizing tolerance and religious freedom.
Similar Rosenberg-led groups of American evangelicals have previously met with leaders in Egypt, Jordan and the United Arab Emirates.
"Without question, this is a season of tremendous change in the Middle East, and therefore we have been grateful for the opportunity to meet in-person with key Arab leaders to understand their goals and to ask direct questions," the group said in a statement following the Saudi visit. "We look forward to building upon these relationships and continuing the dialogue."