SBC Pastors Want Legacy But Won't Help to Get It, Study
SBC Pastors Want Legacy But Won't Help to Get It, Study
Pastors from most Southern Baptist Churches (SBC) believe Christians should bequeath them a piece of their estate when they make their plans, but most of them do nothing to educate church members about how to give it, according to a recent Lifeway study.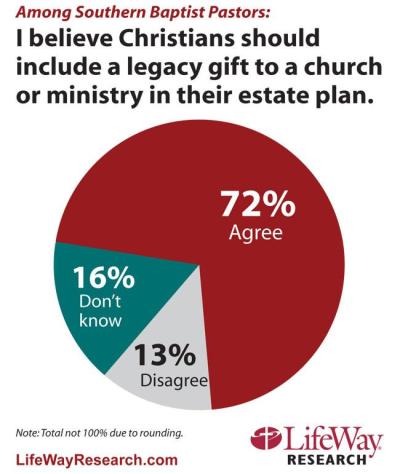 The data comes from a survey of SBC pastors conducted by Lifeway Research on behalf of the Southern Baptist Foundation. The survey was designed to gauge the awareness and preparedness of churches on issues about estate planning, investments and wills.
The majority – 84 percent – of the pastors involved in the poll received no estate gifts in the year prior to the study. Some 11 percent of them received one gift, while one percent received three or more gifts for the period. The average bequest for churches receiving one gift was $22,507.
Warren Peek, president of the Southern Baptist Foundation in Nashville, said the findings of the study showed a need for education among SBC churches. "While the research shows pastors believe the estate planning of Christians should include gifts for the future health and financial ability of a church or ministry, four out of five pastors…have not provided their congregation with seminars or even basic such as fliers and notices on estate planning in the past year," Peek told Lifeway.
In an interview with The Christian Post on Thursday, Carol Elbeck, a retiree and member of the Southern Baptist Church in Baltimore, M.D., said although she had already completed plans to bequeath a gift to her church, no one there helped her to do it.
"I did it privately," said Elbeck. "As a whole, a lot of people here don't discuss it," she added. When asked if an education program on estate planning would help more people to leave a legacy gift to the church, she said it would.
"If they had some responsible people to do that, I suppose it would," said Elbeck.
Lena Lacewell, administrative assistant and a 20-year member of the New York City Southern Baptist Church, said she hadn't started planning yet but had been thinking about it. Her church, she said, did not offer any type of assistance in estate planning, but even if they did, it wouldn't help them in any way.
"Whatever I have, I'm going to have to leave it to take care of myself," she told CP in an interview on Thursday.
According to the Lifeway report, some nine percent of SBC churches reported providing information on estate planning and three percent held a seminar on estate planning. Another seven percent said they told their congregations that gifts such as stocks, real estate and cars are accepted.
Some 72 percent of pastors in the report also felt Christians should include a legacy gift to a church or ministry in their estate planning. Another 40 percent weren't sure if their congregation would want to contribute to the church through estate planning, while another 29 percent said their congregation wouldn't do it.
Most pastors in the study felt better about receiving a portion of their congregation's income. Some 85 percent of them preached this message regularly to their congregations compared to 59 percent of them who preached on giving a portion of their assets to God's work.
According to the Chronicle of Philanthropy, the average charitable estate gift in 2010 was $70,000. When asked how they would use these funds if they were to receive a gift of this size today, most (26 percent) pastors said capital improvements. Some 15 percent said they would "pay off church debt." Other uses included: beginning a new ministry (10 percent); plant a new church (8 percent); hire staff (8 percent); improve the churches cash flow (7 percent); purchase land (4 percent); purchase equipment for existing ministries (4 percent); other capital investments (3 percent) and creating an endowment (one percent).