Second Gay Priest Marries Partner Against Church of England Rules, While First Has Clergy Rights Revoked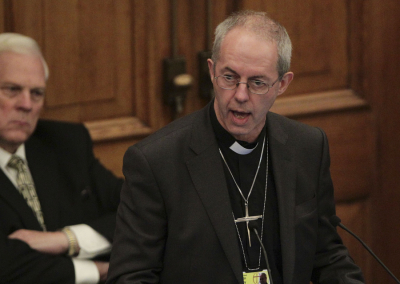 A second gay priest has married his same-sex partner in a ceremony, going against the Church of England's doctrine. Meanwhile, the first gay priest to do so has had his clergy rights revoked by his bishop.
The Rev. Andrew Cain, vicar of St. James church in West Hampstead, London, married his partner Stephen Foreshew on Saturday, The Guardian reported. The ceremony was in defiance of Church of England rules, after the House of Bishops reaffirmed marriage as a lifelong union between one man and one woman earlier this year, and banned the blessing of same-sex unions.
Cain, who posted photos of his wedding on his Twitter account, became the second known priest to make such a move. Canon Jeremy Pemberton, a hospital chaplain, who married his long-term partner back in April, was notified that his rights as a priest are going to be revoked, the Daily Mail reported on Saturday.
Pemberton has apparently been told that he will no longer be able to conduct services in the diocese, though so far he remains employed by the National Health Service as a hospital chaplain. The decision to strip him from his rights as a priest comes from the Bishop of Southwell and Nottingham Richard Inwood.
Same-sex marriage became official in Britain in March, and Archbishop of Canterbury Justin Welby said that the Church accepts that this is the new reality.
The House of Bishops reflected in their letter in February: "The introduction of same-sex marriage in our country is a new reality and has consequences for the life and discipline of the Church of England. We seek to model a distinctive and generous witness to Jesus Christ in our pastoral guidance to the Church at this time which is set out in the Appendix to this letter."
Following Pemberton's marriage, a conservative group in Britain warned that the church is facing a "crisis" if it does not take disciplinary action.
"There's no doubt that there is pressure within some parts of the church for the church to change its mind on sexuality," said back in April the Rev. Preb Rod Thomas, chairman of the Reform evangelical group.
"If there is not clear discipline then it is the equivalent to saying 'we really didn't mean what we said.' It will precipitate a crisis."
The Guardian article noted that church authorities are facing difficulties in trying to prevent clergy from contracting legal marriages, and that Cain could seek employment law protections if his position is threatened.
While priests who publicly admit to have had a same-sex marriage can hold on to certain positions, they will find it difficult to find jobs at other dioceses, with Rev. Graham James, the bishop of Norwich, apparently being asked by the bishops to maintain a blacklist of clergy who will not be considered for future roles.