Selena Gomez Compares Herself to 'Girl' in Lauren Daigle Song Right Before Entering Hospital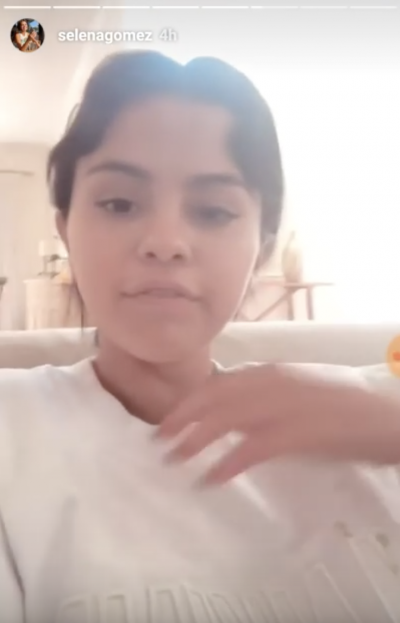 Selena Gomez released a video talking about a new Lauren Daigle song right before the singer entered a mental health facility.
TMZ reported last month that Gomez had an emotional breakdown following a recent hospitalization and had to return to get care after she was "despondent and emotional over an alarmingly low white blood cell count in the wake of her kidney transplant."
Before entering the facility, the former Disney star took to social media in a personal video to share how she was deeply impacted by Daigle's song "This Girl," off of the Christian artist's new album, Look Up Child.
"A lot of you asked about anxiety and depression ... and I wanted to suggest a song that you can listen to. As some people know I like to listen to worship music and this song makes me feel like I'm talking about that feeling," Gomez said in a series of Instagram stories.
"It's really hard to not get worked up or upset when you feel like you're constantly doing the right thing and you're showing up for people ... but you're like why am I not feeling good," she continued.
"I'll stop talking and just suggest the song that I really love. Of course, it's by Lauren Daigle. Don't get annoyed that I keep talking about her but she's speaking my language."
The pop sensation then introduced the song by revealing that it's the song she feels like she gets to "sing to Jesus."
Look Up Child debuted at No. 3 on the Billboard 200 chart upon its release in September, Gomez has strongly supported the album, which beat out albums from popular secular musicians such as Drake, Ariana Grande, Nicki Minaj and Cardi B that week.
"I've run for miles and lost sight of where You are/But You have seen me all along/Maybe I'm the/last to know when I've gone too far/And yet I'm always by Your side," Gomez sang as the Christian song played.
She continued singing the chorus, which she dedicated to her fans, "This girl ain't going anywhere/This girl ain't going anywhere-ere-ere/I can promise You this, now I know for sure/This girl ain't going anywhere."
Gomez's emotional breakdown allegedly occurred because she wasn't allowed to leave the hospital during her prior stay. She is now allegedly at a psychiatric facility on the East Coast undergoing Dialectical Behavior Therapy. DBT is a treatment used for a number of mental health conditions.
Gomez's last public appearance was on Sept. 22 at Jennifer Lopez's Las Vegas show where she told the pop icon: "I just wanted to tell you how amazing God thinks you are!!! He was speaking to me through your show tonight!!"
Gomez is known to be very vocal about her Christian faith. She is among the A-list celebrities who regularly attend Hillsong Church. During a conference last year, the "Wolves" singer opened up about the pressures she's faced due to her fame. Gomez, who recently overcame a life-threatening battle with lupus, maintained that the stage and her platform were just tools to help her get to her purpose.
"You will learn that your truest identity is loved and chosen, as the chosen daughter of God," Gomez said of herself during her testimony at Hillsong.
The YouTube clip of Gomez sharing her story ended with a very powerful declaration that she spoke over herself in front of thousands who were in attendance.
"Selena, you are enough! Not because you've tried hard, not because you have loved hard or put on your best face, not because you have been given a large platform, and not because others tell you 'you are enough,'" she declared. "You are enough because you are a child of God who has been pursued from the very beginning. You are enough because His grace has saved you and covered you."