Singer Angie Stone Discusses Brutal Beat Down of Her Daughter on 'The T.D. Jakes Show'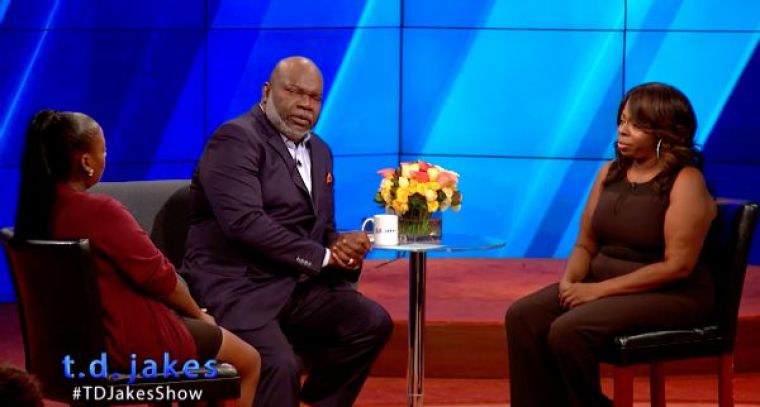 Grammy-nominated singer Angie Stone, who made headlines earlier this year for getting into a vicious physical altercation with her 30-year-old daughter, Diamond, in March appeared on Bishop T.D. Jakes' new talk show to discuss the incident on Thursday.
"We are talking to Grammy-nominated singer and actress Angie Stone who is here today to rekindle her relationship with her daughter Diamond," said Bishop Jakes in a preview for the episode which airs today. "This is the first time they have spoken publicly since the altercation that tore them apart."
Stone and her daughter are brought to tears during the episode in which the bishop offered them spiritual counseling.
"Nothing I do is good enough," said Diamond. "Because she's Angie Stone and I'm nobody."
Diamond and Stone go back and forth bickering with one another airing out their frustrations, which led Jakes to comment: "Now you know if this is going on on national TV can you imagine what's going on in the house."
The altercation, which happened in March, led to the arrest of Stone who broke two of her daughter's teeth during the melee. Diamond posted pictures up on Instagram of her mouth after the altercation and issued a statement on social media regarding the incident.
"People are so quick to pass judgement but never really know the full story. Never uphold people in wrong no matter who they are. I'm crushed but I ain't dead. So for the people that praise her, keep right on. Just know that it ain't over," said Diamond. "You so big and bad but had to use a weapon on me in a fight that you started. You giggled on the inside because you thought I was going to jail too? Wrong!"
"I'm sick of putting up these fronts, and because you took [expletive] to another level I will too," added Diamond. "I love all my family but I cannot take anymore abuse so I'm separating myself from it all. I pray God heals us from this, but from where I sit there is no turning back 'cause if you ain't with me you are against me. You so worried about [the] media and the press but I promise you this: I will not rest until my story is heard."
Diamond also said Stone used a metal plank to break her teeth and shared a picture of the weapon.
Stone attempts to defend her actions on Jakes' show.
"It is hard as a mother when a child slanders you and curses you," said Stone on the show.