Stephen Baldwin Says 'Haters Gonna Hate' But More Will Come to Support President Trump in 2018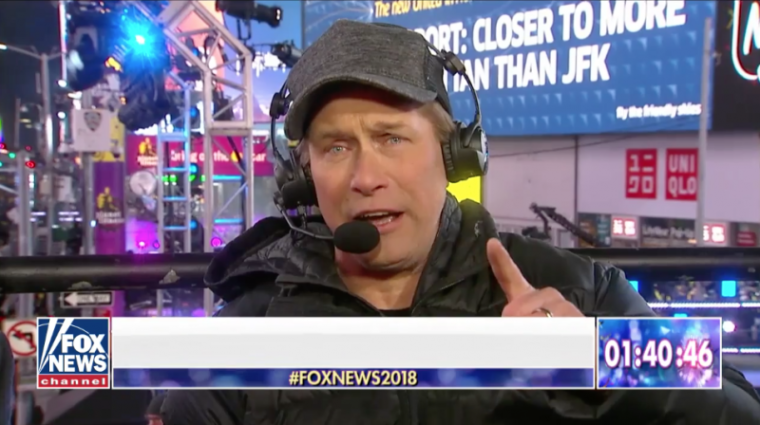 Actor Stephen Baldwin celebrated the start of 2018 with Fox News during a New Year's taping in Times Square on Sunday and he says he believes all haters will come to support President Donald Trump in 2018.
During a segment with Fox host Jesse Watters, Baldwin was asked about his thoughts about a tweet from President Trump which read, "As our Country rapidly grows stronger and smarter, I want to wish all of my friends, supporters, enemies, haters, and even the very dishonest Fake News Media, a Happy and Healthy New Year. 2018 will be a great year for America!"
"In the New year many, many, many more Americans will be in support of President Trump because of the direction things are moving now," Baldwin said. "I believe many haters and enemies are going to come crossing back over on the Trump train! I'm calling it now."
As for his thoughts about "Fake News," the New york native added, "Haters are gonna hate."
In the last three years, Baldwin, who is also a director, producer and author, has focused heavily on ministry, charitable good works and humanitarian works. According to his book, The Unusual Suspect, the famous Baldwin brother became a born-again Christian after the 9/11 attacks and has been doing ministry ever since. Admittedly not one to normally speak about politics, Baldwin wholeheartedly endorsed his former "Apprentice" boss from the beginning of Trump's campaign.
In a past interview with The Christian Post, Baldwin said that things will begin to move in a direction that is better off for all Americans because of the 45th president.
"The truth is I've said a whole bunch of things about President Trump before he was elected and after. I just have always believed that he was the guy that God had in mind for this time," Baldwin told CP in April 2017.
"The Usual Suspects" star also recently opened up about the rejection he feels from Hollywood, both due to his Christianity and his support for Trump.
While promoting his new TV series, "Great American Pilgrimage," Baldwin told The Hollywood Reporter that he's known as the "Jesus freak of Hollywood," which both does and doesn't bother him.
"It's unfortunate that because I have believed in Jesus for 15 years that there are many in Hollywood who are unwilling to work with me. That's not a guess. Casting people and producers have told me that they've brought up my name in a room and the response was, 'No way, we're not bringing that guy and his Bible over here,'" the actor revealed.