Stephen Fry 'God Is Evil Because Children Have Bone Cancer' Interview Up for Religious Award
Stephen Fry 'God Is Evil Because Children Have Bone Cancer' Interview Up for Religious Award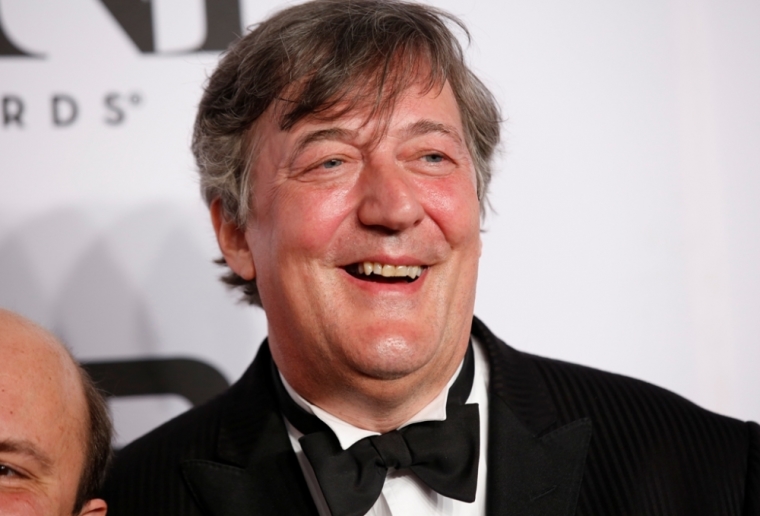 Actor Stephen Fry's controversial interview in which he claimed God is "utterly evil" for creating things such as bone cancer in children has been shortlisted for an award celebrating excellence in religious broadcasting.
The Rt. Rev. Nick Baines, bishop of Leeds and chair of the 2016 Sandford St Martins Awards, explained that the awards focus on deep exploration of people's religious views.
"The world needs to be interpreted, not just reported. And to do this effectively, the lens of those being reported needs to be looked through and understood," he said, according to The Guardian.
"Religion is a primary motivator of individuals and communities, inspiring and informing their political, economic, ethical and social behaviour," he added.
Fry, who is an atheist, spoke with TV presenter Gay Byrne on RTE television's "The Meaning of Life" program, explained that one of the first things he would ask God is why He allowed for bone cancer in children.
"Because the God who created this universe, if it was created by God, is quite clearly a maniac, utter maniac. Totally selfish. We have to spend our life on our knees thanking Him?! What kind of god would do that?" Fry asked at the time.
"Yes, the world is very splendid but it also has in it insects whose whole lifecycle is to burrow into the eyes of children and make them blind. They eat outwards from the eyes. Why? Why did you do that to us? You could easily have made a creation in which that didn't exist. It is simply not acceptable," he argued.
"It's utterly, utterly evil. Why should I respect a capricious, mean-minded, stupid God who creates a world which is so full of injustice and pain?" he asked.
There have been various reactions from Church of England officials regarding Fry's comments, with Anglican Archbishop the Most Rev. Justin Welby calling on Christians not to attack the actor for his views.
"It is as much the right of Stephen Fry to say what he said and not to be abused improperly by Christians who are affronted as it is the right of Christians to proclaim Jesus Christ," Welby said.
"That is his freedom to choose that is given to us in Creation."
Rowan Williams, Welby's predecessor as the head of the Anglican Communion, suggested that Fry should wait and listen to God's reply, should he get a chance to speak with Him.
Williams said back then that "it would be a very, very stupid and insensitive person who never felt that. But to me what's mysterious is the fact that people in the heart of suffering, people who are alongside children with bone cancer still, somehow, maintain a faith, a trust of some kind."
The former Anglican Archbishop added: "And that has to be mysterious, that has to be something that makes one draw back a little bit from simply saying, well 'it's all God's fault and that's it.' And I'd also rather like to hope that if Stephen Fry actually met God, he'd wait for the reply."
BBC correspondent Lyse Doucet, whose documentary "Children of the Gaza War" is also up for the Sandford St Martins Awards, reflected that the awards, which will be presented on June 8 at Lambeth Palace in London, recognize the importance of understanding all faiths and people of no faith.
"Religion, and belief in general, is one of the most important threads in some of the big issues of our time," Doucet said.
"People's faith is, in some places, divisive and destructive but in others it is a source of strength and solidarity."