Stephen Hawking Would Consider Assisted Suicide If He Became a Burden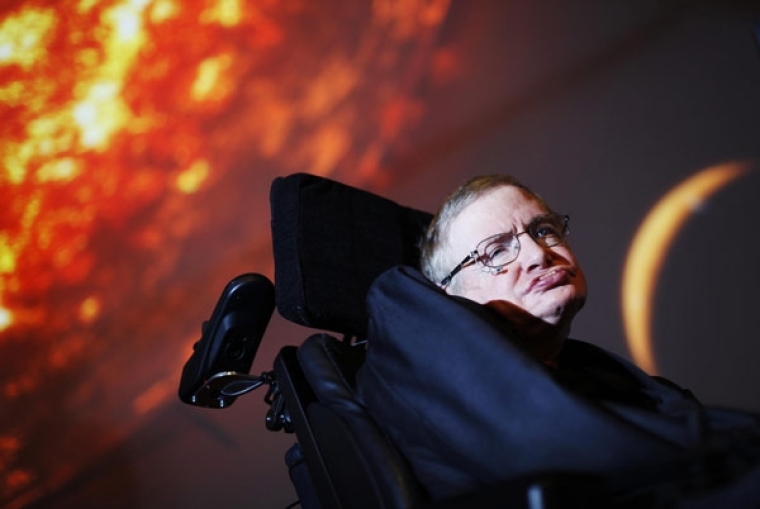 World-renowned physicist and professor Stephen Hawking, 73, who suffers from a rare early-onset of a slow-progressing form of Lou Gehrig's disease that has slowly paralyzed him over several decades, says he would be open to ending his life by assisted suicide if he became a burden.
In an interview with Dara O'Briain for a new BBC program highlighted by The Telegraph, Hawking reveals that he has suffered bouts of loneliness, because people can be afraid to talk to him or let him answer. Due to his illness, Hawking communicates using a single cheek muscle attached to a speech-generating device.
"To keep someone alive against their wishes is the ultimate indignity," Hawking told O'Briain in the interview set to air on BBC One June 15.
He added: "I would consider assisted suicide only if I were in great pain or felt I had nothing more to contribute but was just a burden to those around me."
Despite his willingness to die by assisted suicide, however, Hawking, who says he's not in pain and only suffers occasional discomfort due to his inability to adjust his own position, revealed that he isn't ready to die just yet.
"I am damned if I'm going to die before I have unraveled more of the universe," he said.
When asked about life with his disease, Hawking highlighted some of the things he struggles with.
"At times I get very lonely because people are afraid to talk to me or don't wait for me to write a response," he said. "I'm shy and tired at times. I find it difficult to talk to people I don't know."
He also noted that he missed being able to swim and play with his children when they were young.
"I would like to be able to swim again. When my children were young, I missed not being able to play with them physically," he said.
The full interview from the program which will also feature interviews with Lucy, his daughter, his youngest son, Tim, and his Cambridge research students will be broadcast as part of "Dara O'Briain meets Stephen Hawking," on BBC One.