SWBTS Head Paige Patterson Apologizes to Women for 'Inappropriate' Language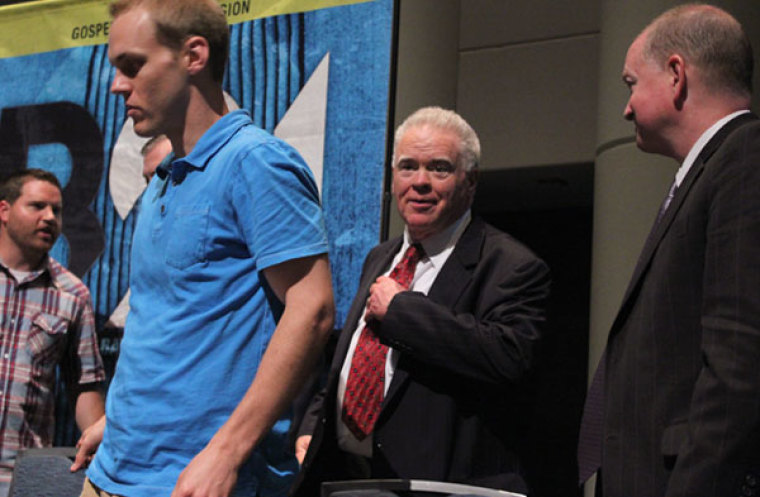 Paige Patterson, president of Southwestern Baptist Theological Seminary, issued on Thursday an apology for his past statements, including how he described advice he gave in a domestic violence situation as well as a sermon illustration involving a "built" teen girl. 
"Pastoral ministry that occurred 54 years ago, repeated as an illustration in sermons on more than one occasion, as well as another sermon illustration used to try to explain a Hebrew word (Heb. banah 'build or construct,' Gen. 2:22) have obviously been hurtful to women in several possible ways," he said in a statement published on the SWBTS website. 
"I wish to apologize to every woman who has been wounded by anything I have said that was inappropriate or that lacked clarity. We live in a world of hurt and sorrow, and the last thing that I need to do is add to anyone's heartache. Please forgive the failure to be as thoughtful and careful in my extemporaneous expression as I should have been."
Those who have worked closely with Patterson expressed gratitude and support for the seminary head.
"I am grateful for his specific apology to women and his words reflect the heart of the man I know and have worked with for 15 years," said Terri Stovall, dean of women's programs at SWBTS, in an interview with The Christian Post Friday morning. 
"I believe these are the words many needed to hear. I also pray that those who were so quick to jump on the public demise of a brother will also publicly accept the contrition of the same, and do so without critique, parsing words, or judging the heart. Those things should be left to Lord. I have watched Dr. Patterson grieve the pain he may have caused through all this and his apology, I believe, is sincere and from the heart. " 
His apology comes amid controversy that began in late April when The Baptist Blogger posted audio of an interview from 2000 where Patterson was asked what he recommends when women are being physically abused by their husbands and husbands say they should be submitting.
"It depends on the level of abuse, to some degree," Patterson said then. "I have never in my ministry counseled that anybody seek a divorce and I do think that's always wrong counsel."
He noted that only in "the most serious of cases" — when the "level of abuse was serious enough, dangerous enough, immoral enough" — he counseled temporary separation and the seeking of help.
He went on to note an example of when he counseled a woman to pray for her abusive husband by the bedside and then one morning showed up to church with two black eyes.
"She was angry at me," said Patterson in the audio recording. "And she said, 'I hope you're happy.' And I said, 'Yes ma'am, I am.' And I said, 'I'm sorry about that, but I'm very happy.'"
Patterson explained he was happy because the husband showed up at church that morning and repented of his behavior, and according to Patterson, he is now "a great husband today." 
As his statements drew backlash, a 2014 sermon where Patterson described an unnamed teen girl in terms many interpreted as objectifying was subsequently released.
The sermon that made the rounds on the Internet took place in January 2014 at a Las Vegas church during a conference in which Patterson recounted a time when a mother was speaking to him about something she was unhappy about while her teenage son and his friend stood nearby. When an "attractive" young girl walked by, one of the teen boys remarked, "Man, is she built!" The mother then rebuked him, but Patterson defended the boy, saying, "Ma'am, leave him alone. He is just being biblical. That's exactly what the Bible says."
In his apology Thursday, Patterson stressed that he does not condone abuse of any kind.
"I would also like to reiterate the simple truth that I utterly reject any form of abuse in demeaning or threatening talk, in physical blows, or in forced sexual acts," he stated. "There is no excuse for anyone to use intemperate language or to attempt to injure another person. The Spirit of Christ is one of comfort, kindness, encouragement, truth, and grace; and that is what I desire my voice always to be."
He concluded: "To all people I offer my apology, but especially to women, to the family of Southern Baptists, my friends and the churches. I sincerely pray that somehow this apology will show my heart and may strengthen you in the love and graciousness of Christ."
Many Southern Baptist women were shocked and dismayed by Patterson's remarks and circulated a letter online demanding that SWBTS take action. The letter garnered over 3,000 signatures. Among the signers was Karen Swallow Prior, a professor at Liberty University.
"It's definitely a step forward," Prior said of Patterson's apology in an Thursday interview with Religion News Service.
"Repentance is proven over time, and I hope that Dr. Patterson continues to weigh and consider the impact that his pattern of harmful statements to and about women has had."
She added on Twitter Friday that she was "[p]raying for the SWBTS Board of Trustees to hear the cry of these women and 'take a strong stand against unbiblical teaching regarding womanhood, sexuality, and domestic violence'" and linked to the letter.
Stovall, meanwhile, said that her greatest joy was that Patterson made it possible for her to have a role in encouraging, affirming, challenging, and teaching the many women who have attended the seminary and are serving Christ all over the world.
"As a woman at Southwestern, it has not always been easy, but ministry is not always easy. Even so, any condescension I may have experienced on occasion during my time here never came from the President directly or indirectly."
"I may not have always understood his decisions, the directions taken, or even the manner in which actions were implemented, but I have always trusted his heart and his motive. Dr. Patterson has an undying faithfulness to the word of God, the message of salvation, and an urgency to fulfill the Great Commission, and I am confident this has not changed."