Tamar Braxton Warns People to 'Get Ready' for the End Times After 4th Blood Moon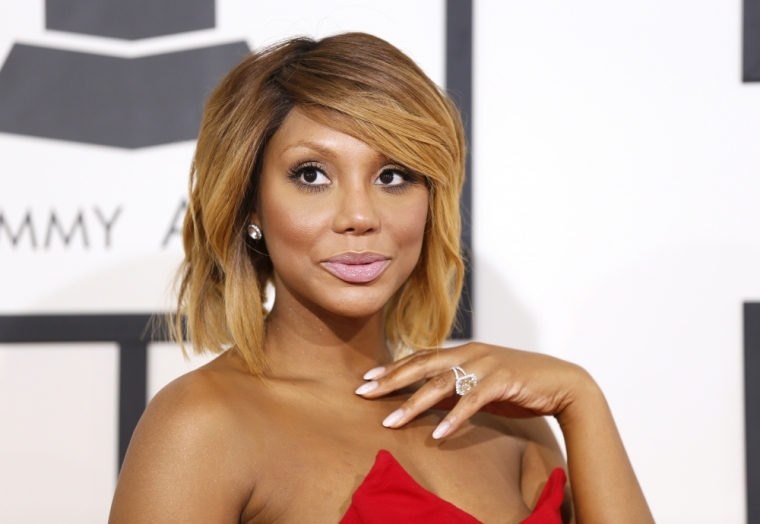 As Tamar Braxton promotes her upcoming fourth album, Calling All Lovers, the singer is warning people to get ready for the End Times following Sunday's total lunar eclipse, also known as the blood moon.
While a number of people simply snapped and shared photos of the blood moon, others, such as Braxton, questioned if the event foreshadows biblical revelations.
"Pretty moon but, according to the Bible ... I mean if u not ready ... GET ready!!! I'm getting my knees ashy for SURE," the 38-year-old Grammy nominated singer wrote on Instagram.
Braxton, who grew up in church, has been vocal about her faith in the past.
"Both of my parents at one time were pastors of their own churches and I learned a lot from that," she previously told Flaunt magazine. "But not until I was an adult did I understand it and know for myself."
"I had to be really strong in my faith and I know if it wasn't for God, I would not be here," she added in an Ebony interview.
Although the singer vaguely referenced the Bible when speaking about the last blood moon, Pastor John Hagee of Cornerstone Church in San Antonio, Texas, wrote about his interpretation of the event in his book Four Blood Moons: Something Is About to Change.
According to Hagee, God is using the sun, moon and stars to communicate things that are to come in the future.
"The Bible is clear that the sun, moon, and stars are connected to Israel and biblical prophecy," Hagee wrote for The Christian Post last April. "Throughout history God has used the science of astronomy (never astrology!) in connection with historical events to write prophetic messages in the heavens."
"One significant way God reveals coming events is through a phenomenon that scientists call 'blood moons.' The coming message from God is so urgent that He is going to sovereignly arrange the sun and the moon to perfectly align themselves to create not just one blood moon, but a Tetrad — a series of four consecutive blood moons!"
According to NASA, the first Tetrad began on April 15, 2014, and ended Sept. 28. Each reportedly occurred on Jewish holidays such as Passover and the Feast of Tabernacles. The occurrence is a rare one that Hagee said people should not ignore.
The tetrads taking place on Jewish feasts have only happened three times in over 500 years, and the pastor is making sure people take note of it now.
"God is shouting to us, 'Something big is about to happen!' The four blood moons of 2014–'15 tell us that God is getting ready to change the course of human history once again," Hagee wrote. "God is clearly speaking to us through the coming series of four blood moons. The question is, are we watching and listening?"