Tasha Cobbs Prays for, Supports Phaedra Parks of 'Real Housewives'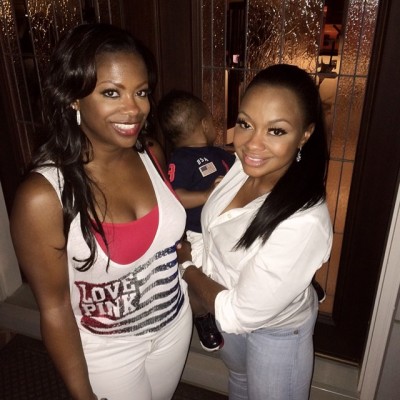 Tasha Cobbs Leonard is keeping her friend, Phaedra Parks, covered in prayer after the lawyer and "Real Housewives of Atlanta" cast member began been receiving personal and professional backlash for suggesting that co-star Kandi Burruss intended to drug and take advantage of another member of the cast.
Cobbs Leonard, the voice behind gospel hits like "Break Every Chain," took to Instagram to explain why she would not join in with the countless people speaking out against Parks since the "Real Housewives of Atlanta" reunion special last Sunday revealed that she was the source of salacious rumors about Burruss wanting to drug fellow cast member Porsha Williams.
Cobbs Leonard admitted that she watched the episode of the show, but insisted that she would not be a "fair weather friend" to Parks who has been receiving a great deal of backlash from "RHOA" fans on social media. The gospel music star decided to post a collage of images with herself and Parks, while revealing that she believes her assignment in the Atlanta, Georgia-based lawyer and television personality's life is to pray for her.
"Phaedra, thank you for your friendship and support! Whenever I call you ALWAYS come through," the Christian music singer wrote. "From personal to business you have been consistent and I TOTALLY appreciate you! Just as I have before, I cover you in prayer because THAT is my assignment in your life!"
She drove the point home by adding, "I Love you and you know I'm just a call away!@phaedraparks."
Parks brought her good friend Cobbs Leonard on the "Real Housewives of Atlanta" this season, where they spoke with Pastor William Murphy of The Dream Center church in Atlanta, Georgia, about conducting a restoration service to quell some of the tension between some of her co-stars. Parks has showcased her Christian faith on the Bravo Network reality television show and defended it to critics.
"People are constantly talking about, 'Oh you're not this.' And I'm like, 'Wow — it's so many people with this Christian handbook that I have not received,'" Parks previously told PEOPLE.
The lawyer and mother of two defended her character, insisting that she works to empower people despite her persona on a reality television show.
"Sometimes, if people don't have anything concrete, they just attack your character. But my character speaks for itself," Parks said. "Anyone who knows me knows I'm very gracious, I'm very helpful. And a lot of the things I do for people, you never see it on camera because that is not my intention to get praise for it."
She went on to add, "My intention is to be a vessel and be used for the purpose of empowering people."