Tennessee House passes bill to ban state funding of schools that teach critical race theory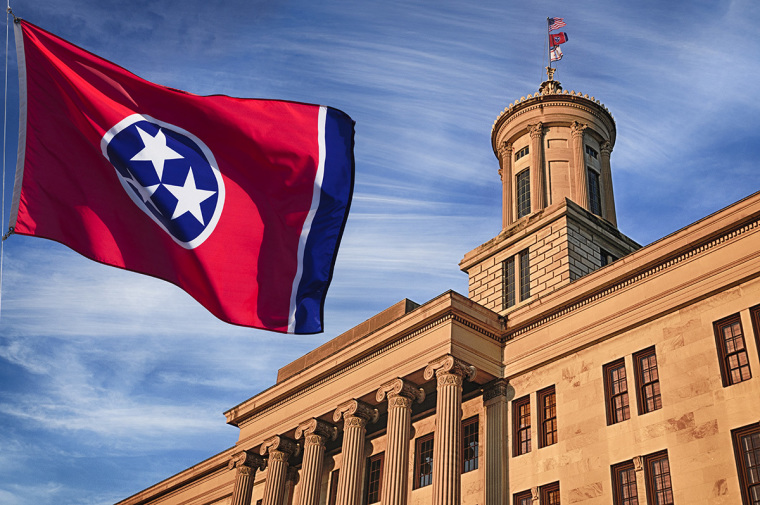 The Tennessee House of Representatives has approved legislation that would ban the state's public schools from teaching concepts associated with a controversial topic known as critical race theory.
The Tennessee House voted by a margin of 69-20 Tuesday to adopt a Conference Committee report reconciling the differences between House Bill 580 and Senate Bill 623, corresponding bills related to the issue of public education.
Section 51, one of many amendments to the education bill included in the Conference Committee report, forbids public schools from teaching students that "an individual, by virtue of the individual's race or sex, is inherently racist, sexist, or oppressive, whether consciously or subconsciously." 
Advocates of critical race theory have described it as a framework through which scholars seek to understand systemic racism, cultural perceptions of race, and how to counter prejudice. Scholarship on the theory traces racism in the U.S. through the legacy of slavery, the civil rights movement and recent events.
The amendment also prohibits public schools from promoting concepts asserting that "an individual should be discriminated against or receive adverse treatment because of the individual's race or sex," that "an individual's moral character is determined by the individual's race or sex," or "an individual, by virtue of the individual's race or sex, bears responsibility for actions committed in the past by other members of the same race or sex." 
It would also ban the use of curriculum that subscribes to beliefs that "an individual should feel discomfort, guilt, anguish, or another form of psychological distress solely because of the individual's race or sex," that "a meritocracy is inherently racist or sexist, or designed by a particular race or sex to oppress members of another race or sex," and that "this state or the United States is fundamentally or irredeemably racist or sexist." 
It continues: "Promoting or advocating the violent overthrow of the United States government, promoting division between, or resentment of, a race, sex, religion, creed, nonviolent political affiliation, social class or class of people" or "ascribing character traits, values, moral or ethical codes, privileges, or beliefs to a race or sex, or to an individual because of the individual's race or sex" would be prohibited as well." 
The second part of Section 51 stresses that schools might include supplemental instructional materials that provide "the impartial discussion of controversial aspects of history" and "the impartial instruction on the historical oppression of a particular group of people based on race, ethnicity, class, nationality, religion, or geographic region" in their curriculum.
Schools that violate Section 51 might have state funds withheld until the school proves to the state that it has addressed the violation. 
Section 51 will take effect "upon becoming a law" and "applies to the 2021-2022 school year and all subsequent school years."
While the amendment never explicitly uses the phrase "critical race theory," the concepts it prohibits public schools from teaching are frequently championed by social justice advocates, Marxists and progressives who support critical race theory. 
Other concepts banned by Section 51 include the contentions that "the rule of law does not exist, but instead is a series of power relationships and struggles among racial or other groups" and that "all Americans are not created equal and are not endowed by their Creator with certain unalienable rights, including, life, liberty, and the pursuit of happiness." 
As the Discovery Institute's Christopher Rufo, one of the most outspoken opponents of critical race theory, explained, "The legislation, which moves to the Senate, would prohibit schools from promoting race essentialism, collective guilt, and state-sanctioned racism." 
BREAKING: The Tennessee State House passes a bill banning critical race theory indoctrination in public schools. The legislation, which moves to the Senate, would prohibit schools from promoting race essentialism, collective guilt, and state-sanctioned racism. The fight is on. pic.twitter.com/RtIVb8lcyQ

— Christopher F. Rufo ?? (@realchrisrufo) May 5, 2021
The Tennessee effort to ban critical race theory comes as several additional states have passed similar legislation. Late last month, Gov. Brad Little, R-Idaho, signed into law HB 377, which made Idaho the first state in the nation to ban critical race theory.
Earlier this week, Gov. Asa Hutchinson, R-Ark., declined to veto legislation banning critical race theory from state agencies, enabling the measure to become law. 
The debate about critical race theory occurs in the context of divergent viewpoints about American education among progressives and conservatives. Last year, former President Donald Trump issued an executive order forming the 1776 Commission, warning of a "radicalized view of American history" that "lacks perspective, obscures virtues, twists motives, ignores or distorts facts, and magnifies flaws, resulting in the truth being concealed and history disfigured."
Earlier this year, shortly before he left office, the 1776 Commission released a report denouncing the 1619 Project, a historical framework that attempts to view all of American history against the backdrop of the arrival of slaves on American soil in 1619. Almost immediately after taking office, President Joe Biden dissolved the 1776 Commission.