'The Bible' Is Most Watched TV Program for Second Consecutive Week
The History Channel's "The Bible" miniseries once again raked in the ratings this past weekend, drawing in 10.8 million total viewers for its second episode, thus making it the most popular program in all of television on Sunday night.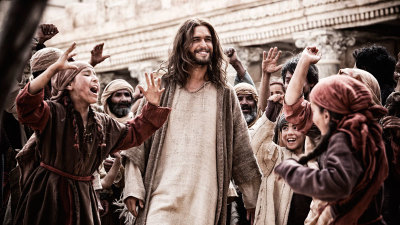 Although the historical miniseries was down 18 percent in total viewership from its premiere on March 3, it still managed to attract 3.2 million adults, ages 18-49, and 3.8 million adults, ages 25-54, according to Deadline.
These high numbers made the new miniseries the most watched television program on Sunday from 8 p.m.-10 p.m.
According to Channel Guide Magazine, over 50 million cumulative viewers have seen some portion of "The Bible" since its premiere on March 3, whether on the History Channel or on the Lifetime channel, which also re-airs episodes.
In its season premiere two weekends ago, "The Bible" attracted over 13 million viewers, making it the most watched cable entertainment telecast of 2013, as well as the No. 1 scripted program on television.
Some critics blame the second week's drop in ratings on national Daylight Saving Time, which also occurred Sunday.
The Hollywood power couple behind the new miniseries, producer Mark Burnett of "Survivor" fame and Roma Downey of "Touched By An Angel," have attributed their profoundly successful series to God.
"The hand of God was on this. The edit came together perfectly, the actors came together perfectly, it just comes to life," Burnett said of the series in a previous interview with Entertainment Weekly.
The show has also gained the attention of religious leaders as well as the tech world.
Pastor Rick Warren of Saddleback Church in Southern California promoted the show, saying that it is by far the best Bible movie he has ever seen.
Additionally, Lightside Games has launched a digital game carrying "The Bible" theme, which will be accessible on Facebook, iPhone, and iPad.
This past weekend's episode left off with the Prophet Nathan confronting King David on his sinful, adulterous ways as found in the second Book of Samuel.
The series' third episode, titled "Hope," will begin to cover the New Testament, as well as introduce Jesus, played by actor Diogo Morgado.
The 10-part miniseries airs on the History Channel every Sunday from 8 p.m.-10 p.m. EST.
THE BIBLE - Extended Look