The Free Market is Answer to World Poverty, Says Theologian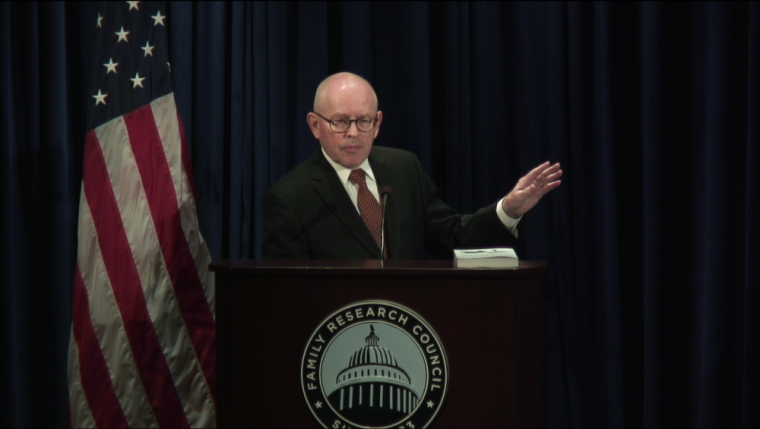 WASHINGTON – In a presentation of his new book at the Family Research Council, biblical theologian Wayne Grudem argued that poor countries can become rich only by producing their own prosperity, and that the free market is not only the economic answer, but in tune with the Bible's moral teachings.
"Every nation that has escaped poverty has done so by producing its own prosperity," said Grudem, professor of theology and biblical studies at Phoenix Seminary in Arizona. Perhaps best known for his book Systematic Theology: An Introduction to Biblical Doctrine, Grudem presented the key themes in his new book The Poverty of Nations: A Sustainable Solution. The very first of his 79 factors to help nations escape poverty in "a free market economy."
"My personal interest in this topic is motivated by Galatians 2:10, where Paul says in talking about the consistency of his teaching with that of the Jerusalem apostles, he said 'only, they would have us remember the poor, the very thing I was eager to do,'" Grudem explained. But he cautioned that before leaders of poor countries should act to make their countries richer, they should investigate the causes of wealth and poverty.
Grudem argued that the wealth of a country is determined by its per-capita income – the average amount of money each citizen makes. The only way to increase this is to increase the production of goods and services, creating more wealth for everyone, he said.
"If you are a leader or have influence in a poor country, the focus, your sole laser focus on efforts to overcome poverty must be on this goal – you must increase the production of goods and services in your country," Grudem said.
The professor pointed to 79 factors to help a country produce more goods and services, in three different key areas: the economic system, government, and cultural beliefs and values.
For the economic system, Grudem mentioned the Index of Economic Freedom, a report put out by the Heritage Foundation to judge each country's openness to trade and wealth creation.
In discussing Pope Francis' recent letter denouncing the idolatry of money in unfettered capitalism, Grudem pointed to Argentina's low ranking as a potential reason behind Francis' negative view of the market. "Francis rightly seeks to address the structural causes of poverty, but he wrongly sees inequality as the problem, rather than lack of opportunity," the theologian said.
However, in addition to economic opportunity, countries also need an equal and limited government to become rich, Grudem argued. He pointed to the story of David and Bathsheba, where God punished David for breaking the law, as proof that the principle of equality under the law is biblical, as well as just. He claimed that government must be limited to fulfill Romans 13:4, where Paul writes that the government is "God's servant for good."
Finally, the professor pointed to cultural beliefs and values as "the most important" factor in economic development. "You can't quantify how much a society believes in telling the truth or not stealing, or the value of being honest and accountable at work," he explained.
Grudem also used the Bible to defend the idea that nations should produce their own wealth. "God's blessing of productivity to the nation of Israel came through productive work," Grudem argued. He also pointed out that "the manna from heaven – which you could call foreign aid from heaven – ceased the day after their first harvest."
After presenting these factors, the theologian debunked the common ideas of how to raise nations out of poverty. Grudem said that foreign aid meets an urgent need on a personal level, but does not solve the fundamental problem, that the country isn't making enough of its own food. Forgiveness of debt fails for the same reason, because it is just foreign aid masked by a loan.
Even large amounts of natural resources can lead to civil wars, and some rich countries don't have many natural resources while poor countries do. Printing more money doesn't work, because people can't eat money or use it for shelter, Grudem added. Finally, redistributing wealth and complaining about colonialism in the past don't actually increase productivity.
"The main point is this – producing more goods and services will increase your per capita income, it will bring you out of poverty," Grudem concluded. This is how every currently rich country has become rich, and how the Bible says it should be done, he said.