'This Is Insane' — US Yazidi Activist, NYC Pastor Describe 'Genocidal' Atrocities Committed by ISIS in Iraq (Photos)
Christian Leader William Devlin Documents Meetings With Refugees Persecuted by Islamic State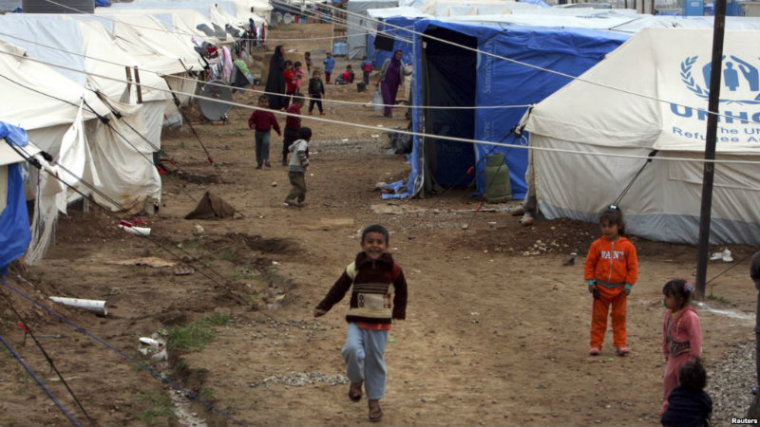 Warning: Graphic image below
A New York City pastor and Texas-based Yazidi activist who flew to Iraq the week before Christmas to assess the humanitarian needs of displaced Yazidis persecuted by the Islamic State have called the present situation of more than 300,000 refugees "genocidal" and "insane."
William Devlin and Murad Ismael connected via phone with a radio show in New York City live from Iraq just days before Christmas to describe the living conditions of distraught Yazidis staying at several refugee camps in Dohak in Kurdistan, in northern Iraq.
"There is no help, absolutely no help has been provided to women who have escaped from ISIS," Ismael, the Texas-based Yazidi activist, told the John Batchelor Show as he spoke, he said, while standing among impoverished children in one camp.
He added: "More than 400 women have escaped. We have visited some of them. They have been raped multiple times. Some of them have lost tens of their families. One family lost about 19 people form their family. They're living in a building that is cold, that is terrible. We visited with a child who is 15 years old and she didn't have a place to live. Another family adopted her, brought her to their house. Those women, in addition to what they've been through, there's no support system … not a single dollar has been given to these women. They come in hungry, they have no place to live, they go to a tent or they go to an abandoned building, in addition to being raped multiple times. This is insane."
Ismael, who appeared on the radio program on Tuesday, Dec. 23 Eastern Standard Time, spoke of what he and Devlin, a New York City pastor, missionary, and activist, have encountered in their meetings with displaced Yazidis who have been targeted by the Islamic State for death, forced conversion, and sexual slavery.
The 31-year-old Iraqi immigrant also revealed that despite being supplied with food items like flour, rice, and cooking oil by the United Nations and the Kurdistan Regional Government, the thousands of Yazidis he encountered at seven refugee camps remained in dire need of humanitarian aid.
"We've been in this camp from the past week, going from [one] camp to another, and the situation is very dire in terms of the humanitarian need of these people," he said. "Right now, I am inside one of those camps that has about 4,000 families," Ismael added. "Those are tents, one next to another, with just like a meter separation between them. People have to walk for like a half-mile just to get to the shower, and when they get to the shower there is no hot water. … I see many children who don't even have shoes or clothes on."
Ismael estimated that there were between 300,000-350,000 displaced Yazidis in the Dohak province alone, with many of them taking shelter at the seven refugee camps and in unfinished buildings in the Kurdish-controlled region.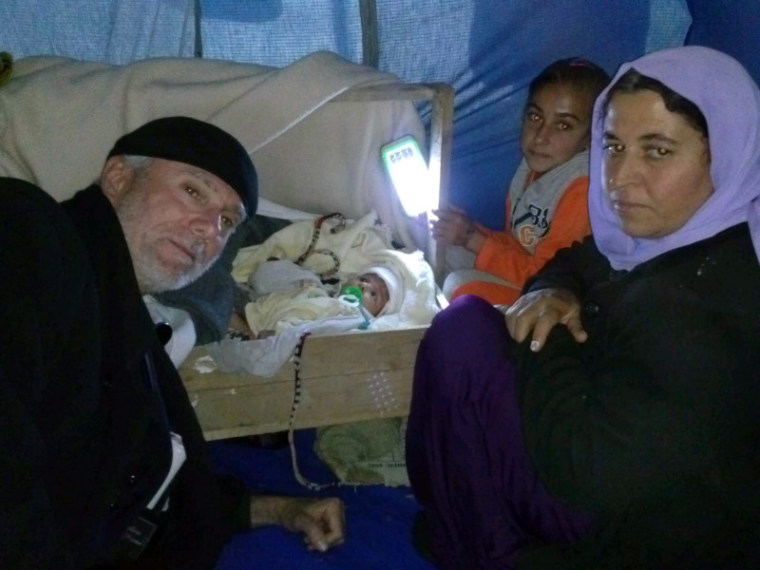 Pastor Devlin, who appeared on the radio program a day prior to Ismael, spoke specifically about what he learned from survivors of the Islamic State's sexual assaults.
"We heard story after story after story in these refugee camps and unfinished buildings of (women and girls) as young as 8 years old (being) slaughtered, tortured, raped, beaten, forced to convert to Islam," said Devlin. "They have been just unimaginable, horrific descriptions of torture, rape, and abuse forced on these girls by the Islamic State …"
Devlin, 61, added, "As a father of three young daughters, my heart just goes out to the Yazidi people."
The co-pastor of Infinity Bible Church in the New York City Bronx borough said that he and Ismael had spoken with about 10 women who had escaped from the Islamic State, either by crawling through bathroom windows or simply making a run for it.
Not only were the conditions in the Yazidi refugee camps "unbelievable," but, according to Devlin, "the violence toward women is (an) international disaster and it's genocidal."
"Many of the Yazidis that have been captured and enslaved have committed suicide," he said during his radio appearance on Dec. 22. "Today, we actually had the unfortunate view of a young Yazidi woman, 20 years old, who had been kidnapped from Sinjar four months ago and then enslaved and then took her own life by slitting her throat. Then ISIS, the Islamic State, actually put a picture of her dead body on their Facebook website. These atrocities continue."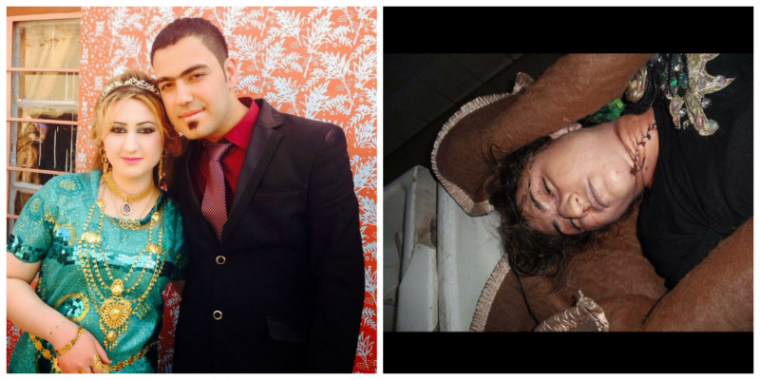 The United Nations estimated in October that the Islamic State of Iraq and the Levant (IS, ISIL or ISIS) had executed about 5,000 Yazidi men and abducted 5-7,000 women, who were being sold or kept as personal sex slaves in houses in ISIS-controlled towns.
In a previous interview with The Christian Post, Ismael shared that he had been told by surviving friends and neighbors from his hometown in Sinjar that Islamic State militants had been keeping 6-7 women inside each of these houses and were "raping them on (a) daily basis, on (an) hourly basis."
It was unclear exactly how many Yazidi women, and other Middle East females, remain enslaved by the Islamic State, an extremist Sunni militant group aiming to expand a caliphate, or Islamic rule, throughout northern Africa and all of the Middle East.
The jihadist group has gained control of parts of Syria and Iraq since launching its crusade in June, and was responsible for the deaths of thousands, including Shias, Christians, Yazidis, foreign soldiers, humanitarian aid workers, and journalists.
In August, the United States began an airstrike campaign to help support Iraqi and Kurdish forces combating Islamic State militants on the ground. By some accounts, the ongoing coalition operation has been successful, especially among Kurdistan's Peshmerga forces defending Yazidis trapped on Mount Sinjar. However, Devlin, like Ismael, was especially concerned about the enslaved women.
"There are approximately north of 10,000 Yazidi young girls, as young as 8, and young women that are still captured," said Devlin, referencing a number that could not be independently confirmed. He added that "in fact, about 1,500 of them were forcibly marched from Iraq into Syria just the other day."
"I, as one pastor from New York City, hope to be making a difference here to these young women and young girls that have lived through indescribable conditions," Devlin told Batchelor during his radio appearance. "I ask your listeners to pray for these women and pray for (their) quick release and their reconnection with their family. Many of these young girls have not only committed suicide, but once they're done being abused, raped and tortured by the Islamic State, then the Islamic State is killing them and burying them in mass graves."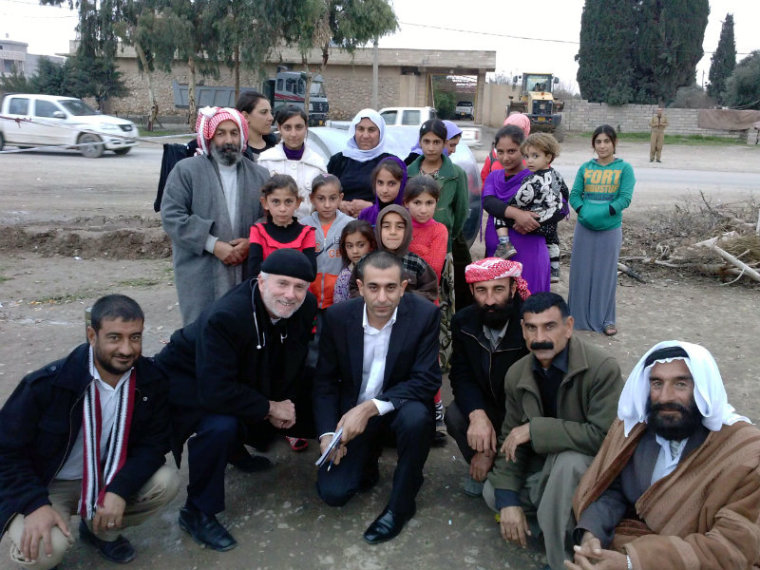 Ismael and Devlin departed for Erbil, Iraq, on Tuesday, Dec. 16. While Devlin spent about a week in the country, Murad was expected to remain among his displaced Yazidi community through January, after previously planning to be in Iraq for two weeks.
The Yazidi religion is reportedly about 4,000 years old, predating Judaism, Christianity, and Islam, and has been tied to Zoroastrianism. The dominant religion in Iraq, Islam, is reportedly practiced by 99 percent of its 32.6 million-person population. Shiites and Sunnis are the dominant Islamic sects, while Yazidis, Christians, Hindus, Buddhists, Jews, and other religious groups account for the remaining 1 percent of Iraq's population (according to July 2014 estimates).
As previously reported by CP, Ismael emigrated to the United States in 2009 after working as a translator for U.S. forces in Iraq. Devlin, who has traveled to various hot zones to support persecuted Christians, has been serving as a friend and ally to Sudanese mother Meriam Ibrahim and her family after visiting her during her asylum stay in Khartoum.
Devlin, who leads an organization called REDEEM!, sent the following update via email to CP over the Christmas holiday while he was in Iraq. His op-ed has been edited for clarity.
Pastor Bill Devlin remains in Northern Iraq this Christmas Eve and Christmas ministering to teenage girls and women who were kidnapped, abused, tortured and raped by militant Islamists of ISIS, as well as dozens of families scarred by the genocide of the Yazidi people.