Three Years On: The Crisis in South Sudan and What the Church Can Do to Bring Peace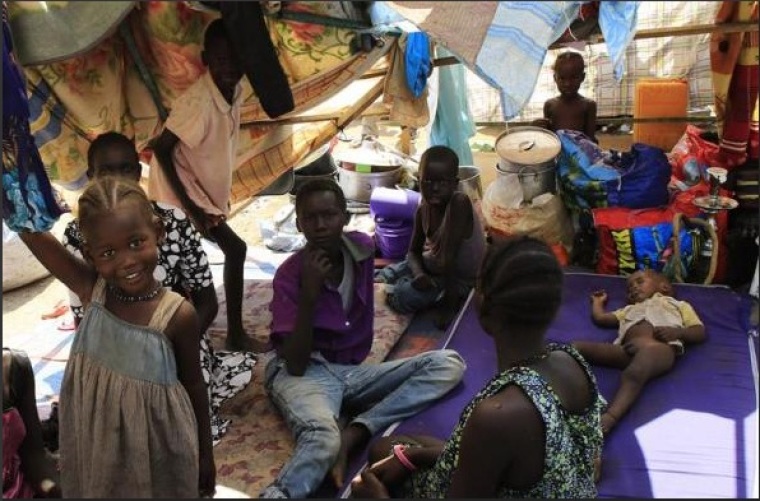 South Sudan's hard-fought independence was achieved on July 9, 2011 with celebration and hopeful expectation. Exactly three years later the young country tops the list of the most fragile countries in the world and finds itself in the midst of a deadly conflict and on the verge of a famine.
The situation in South Sudan is dire. Clashes that began in December 2013 have led to a full-blown civil war, with 10,000 dead and over 1 million displaced. Inter-communal fighting, typically over resources such as land, water and cattle – often with deadly outcomes – has led to severe distrust between tribal factions. The latest round of peace talks, in which the two main sides to the conflict agreed to a 60-day timeline for establishing a transitional government, have all but stalled and show little promise of achieving tangible peace any time soon.
Tragically, the greatest devastation may be yet to come. In May, the Famine Early Warning System announced that there is a significant threat of potential famine in South Sudan if humanitarian needs are not addressed immediately, with an estimated 3.5 million people in need of urgent humanitarian assistance and as many as 55,000 children facing death as a result. Current numbers indicate that an additional $1 billion is needed to avert this devastating suffering and loss of life.
 As the crisis worsens, much international attention has focused on diplomatic efforts to bring various warring factions together to cease violence. While such diplomatic efforts are critical, they are not enough. Additional efforts are needed to ensure that the root causes of the conflict – including grievances over land and inter-communal disputes – are addressed.
The engagement of civil society can help create sustainable peace. One critical institution of civil society is the local church. The local church is one of the few institutions people can trust. Historically, the church has played a pivotal role in the peacemaking process in South Sudan, engaging in both top-down diplomacy, as well as bottom-up reconciliation and peacebuilding. While political differences are ironed out at the national level, the church has and can play a greater role in bringing communities together to ensure that they do not resort to further violence.
For instance, Archbishop Daniel Deng Bul of the Episcopal Church was appointed chair of the national reconciliation committee. The committee is tasked with managing the process of reconciliation, and will work with the South Sudan Peace and Reconciliation Commission to do so. While it is noteworthy that a Church leader has been offered this honorable role, it should come as no surprise given the fact that at some of the worst times of violence, the Church was often the only organization was in local communities providing life-saving services.
Perhaps more importantly, the church is also uniquely placed to be an agent of peace at the grassroots level, because the church is, at its core, a grassroots entity. Conflict starts at the bottom and then trickles up. In South Sudan, there are already organizations that work on the ground to build bridges across communities and encourage reconciliation rather than retaliation when conflict does occur. Some organizations are working to train community leaders and pastors in reconciliation and implement community development programs for the most vulnerable. Such programs highlight the importance of human dignity, conflict resolution methods, forgiveness and reconciliation, and trauma healing.
Another model of peace building used in the region is the Village Peace Committee initiative. Spear-headed by local churches, leaders are elected from within the community, trained in conflict resolution and mediation techniques, and are then tasked with helping to resolve conflicts at the community level. Many of these peacebuilding efforts have been immensely successful in helping to address local disagreements and create common ground within and across communities. By mitigating conflict before it erupts, these programs help to foster a culture of peace.
To be sure, the complicated crisis in South Sudan will require a range of diplomatic, humanitarian, development and peacebuilding initiatives. Given that the underlying ethnic tensions have become central to the violence, local peacebuilding efforts that build bridges between communities, seek reconciliation for past grievances, and identify areas of common ground between hostile groups can make the difference in bringing lasting peace to Sudan. The local church, as one important leader in civil society, can determine whether peace in South Sudan is short lived or sustained. And, the global Church has an opportunity to join South Sudan by demonstrating the truth behind its founder's words, "Blessed are the peacemakers, for they will be called children of God." (Matthew 5:9)