Tim Tebow Happy Despite NFL Frustrations: 'My Identity Is Not as a Football Player, But Who I Am In Jesus Christ'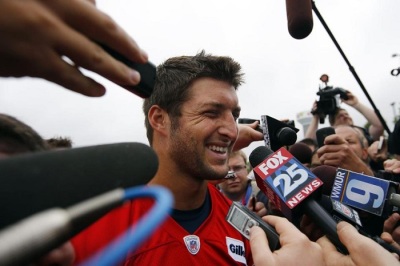 Despite facing a challenging time in his football career over recent seasons, Tim Tebow has assured that he is happy and well. The football star is crediting his persistently positive outlook to his faith, saying that his identity has never been defined by him being a football player, but instead comes from who he is in Jesus Christ.
"I've never found my identity in who I was as a football player. I found my identity in who I am in Christ. And when you find your identity as a Christian, then regardless of your status, or your fame, or your popularity, or your position, that never changes," Tebow told Sports Illustrated. "So the roller-coaster that the world has always looked at my life and viewed, I'm very thankful that I don't have to live it."
"I'm the best now that I've ever been," the currently unemployed athlete added.
In 2007, then-Florida Gators quarterback Tebow won the Heisman Trophy. That same year and in 2009, he won a national championship. In 2011, as Denver Broncos' back-up quarterback, Tebow resurrected the beleaguered team and spurred them to roughly half a dozen come-from-behind wins that ultimately catapulted the team into the playoffs.
However, in 2012 Tebow was traded to the Jets, where his career took a big hit as he sat on the bench for most of the season. He was picked up by and played with the Patriots in the 2013 preseason but was ultimately cut before the regular season began.
Now in a seven part article, Sports Illustrated is chronicling Tebow's career highlights as an award-winning collegiate athlete and juxtaposes that against his uneven play at the professional level. It also examines the athlete on a cultural level, discussing the work Tebow does through his charity and explores the tension of being a high-profile athlete in the most popular sport in the United States.
For instance, Tebow's decision to speak, and then back out of the gig, at the First Baptist Church of Dallas in April of this year, drew the ire of some Christians.
Robert Jeffers, the church's pastor, miffed that Tebow had responded to critics who had labeled the church as "anti-gay" and "anti-semitic," accused him of "[kneeling] at the altar of political correctness," and defended his church's stance and tone.
"Now, there are some people who would say, 'Well, God's given me a different ministry. God has called me to go out and preach about the love of God. That's what I'm called to do. I'm not called to preach about sin, and talk about controversial things. I've been called to talk about the love of God. And they're sincere when they say that. But they are sincerely wrong. The fact is, you cannot talk about the love of God—the love of God has no meaning whatsoever unless you understand the judgment of God that all of us deserve," Jeffers told his congregation, as quoted and italicized by Sports Illustrated.
Tebow told Sports Illustrated that much of his decision to back out came because he wanted to be able to share his faith in a loving manner that avoided being divisive.
"Christianity is not a religion. Christianity is having a relationship with Jesus Christ. And, you know, one of my bigger goals is to be able to break that down. Break some of those barriers, and bring people together. Say, 'You know what? We're on the same team. We're on the same side. And let's bring people together'," he said.
"I wanna be someone, as a person, that is, is loving. That is not judging. We all have our faults. We all fail. We all mess up. We all make mistakes. So I'm not gonna be someone that is gonna try to point that out in other people. I wanna be someone that loves them. You know?" Tebow added. "I'm a big 'quote person,' and one of my favorite quotes, and I forgot who it's from, but it's, Every day we share the Gospel. But every now and then we use words. You know? Meaning, we share what we believe every day in how we act. How we treat people. How we love people."
Since his release from the Patriots, Tebow has been out of the NFL, although some disgruntled Jacksonville Jaguar fans have been trying to convince their owner to give him an opportunity to join them and help pick up their 2-9 record.