Tim Tebow, Jana Duggar Romantically Linked In New Reports?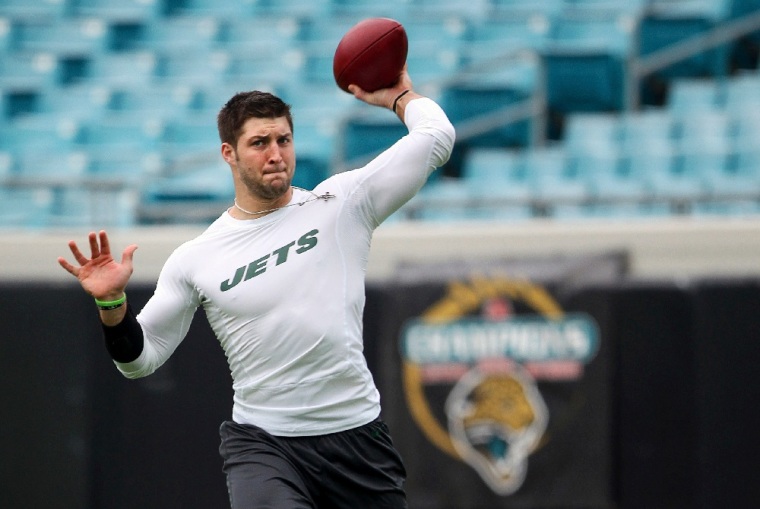 Tim Tebow is being linked to popular Christian reality television stars the Duggar family, after new reports have surfaced that Jim Bob Duggar would like the athlete to date his daughter Jana.
Tebow, the 27-year-old evangelical Christian football star turned SEC college football analyst, has made work with his Tim Tebow foundation a priority. The foundation builds playrooms in children's hospitals all over the world, grants sick children's wishes and works to aid in the process of adoption.
Tebow has been the subject of countless headlines since winning the Heisman Trophy as a QB at the University of Florida. Some of those headlines include linking him to possible marital prospects, with the latest Star magazine headline being no exception.
Star is reporting that Jim Bob and his wife Michelle have been meeting Tebow's mother, Pam Tebow, in Arkansas in the hopes of setting the Evangelical athlete up with their eldest daughter Jana, 24.
"Jim Bob is no dummy," an insider told Star, according to Radar Online reports. "Tim would be a perfect addition to the family and a feather in his cap. Can you imagine the press attention a Tim-Jana wedding would get?"
While Jim Bob did post an image with his wife and Pam Tebow at a Loving Choices Pregnancy Center's fundraiser in Springdale, Arkansas earlier this month, he also made it clear that he would not choose who his children should marry.
"I do not choose who my children marry....Over the years, I have suggested guys to my daughters or we have had a lot of guys that approach us and are interested in this girl or that girl, but each of our girls have chosen their spouse on their own," Jim Bob told People.
Tebow was recently questioned about finding a wife one day after years of telling the public that he is a single man. However, he is looking for more than a pretty face.
"Of course it's important to be attracted to someone, but it really needs to be about who they are on the inside. I've always been attracted to girls whose hearts are the biggest thing about them," he told People. "People can be very sweet and kind to others who can do a lot for them. I want to find a girl who will be the same person to those who can't do anything for her in return."
The Duggar family can be found on TLC Network's "19 Kids and Counting."