Tim Tebow on Colin Kaepernick's Protests: 'We Need to Be Bringing People Together, Not Separating Them'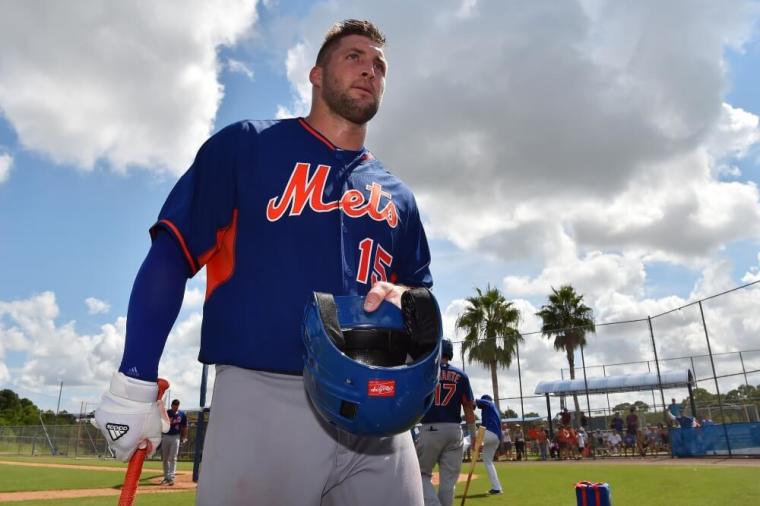 New York Mets minor league baseball player Tim Tebow says his life was "shaken" when his football career came to an abrupt end, and he wants to help others who are facing similar circumstances in their lives with a job loss or tragedy that shakes them to their core. 
Tebow appeared on "Fox & Friends" on Monday to talk about his new book, Shaken, along with a number of other topics, one of which was his thoughts on San Francisco 49ers quarterback Colin Kaepernick's decision not to stand for the playing of the national anthem as a form of protest "until there is significant change in the country," in regard to community policing and race relations. 
"I just think, for me, my goal has always been to bring faith, hope and love to people, especially in their darkest hours of need. I think what we need right now is bringing people together in this country more than separating people, so that's my goal," the popular Christian sports star responded.
He also talked about his new book, Shaken: Discovering Your True Identity in the Midst of Life's Storms, and said that some of the most difficult moments in the past few years was having to tell his family that he had been cut from a number of football teams, which he said "cuts into your hopes and dreams."
Tebow admitted that he was filled with uncertainty about his future following a number of setbacks, including being released by the Philadelphia Eagles in September 2015, which was his last football team.
"How do you react? How do you handle it?" were some of the things he asked himself. "This was going to be the dream come true, and it gets shattered right in front of you," he noted.
In an interview with Fox News host Sean Hannity Monday night, Tebow said after being cut from the Patriots team he realized: "I have no home, no car, no one wants me to do what I want to do. This book is written for times like that where it feels like everything around you is shaken. Now what do I do? What do I hold onto? What is my foundation? So many times in life we feel like we're defined by certain things — our identity is found in certian things. What happens when those things crumble? 
"What happens when you find your identity in a relationship and it goes bad. What happens when you find it in a job and you lose it? ... The goal of this book is if you pick it up with your head down you finish the book with your head held high knowing that God has an awesome plan for your life, you matter, and you're important. And that is a bigger identity than the world could ever offer," Tebow told Hannity. 
The football athlete-turned-baseball player said he continues to be deeply engaged with his charity foundation, which focuses on providing opportunities and moments of happiness for children struggling with health issues.
Tebow has been asked about his thoughts on Kaepernick in the past as well, given that during his football career he was known for going down on one knee to pray during games as part of his Christian faith, which came to be known as "Tebowing."
He has kept his responses on the subject limited, however, but in September told USA Today: "When people have belief in something, or conviction in something, trying to stand for that is a good thing, and it's all about standing for it the right way."
Tebow discussed another story from his book during the "Fox & Friends" interview, namely when he turned down a $1 million endorsement deal during his time with the New England Patriots following coach Bill Belichick's advice, only to get cut from the team soon after.
"Well, I didn't want to be a distraction on the team. I wanted to be just another guy in the locker room," Tebow explained of his decision at the time.
"I put the team first. And that's not something I look back and regret at all. It was me trying to honor the team, and if I could do it again I'd have done the same thing."