Together 2016 Hashtag #JesusChangesEverything No.3 Most Popular Trend on Twitter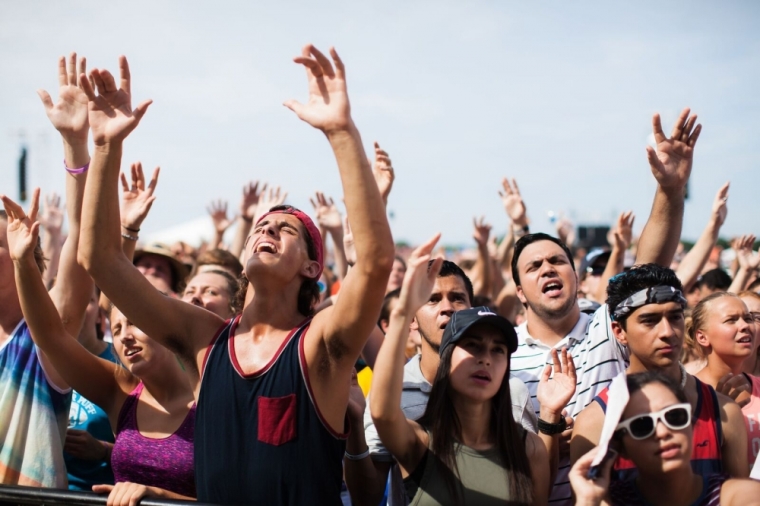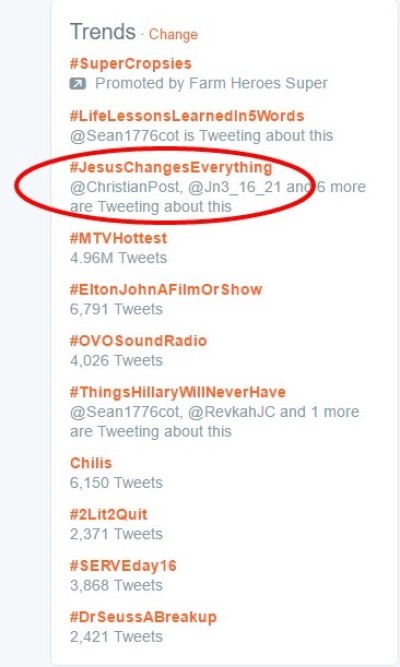 Together 2016 organizers will not know if they reached their 1 million attendee goal until a few days more, but one thing they know for sure is they have got the nation talking – the hashtag #JesusChangesEverything was at one point the No.3 most popular trend on Twitter in the United States.
The event described as a once-in-a-generation, millennial-focused prayer and worship gathering was attended by at least tens of thousands of young Americans (if not hundreds of thousands) from all races and walks of life from across the county at the National Mall in Washington, D.C. on Saturday. The theme was unity with one shared purpose: to reset our lives as the singular body of Jesus Christ.
At the time of this article's publication, there were over 30,000 tweets with the hashtag #JesusChangesEverything, which Together 2016 visionary Nick Hall repeatedly urged attendees and viewers of the livestream to tweet in order to make it the top trend in the nation.
Here are some tweets with the popular hashtag:
Inspired by Hall, a North Dakota youth pastor and founder of Pulse, Together 2016 took five years to plan and organize and featured over 40 speakers from all Christian denominations and traditions, from Pope Francis who shared a video message from the Vatican to notable Pentecostal pastor the Rev. Samuel Rodriguez, who urged Christians to shine the light of Jesus Christ into a dark world.
While the National Parks Department closed the event at 4:30 p.m. — four hours before it was expected to end — due to soaring temperatures, countless lives were touched by the testimonies shared by Christian leaders such as Josh McDowell, who gave an emotionally charge testimony about overcoming his personal sexual abuse, and Ravi Zacharias, who shared how he came to Jesus after a suicide attempt as a 17-year-old in New Delhi, India.
Those gathered also heard powerful message from Francis Chan, Louie Giglio and Ronnie Floyd; and enjoyed spectacular performances by Michael W. Smith, Casting Crowns and Reach Records artists Lecrae, Andy Mineo, Tadashii, KP and Trip Lee.
Even though organizers were disappointed that the event was cut short hours earlier than expected, they told the assembled media they knew God's purpose had been fulfilled as the work of evangelism is being passed on to the next generation of Christian leaders.
 "We believe this whole day is a statement of hope," organizers told the media at the close of the event. "We have seen people from all different places and backgrounds come together around a common belief: that Jesus changes everything. This event has never ultimately been about coming to the mall; it's always been about sending a generation out from the mall to share Jesus and the reset He offers. We believe the message of Jesus belongs everywhere – from the smallest corners to the biggest arenas."
To learn more about the movement, visit Together 2016 here.