6 Recent Trump Comments on Kavanaugh: Mocks Ford, Suggests Democrat Senator a Drunkard
6 Recent Trump Comments on Kavanaugh: Mocks Ford, Suggests Democrat Senator a Drunkard
3. Affect on Family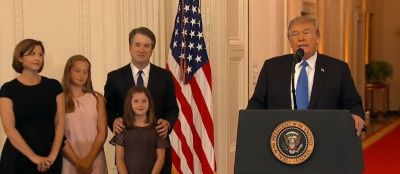 Trump also spoke about the harmful effect the controversy has had on Ashley, Kavanaugh's wife, and the couple's children.
"What his wife is going through, what his beautiful children are going through is not describable. It's not describable. It's not fair," he argued.
Kavanaugh himself said last week during the hearing that his family has been "destroyed" due to the accusations, and that the couple has had a very hard time explaining the situation to their children.
"I think it's fair to do it to me because, you know, I've been going from day one — from long before I got to office, you've been doing it. It's almost became — I think for me, it's like a part of my job description, to handle this crap," Trump added.