Trump Touts Diversity, Religious Freedom Day, Amid Accusations of Bigotry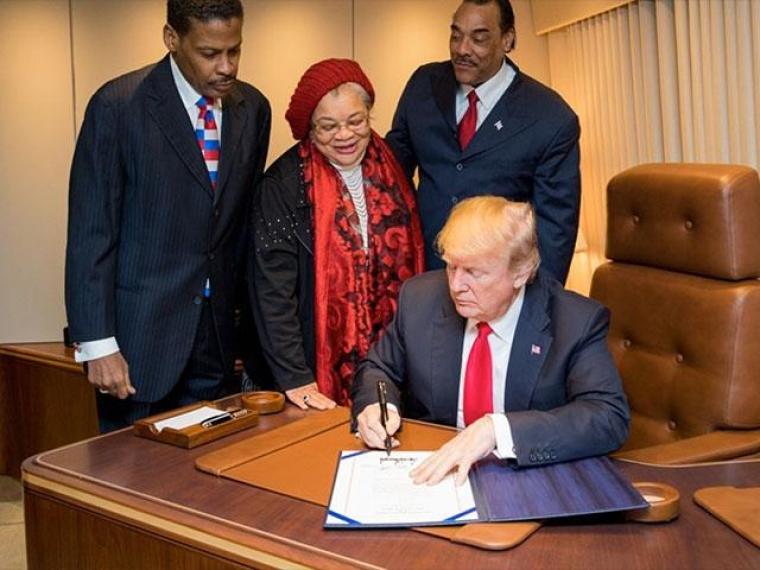 President Donald Trump has issued a proclamation touting religious diversity in honor of Religious Freedom Day, while continuing to weather allegations of religious and racial bigotry.
Religious Freedom Day is observed annually on Jan. 16, the anniversary of when the Virginia General Assembly adopted Thomas Jefferson's landmark Virginia Statute for Religious Freedom.
In an official statement released Tuesday, President Trump said "we celebrate the many faiths that make up our country" and that "Americans from diverse ethnic and religious backgrounds remain steadfast in a commitment to the inherent values of faith, honesty, integrity, and patriotism."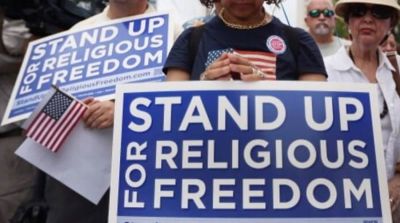 "The free exercise of religion is a source of personal and national stability, and its preservation is essential to protecting human dignity," read the proclamation.
"Religious diversity strengthens our communities and promotes tolerance, respect, understanding, and equality. Faith breathes life and hope into our world. We must diligently guard, preserve, and cherish this unalienable right."
The proclamation also stressed the need to protect religious freedom both at home and abroad, denouncing without directly referencing efforts to force Christian business owners to service same-sex weddings and the Johnson Amendment ban on church politicking.
"Unfortunately, not all have recognized the importance of religious freedom, whether by threatening tax consequences for particular forms of religious speech, or forcing people to comply with laws that violate their core religious beliefs without sufficient justification," noted the proclamation.
"No American — whether a nun, nurse, baker, or business owner — should be forced to choose between the tenets of faith or adherence to the law."
Despite his touting of religious diversity, Trump has been criticized as anti-Muslim. During his campaign, he promised to temporarily ban all Muslims from entering the country. As president, he implemented a ban on immigration from certain majority-Muslim countries. In Nov., 2017, Trump was criticized for retweeting an anti-Muslim video from an anti-immigrant group in England. 
Trump's Religious Freedom Day proclamation comes as many have renewed their accusations that the polarizing commander-in-chief is intolerant of different religions and races.
In their Religious Freedom Day statement, the progressive group Americans United for Separation of Church and State denounced what they called the Trump administration's "unwavering attacks on the freedom of religion and belief."
"Religious freedom is a fundamental American value. It's about fairness and equality, not discrimination and coercion as the Trump-Pence administration believes," stated Americans United.
"Today let's remember why religious freedom is fundamental. And let's recommit to fight for it. Americans United is there every day to stand up to Trump, Pence and their Religious Right allies."
Trump has also recently garnered national headlines for his alleged comments calling certain developing nations "s***hole countries" and reportedly preferring immigrants from European states.
Trump is not the first president to be accused of hypocrisy when it comes to Religious Freedom Day. When President Barack Obama issued a Religious Freedom Day proclamation in 2013, pro-life groups labeled him a hypocrite due to his HHS birth control mandate.
"Our religious liberty and rights of conscience have been threatened like never before under President Obama, who has mandated that employers must cover abortion-inducing drugs in their health care plans, regardless of their moral or religious objections," said Susan B. Anthony List President Marjorie Dannenfelser at the time.
"President Obama must first rescind his HHS mandate before making any proclamations on the subject – this is blatant hypocrisy."