Trump 'Grabbed Me,' 'Put His Hand Up My Skirt;' 16 Accusers Ask for Sexual Harassment Investigation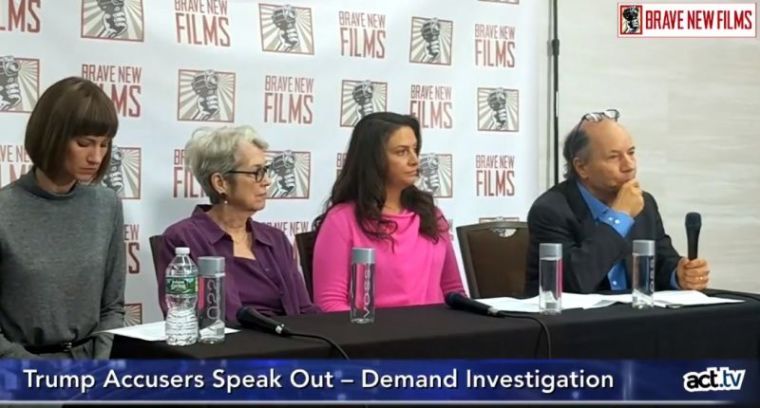 A liberal film company is demanding that an investigation be launched of President Donald Trump on behalf of 16 women who have accused the president of sexual misconduct.
At a press conference held Monday morning, Brave News Films featured three of the 16 accusers giving brief statements in support of an investigation of President Trump.
Jessica Leeds, one of the accusers who was at the press conference, described her alleged encounter with Trump back in the 1980s on an airplane, saying "he jumped all over me."
"And he grabbed me, and he was trying to kiss me and everything," said Leeds, who claimed that she eventually wrestled herself free after Trump "put his hand up my skirt" and went to a different part of the plane.
Samantha Holvey, another accuser present at the press conference, explained that "this isn't a partisan issue," and called for a "non-partisan" investigation to be done, "not just for him but for anybody that has allegations against them."
The press conference was a follow-up from a short video that Brave New Films released last month featuring comments from the 16 women accusing Trump of sexual misconduct.
"16 women have come forward to report being sexually harassed or assaulted by Donald Trump. Seeing their stories together is incredibly powerful, and damning. It's time to hold him to account," read the description for the video, which as of Monday has gotten over 40,000 hits.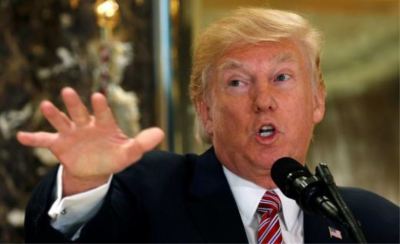 Election Year Accusations
In the months leading up to the presidential election, several women came forward to accuse then candidate Donald Trump of sexual misconduct, including many in October 2016, after release of the infamous Access Hollywood tape.
In the video, Trump is heard bragging that he is able to grope women's private parts because he is famous. 
For his part, Trump stated that he never did what he bragged about doing. At an Oct. 22, 2016, campaign rally in Gettysburg, Penn., he claimed that the sexual harassment allegations against him were all false, and vowed to sue the women after the election.
"Every woman lied when they came forward to hurt my campaign. Total fabrication. The events never happened. Never. All of these liars will be sued after the election is over," stated Trump.
"It was probably the [Democratic National Committee] and Hillary's campaign who put forward these liars with their fabricated stories."
At press time, Trump has not sued any of them. 
Earlier this year in October, Trump reiterated this argument, labeling the many accusations "fake news" and "made-up stuff," adding "that happens in the world of politics."
Creating a 'Socially Conscious Nation'
Founded in 2004 and based in Culver City, California, Brave New Films seeks to "champion social justice issues" and "create a socially conscious nation."
"Brave New Films has created a quick-strike capability that informs the public, challenges mainstream media with the truth, and motivates people to take action on social issues nationwide," explains the group on its website.
"From exposing the private prison crisis to helping middle class and poor workers to understanding where your tax dollars are going, our groundbreaking social media campaigns have revolutionized activism."
The nonprofit's board includes Shepard Fairey, the man who created the famous Barack Obama "Hope" portrait; Roger Lowenstein, attorney who also serves on the board of the American Civil Liberties Union's Southern California chapter; Katrina vanden Heuvel, author and editor with The Nation, and Axel Caballero, director of Corporate Social Responsibility for HBO.
Also on the film group's board is Robert Greenwald, an Emmy-nominated filmmaker behind documentaries like Outfoxed: Rupert Murdoch's War on Journalism (2004), Koch Brothers Exposed (2012), and Making a Killing: Guns, Greed, and the NRA (2016).
Brave New Films' press conference comes the day after U.S. Ambassador to the United Nations Nikki Haley told CBS' "Face the Nation" that she believed the accusers "should be heard."
"I know that he was elected. But, you know, women should always feel comfortable coming forward. And we should all be willing to listen to them," said Haley.
"I think we heard from them before the election. And I think any woman who has felt violated or felt mistreated in any way, they have every right to speak up."