Trump 'Isn't Familiar With the Bible,' Tony Perkins Says After Trump Blames Him for 'Two Corinthians' Gaffe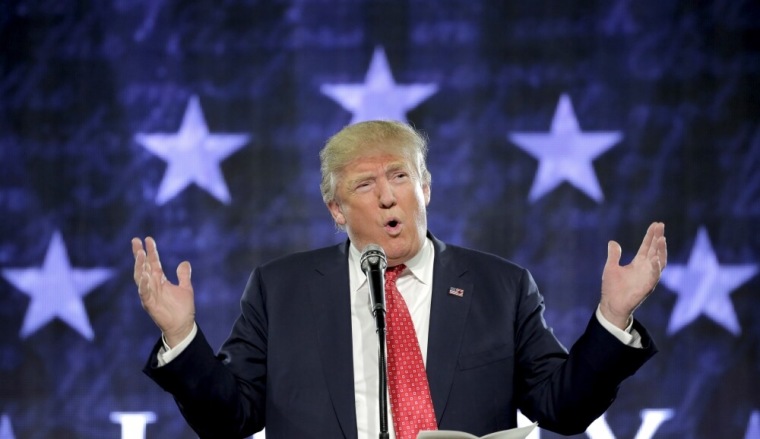 The Family Research Council's Tony Perkins said Donald Trump's recent Bible gaffe at Liberty University proves the 2016 presidential candidate is "not familiar with [the] Bible."
Perkins, a conservative Evangelical leader, made his comments after Trump blamed his reference of "Second Corinthians" as "Two Corinthians" on Perkins.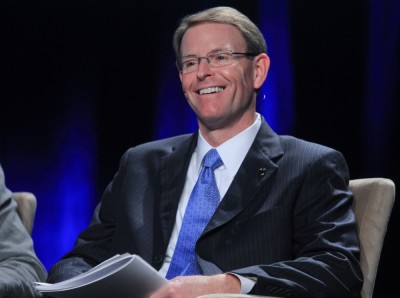 Perkins told CNN's Erin Burnett this week that he is "guilty as charged" for writing some helpful notes for Trump ahead of his speech at the Christian university on Martin Luther King, Jr. day.
"No, I don't dispute it at all. I wrote the scripture reference, which is 2 Corinthians 3:17, which is how it's written," Perkins told Burnett on "OutFront" this week.
"I'm guilty as charged. That's exactly what I did. I sent him a couple of suggestions of some things he could talk about as a connection point," Perkins continued, adding that Trump's mistake "shows that he's not familiar with Bible."
"Donald Trump's a very interesting guy. There are some things about him that I find fascinating, that I like about him, as well as other Evangelicals [like about him]," Perkins added.
Perkins, who has several connections to the American Evangelical comunity, told CNN in December 2015 that while he's leaning toward an official endorsement of Texas Senator Ted Cruz, he still has not made a definitive decision.
"There's clearly movement going toward Ted, and I think he's making all the right moves," Perkins told CNN at the time. "But from a timing standpoint, I'm still watching, waiting."
Trump's Bible gaffe during Monday's speech at Liberty University received laughter from the crowd and criticism from some Evangelical students on social media, prompting the presidential candidate to blame the mistake on notes provided for him by Perkins.
"Tony Perkins wrote that out for me. He actually wrote out the 2, he wrote out the number 2 Corinthians," Trump told CNN's Don Lemon this week. "I took exactly what Tony said, and I said, 'Well, Tony has to know better than anybody.'"
Trump has also argued that his word use was not actually a mistake, as his mother is of Scottish descent and British English language usually says "Two Corinthians" instead of "Second Corinthians."
Trump's argument has been backed by Bobby Ross, Jr. of GetReligion.org, who wrote this week that Trump may have not made a mistake.
"So no, Trump didn't really mess up. Except that he probably did. The takeaway from a media reporting standpoint: More context is always helpful. So are fewer assumptions," Ross wrote.
Trump has previously received criticism from the Evangelical voter base over his shaky knowledge of the Bible.
After telling an Alabama pep rally in August 2015 that his favorite book is the Bible, Trump declined to name his favorite Bible verse when asked by Bloomberg's "With All Due Respect," prompting speculation on his actual knowledge of the Holy Book.
"I wouldn't want to get into it. Because to me, that's very personal," Trump told Bloomberg in August 2015. "The Bible means a lot to me, but I don't want to get into specifics."
The 2016 presidential candidate, who identifies as a Presbyterian, also said he doesn't ask God for forgiveness while speaking at a Q&A at the Family Leadership Summit in Ames, Iowa in July 2015.
When asked by moderator Frank Luntz if he's ever asked God for forgiveness, Trump replied: "I am not sure I have. I just go on and try to do a better job from there. I don't think so."
"I think if I do something wrong, I think, I just try and make it right. I don't bring God into that picture. I don't," Trump added. 
The presidential candidate clarified that he believes his taking of the Holy Communion is an act of forgiveness.
"When I drink my little wine — which is about the only wine I drink — and have my little cracker, I guess that is a form of asking for forgiveness, and I do that as often as possible because I feel cleansed," he said. "I think in terms of 'let's go on and let's make it right.'"