Trump's Evangelical Advisers Respond to Calls for Them to Abandon Him: It Would Be 'Immoral'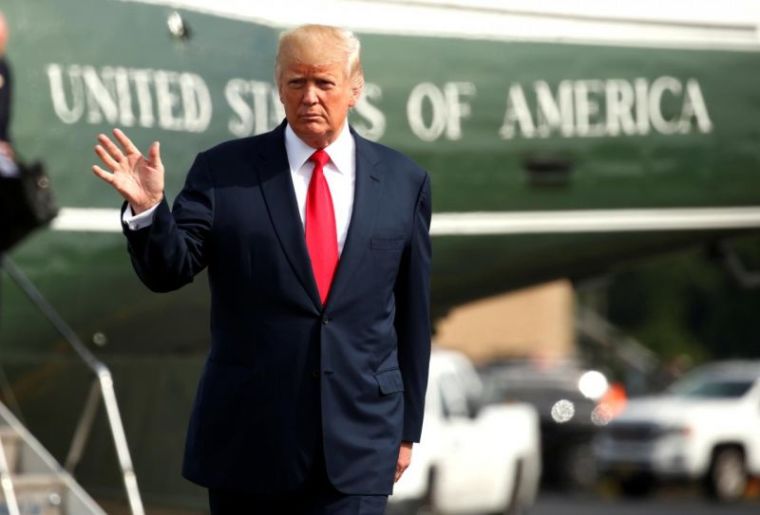 A meme circulating on social media from a prominent black minister decries the fact that none of President Trump's evangelical advisers have abandoned him in the wake of his comments about recent racial turmoil in Charlottesville. This stands in stark contrast to notable business CEO figures who have ceased advising the president, the pastor noted.
In an Instragram post Thursday, Howard-John Wesley pastor of Alfred Street Baptist Church in Alexandria, Virginia, just outside Washington, D.C., provided a list of the members of President Trump's evangelical advisory board and the churches and institutions with which they are affiliated.
"While CEOs are walking away from Trump here are the names of his Evangelical Religious Advisory Council—men & women of God who have said nothing about his handling of Charlottesville or stepped down from his side. Is your pastor on this list? Shame when business is more righteous than church," Wesley wrote.
According to The Hill Friday, 3M's Inge Thulin and Campbell's Denise Morrison became the tenth and eleventh individuals to leave Trump's manufacturing council following his comments about events in Virginia where a large group of white supremacists carrying tiki torches and bearing Nazi symbols rallied to protest the removal of a Robert E. Lee statue.
The Christian Post reached out to Wesley for further comment but he could not be reached by press time. 
Jack Graham, pastor of the Dallas-area, 40,000-member Prestonwood Baptist Church, told CP in a Friday phone interview that the group of evangelical pastors and leaders is now called The Faith Leaders Initiative, and that they are not an official council or government body. They function in a primarily pastoral and spiritual capacity even as they do have the president's ear on many issues that matter to them, he said. Amid the calls for members of this group to resign, Graham said that as far as he was concerned, it would be "immoral" to do so.
"What we may say to the president privately in calling him out, or expressing our concerns anything he or a member of his team might do ... people want us to expose the president or to express our disdain for this, that or the other. That's not our responsibility as I view it," Graham said.
"Do we want him to be more of a uniter right now? Absolutely."
But he rejected the notion that he and others are morally obligated to bail on the president.
"Back when President Obama had a similar group around him, a faith advisory group, I had some friends that were in that group, including T.D. Jakes here in Dallas," Graham said.
When President Obama decided to come out in full support of same-sex marriage despite advisers who strongly disagreed with it, "no one I know was standing up and crying out and calling for their resignation, [saying] that they should get out or get off Obama's council."
"It's hypocritical that the same people who wanted Christians there for Obama don't want Christians there for Trump," he said.
Bishop Harry Jackson, who pastors at Hope Christian Center in Beltsville, Maryland, thinks that the church has a responsibility to be a prophetic voice in the culture, but "it's hard to be a prophetic voice if you're not even in the room," he said in a CP interview Friday.
"Having access to the president is an amazing opportunity and it is something that God gives us in order to be salt and light in the world," Jackson said.
The real issue here is that America and the church is divided along partisan lines, he continued, "and we're taking up political arms instead of coming together and working toward the same agenda."
Jackson said he frequently tells his congregation that he would be pleased if they send out missionaries from his church to both major parties and among independent ranks and that they would remember that "we are all Christians on assignment." For followers of Jesus, one's foremost allegiance needs to be to Him and to work on the major issues together.
"I think some of my fellow clergymen are showing their unscriptural immaturity by all their claims and it's a manifestation of self-righteous confusion," he added.
"And I'm sure that Jesus would be asking some of us, on both sides of the aisle, or telling us [rather], that we don't know what spirit we're of," Jackson said, referencing Luke 9:55 where Jesus corrected James and John, the Sons of Thunder, who wanted to call down fire on his foes.
He further noted that he wishes that the president would have called some of his evangelical advisers and given them the chance as the church of Jesus Christ to lead the way regarding this Charlottesville fallout.
"I don't believe that the government can bring a divided society together," Jackson asserted, lamenting that some pastors are now ascribing a 400-year-old problem to a president that has been in office for a mere seven and a half months. He stressed that what the United States is experiencing is fundamentally a "sin problem" that the world cannot solve.
Johnnie Moore, who also serves as an informal evangelical adviser to the White House, made it clear in a statement to ABC that evangelicals oppose racism in every form. 
"God hates racism, and we hate racism," he said, while noting that they have a responsibility to "fulfill our spiritual and national duty" and continue their relationship with the Trump administration. 
Other business leaders who have departed Trump's manufacturing council include Merck & Co. CEO Kenneth Frazier, Intel CEO Brian Kranich, Under Armour's Kevin Plank, Alliance for American Manufacturing President Scott Paul, and the AFL-CIO's Richard Trumka and Thea Lee.