Two Years After Wife's Murder, Pastor Davey Blackburn to Marry Single Mom He Met at Gym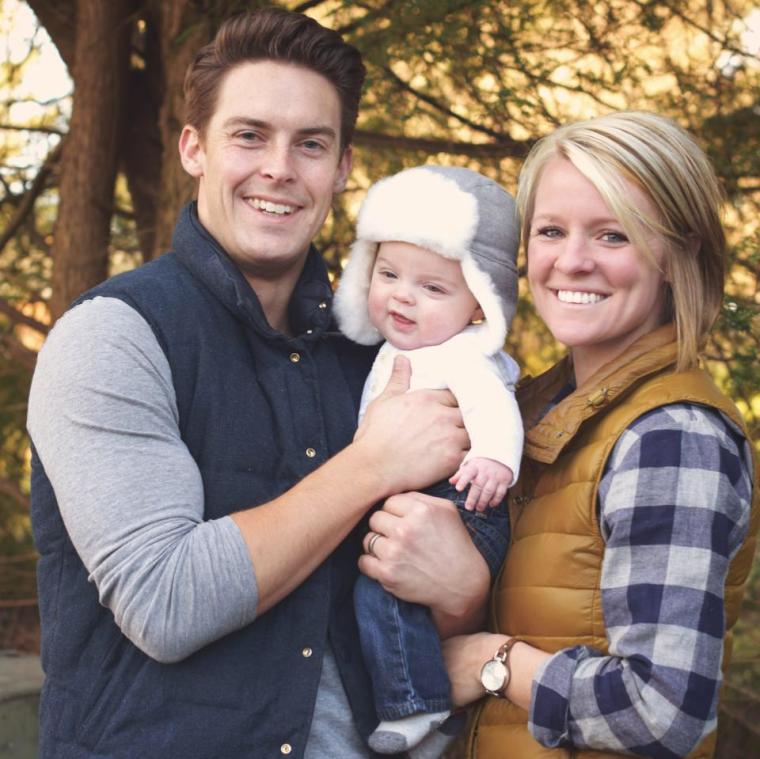 Two years after his wife Amanda was fatally shot during a home invasion while he worked out at a gym on Nov. 10, 2015, Indiana Pastor Davey Blackburn announced Tuesday that he is engaged to a new woman. He plans on getting married to her next month.
"Yep. It's true. I'm engaged! I know for MOST of you this comes as a complete surprise so let me back up and tell you how I met this girl and how we got to this point," gushed Blackburn, who leads Resonate Church in Indianapolis.
In a blog post on his website, he identified his fiancée as Kristi Monroy, a single mom who loves the Lord and comes from a family of missionary workers.
He said he proposed to her with the blessing of Amanda's parents last Wednesday after a few months of clandestine dating, which included playdates with their children at Chick-fil-A.
"Last September (2016) I watched this gorgeous dark-haired, brown-eyed girl walk through the doors of the Crossfit gym I work out at. She had my attention from the moment I saw her. I thought I was being subtle, but she would tell me later I was being far less discreet than I hoped," he recalled.
Before making the decision to get engaged or appear in public with Monroy as a couple, Blackburn said he cleared the move with the prosecutor working on the ongoing trial of Amanda's alleged killers, Larry Jo Taylor Jr., 18, and his accomplice, Jalen Watson, 21.
"When May came around and we realized Amanda's trial was going to be delayed yet again, I called the Prosecutor on the case and asked him how it would affect the trial if my relationship status changed in any way. 'Not at all.' He answered me. 'You have to do your best to move forward with your life because you never know when this trial will actually happen,'" Blackburn wrote.
"At that point she and I felt the freedom to go out in public on dates and mid-May we did just that. It was incredible. It was the freest I'd felt since Amanda's passing. Certainly it was bittersweet to be dating again, but ...," he added.
The murder of Amanda, who was pregnant at the time of her attack, received national attention in 2015.
When news first broke about her murder, high-profile media figures such as Fox News host and former Westchester County, New York, District Attorney Jeanine Pirro, cast suspicion on Blackburn even after police had quickly ruled him out as a suspect.
"Let's say he has an alibi. He was in the gym that morning at or around the time that she was shot. That doesn't rule out the possibility of the police looking at murder for hire. It also doesn't rule out the fact that they have to now look at was he always going to the gym? Is the gym something that he just recently started? What about Facebook, Twitter, email, finances, telephone records? You know there is a lot more than this and then police always have a reason for saying what they say," said Pirro.
Blackburn, who has been working on a book about his life, said even though he was attracted to Monroy before the one year anniversary of his wife's death, he decided to wait until a year had passed before he decided to act on his feelings for her.
"The process of writing about everything was bringing a lot healing, so much so that I started to feel like it was healthy enough to poke my head up and be open to God bringing another woman into my life. I realize for many people this may seem a bit soon and trust me, it did to me as well. But I had been exposed to some incredible people and environments over 2016 who helped me get to a healthy place after losing Amanda and I thought I was going to be ready soon to put myself out there again," he explained.
"I had decided I wouldn't pursue anything with anyone no matter who it was until after the one year anniversary of Amanda's death. I knew this is what God put in my heart and I was going to stick to it. In fact I kept my wedding ring on until Nov. 11th, 2016—one year after Amanda's death. So from September until the beginning of November I just observed this girl," he added.
He further noted that "several months after Amanda passed I wrote something in my prayer journal: Lord, if you ever bring me another wife here's what I ask for, that she loves you more than she loves me, that she loves me, that she loves Weston (his son), and that she loves Amanda."
Kristi Monroy fit that bill, Blackburn said.