Pastor Davey Blackburn Taking Time to 'Get Healthy,' Asks Church Not to Let Wife's Death Go to Waste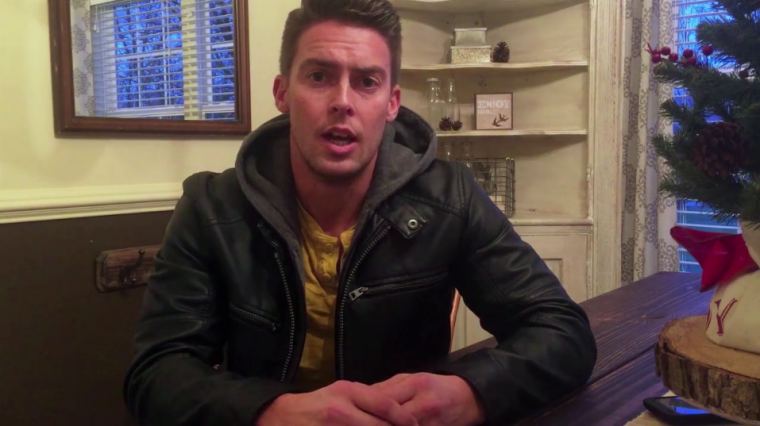 Indiana Pastor Davey Blackburn whose pregnant wife, Amanda, was fatally shot during a home invasion on Nov. 10, says he's taking time away from the pulpit to get healthy and asked his congregation not to let his wife's death go to waste.
In a video message recorded on Nov. 29, directed at his small congregation at Resonate Church in Indianapolis, Blackburn urged them to use his wife's death to get more people to come to church.
"I believe that even in this situation one of the things that God wants to use and do in this situation is that he wants to embolden us with more courage to invite our friends into relationship with Jesus. And so I'm confident that within the next several weeks there's gonna be great opportunities for people to come to know Jesus, so I want you to invite your friends. I want you to invite your family.
"And I don't want this tragedy to be wasted. And so I want us to capitalize on seeing more and more people come to know Jesus as their personal savior," said Blackburn.
"In the meantime, my role is gonna look just a little different, my plan is to be back preaching on a regular basis. I'm not sure when exactly that will be. I want to make sure I am in a place where I am healthy and I am preaching out of a place where I can offer you something. Right now, I just need to take a step back and get healthy. And get filled up and kinda get redirected on what the next step is for our life," he continued.
He also noted that he wanted to make sure his young son, Weston, is in the best place possible after losing his mother.
"I also want to make sure that I am taking time to make sure Weston is doing really well in this bit of chaos — that he's finding some stability in, that we're really able to shepherd his heart in this process," said Blackburn.
The grieving preacher said he believes God called his family to Indianapolis despite his wife's death and said she gave her life to see the city changed.
"One of the things I do know and that I am confident in, is that through this entire season, what the Lord wants us to do, and what Amanda would want us to do is not give up any ground. I wholeheartedly believe that God has still called me to Indianapolis, he called our family to Indianapolis, and that Amanda gave her life to see Indianapolis changed," said Blackburn.
He said over the next few weeks he will not be the primary speaker at his church but that he will be bringing in speakers who are very close to him to minister to the 120-member congregation.
"I want you to know that these are folks who love our church. Who love the vision of our church who are helping us carry out the vision of our church to see people far from God, coming to Christ, do whatever it takes, to connect people to a life change," said Blackburn.
"These people are going to come in with a heart to see people come in to Jesus and help people take their next step. This is again, not a time for us to back down from our mission but to actually carry it out with even fuller force," he added.
Blackburn's 28-year-old wife was shot multiple times during a home invasion on Nov. 10.
A copy of the affidavit of probable cause against her suspected killer, Larry Jo Taylor Jr., 18, and his accomplice, Jalen Watson, 21, released last month by the Marion County Prosecutor's Office, painted an agonizing picture of how she died.
The autopsy conducted on Amanda Blackburn on Nov. 12 revealed: "(She) sustained a gunshot wound to the back of her head. She also had a gunshot wound to the lower left arm which traveled up to her biceps. She also had a through and through gunshot wound which entered and exited her upper back."
She also had "scratches to her left cheek, a split lip and a lower tooth knocked out."
Police say a confidential informant told them that Taylor confessed to killing Amanda after she attempted to attack him.
"Taylor stated that she charged at him and he shot her somewhere in the upper body so he would not be scratched. Taylor then told them that he leaned over her body and shot her in the back of the head. He leaned further, looked at her face, and watched her bleed," explained the informant.
In the video message to his church, Blackburn thanked his church for their support during his time of bereavement.
"I honestly do not know that anybody could have gone through what we've gone through without the family of God. Without the body of Christ. And you know one of the things we say all the time, is it's impossible to do alone and I'm really feeling that conviction as a reality in our life right now. So I just want to thank you from the bottom of my heart," said Blackburn.
"I am not with you guys this week, and I want to thank you for understanding through this process, my absence. It's difficult to figure out how to process through all of this right now but at this point I'm just trying to take a step back and trying to figure out what's next for me, what's next for Weston, what's next for Resonate Church," he said.